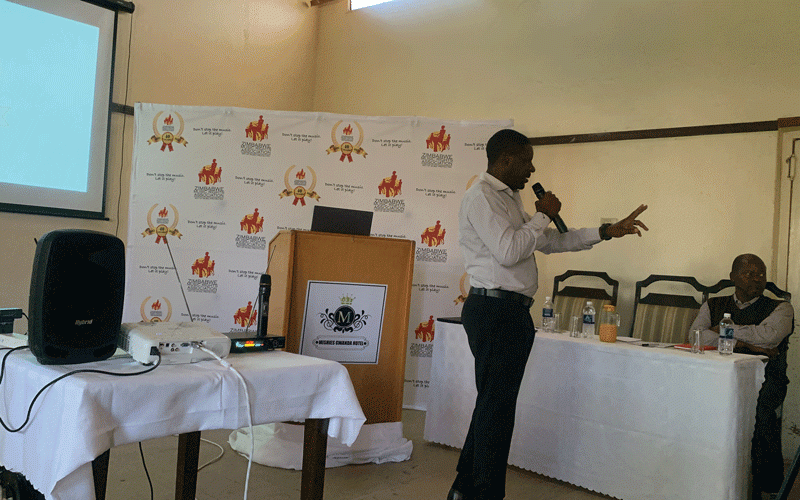 ZIMBABWE Music Rights Association (Zimura) says its move to pay royalties to its members in local currency is meant to benchmark licencing fees despite tariffs being pegged in foreign currency.
The organisation's deputy director Henry Makombe made this revelation after some artistes from Gwanda questioned why they were receiving royalties in local currency instead of the United States dollar.
Zimura was hosting a workshop recently in Gwanda to empower its members and other stakeholders on issues regarding piracy and the Copyright Act, among other things.
Early this year, musician Jeys Marabini engaged Zimura over the payment of royalties.
"So, in terms of the royalties that we distribute to our members in local currency, there's been concern arising from our members, even stakeholders not understanding why we have got our tariffs in US$ and yet we distribute in local currency," Makombe said.
"The reason why we have got our tariff in US$ is to benchmark our licensing fees. We wanted to peg our licenses using US$ but when we peg our licenses in US$, most of our clients, I should say, 90% of our clients pay using local currency, as in the official bank rate."
Makombe said if an entertainment joint was supposed to pay US$300 they pay in local currency using the official exchange bank rate.
"There's no way then we can now distribute in US$ because the local currency is a legal currency here in Zimbabwe. From that, we then have to distribute as such," he said.
"But we have got the other type of royalty that we distribute to our members, where we have got this reciprocal agreement with Capasso in South Africa.
"Capasso is an organisation that manages the use of music on the digital platform, therefore the use of music local content, on Tik Tok, on Facebook, on YouTube, Spotify you name them, can result in payouts.
"So those guys get real money in rands and then they give us, it's converted to US and then we distribute to the right holders in US dollar."
The event was graced by music composers, producers and publishers.
Other stakeholders such as the ZRP, the NPA, the National Arts Council of Zimbabwe and the Gwanda town council also attended the event.
"In the Copyright Act, they needed to understand how best they could monetize their talent through the Zimbabwe Music Rights Association," Makombe said.
"They also need to understand the functions Zimura offers to its constituency.
"So, we engage with NPA, we also engage with ZRP for them to understand our services at the functions of the Copyright Act, the reciprocal agreements that we have with other sister societies in the African region and certain instruments like The Berne Convention and Rome Convention that this country signed as far as the protection of artistic works is concerned here in Zimbabwe."
The artistes in attendance welcomed the initiative by Zimura saying it was an eye opener and they promised to register as members of the institution.
A creative entrepreneur and manager for some musicians in Gwanda Kukhanyakwenkosi "Ganja" Mkandhla commended the move by Zimura.
"Our artistes, me included, now have a better understanding on the issue of the Copyright Act in particular on trademarking," he said.
"I wish there had been more artistes to attend so that they could get such informative details on their own."
Kwaito artiste Proficiency Kadder echoed the same sentiments.
"I have always heard about intellectual property rights, but I didn't have much knowledge about it, or how to register a trademark, the workshop has been very beneficial to me," she said.
"We have heard about it sometime back in 2014, but registration requirements were harsh, we are glad that requirements are now simple and you can even register online.
"Another gap that I noticed in Gwanda is we don't have a music association, and that makes it hard for us to have a representative who will address our plights that need collective efforts."
Related Topics