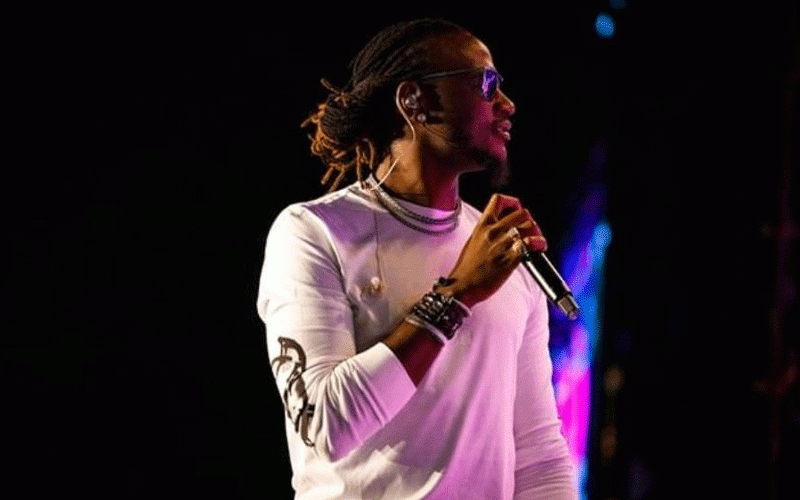 "We're here to party in Bulawayo so I won't perform Goto. Another reason why I won't perform is naysayers are saying ndosvikirwa (possessed) when I perform it," said Mukudzeyi Mukombe, aka Jah Prayzah to thousands of fans that thronged Queens Sports Club in Bulawayo for his Maita Baba album launch.
Well, Mukudzeyi lied. Two hours later he was ecstatic in an abnormal spiritual realm as he performed Goto.
On Maita Baba the artiste gave us Jah Prayzah. On Chiremerera, he was personal, deep-rooted to his tradition and customs so he gave us Mukudzeyi.
Maita Baba, laced with Afro-beats and Durban-influenced Gqom, is his 13th album launched on May 13.
Chiremerera with a traditional feel and deep Shona connotations is his 12th, launched just 24 hours earlier, on May 12 in Harare.
In Bulawayo Jah Prayzah went against the supposed script of playing only party songs that align to Maita Baba.
His traditional songs proved to be powerful, spiritual and close to his heart that he could not end his set without performing them.
After performing Tsviriyo, Tocheka and other dance songs, Jah Prayzah suddenly shifted the tone of the night by performing Bvumbamira.
He was visibly entering an uncertain realm as he sang about evil spirits that visit him and calling his ancestors who reside in mountains to answer his plea for divine intervention.
After prepping everyone into a traditional mode, he finished off his set with Goto, the very track he had said he would not perform.
That would have been a rare moment where he would finish without delivering Goto — an unforgivable act that would have left him in debt to his Bulawayo fans.
Goto gases Jah Prayzah up, it is his altar, and the song presents the Uzumba superstar in his natural state.
The lanky star was caught up in a trance as he performed the track, which has been associated with ancestral spirits. Some fans could be seen rolling and screaming on the ground, some clapping and chanting unheard idioms in an act depicting appeasement of spirits.
An emotional Mukudzeyi could not hold back tears as he finished his well-polished act. Hiding his teary face from his fans, the artiste made a quick exit from the stage flanked by his band's security detail.
Explaining the meaning of the song, six years after its release the artiste introduced himself as Mukudzeyi Mukombe, not Jah Prazyah to show how deep and personal the song is to him.
"There are two things that can have one meaning and, in this instance, Goto has two meanings in connection with the song. The first explanation is; there is a male goat which we call gotokoto or gotora, and the short cut is goto," he said.
"When the male goat reaches its peak of growth, it starts releasing hwema (a terrible smell). That particular smell can be compared with a bad spirit. We can all agree that you can sense the smell through your nose and you can't see the smell with your eyes.
"Same as in life, you can live, but you won't be able to see the bad spells and spirits that are targeted at you for your life to be miserable.
"That is also why on the song I sing 'charika', which suggests that it's possible for one to be prayed for and be diverted and protected from the bad spirit, because once you are not protected from that either from God or your ancestors, your life can be doomed."
He also associated the meaning of the song with the bad smell that comes from a decaying animal that would have been trapped in a pit (goto).
"On the second meaning of the song: when it's the rainy season, the rains hit the ground and start to develop a trench. The fol year, the rain again increases that trench. Before that trench grows and fully develops into a river, it will be called a goto (small stream).
"In old days, our forefathers used Goto as a way of hunting and catching animals. They cut grass that managed to cover the pit (goto), they then diverted animals to the direction of the pit, and the prey fell into the goto.
"Some animals that fell inside that pit were not part of the diet system, so that kind of animal was left to die, decay and then they produced a bad smell which is also related to bad spirits.
"Like I said before, the teachings on the song are "Charika Goto Rine Hwema, Ukazokarika Wawira" (Be careful before you fall into the pit that has a bad smell).
"You must not be trapped in a place that is associated with bad spirits because when that happens your life will be compromised and condemned," said Jah Prayzah.
On Chiremerera Jah Prayzah was in his traditional zone, songs like Tenda, Gonan'ombe, Tenda, Zibundu and the title track speak deeply on tradition.
The album is themed around how he was chosen by the ancestors to do what he is doing, he talks of how his tribe's enemies must be thwarted and also talks of respect and obviously love.
The title track itself is personal and spiritual. The artist reminds everyone who he is, he claims to be the chosen and anointed one for the position he holds today.
A bit of political connotations hidden in the deep lyrics when he says he didn't grab power but anointed by the spirits (Ndakagadzwa handina kubvuta, ndinezodzo neMhondoro).
His name, Jah Prayzah has been politicised and he tells people not to throw dirt on his being by political antics to discredit him (kubvisa Chiremerera).
In Chiremerera, he reminds everyone that he is Mukudzeyi not Jah Prayzah.
"Yes you want Wagwizi, but don't forget who I am, I'm Mukudzeyi" he could have had that soliloquy moment as he stepped into the studio to make Chiremerera.
After his Bulawayo performance, Jah Prayzah heaved a sigh of relief. He had just done a first, made history in a manner so unmatched this generation will remember and talk about it for years.
Ironically on Maita Baba album cover Jah Prayzah is seen flexing with a goat (Goto) insinuating that he is the greatest of all time.
That expression reignites the debate on who the greatest of all time is, between Goto (Jah Prayzah) or Gombwe (Winky D).
Two albums in two days, two sold out launches in two of Zimbabwe's biggest cities. One album for the fans, one for Mukudzeyi. A fine re-introduction to Mwendamberi.
Related Topics