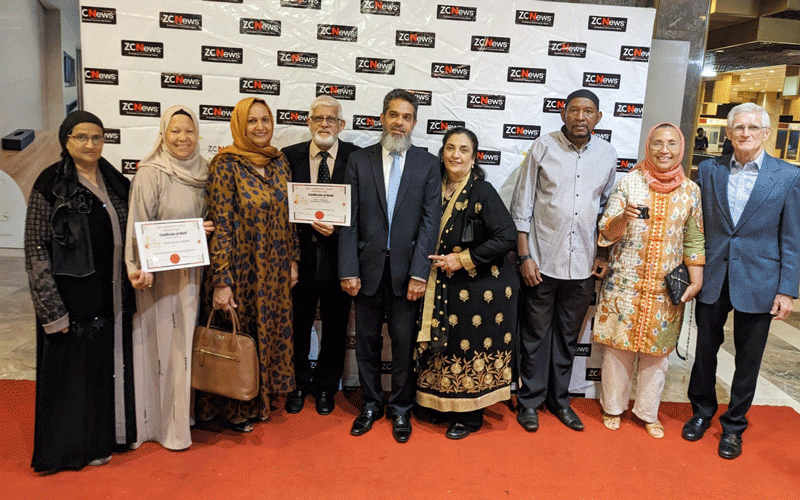 This week we focus on the trailblazing work of the Muslim community and in particular Bhuran Weston in Hatcliffe, Extension, a low-income urban settlement on the outskirts of Harare.
The area is populated by an economically disadvantaged community of over 60 000 people, which is not adequately supported by social services such as water, electricity, roads, schools and health facilities.
Three award-winning organisations Hatcliffe Extension Charitable Trust (HECT), The Islamic Medical Association Zimbabwe (IMAZ) and the Islamic Women's Initiative Network (iWin) teamed up to provide assistance to the impoverished community. These organisations are driven by the Islamic principles of peace, charity, integrity, compassion and service to humanity and serve everyone regardless of their faith.
We highlight some of their remarkable achievements:
Hatcliffe Extension Charitable Trust
Led by Weston, the HECT was established to oversee the running and maintenance of the Mosque and assist the greater community in Hatcliffe Extension.
The trustees are like-minded people who embody the Islamic principles of compassion, integrity, peace and tolerance.
They share a common goal to uplift the greater community especially the young men and women to access skills to become self-sufficient and helping communities to help themselves.
HECT is also keen to raise awareness of the socio-economic constraints in the community especially the most vulnerable elderly, child-headed families, orphans and women.
The HECT provides ongoing support the Hatcliffe Extension community through a number of initiatives.
Place of worship: A mosque was built where 250 families in the community of Islamic faith go for worship.
Feeding scheme: Through a soup kitchen they provided meals to the vulnerable in the Community and the nearby squatter camp. The beneficiaries of the feeding scheme include 420 people (100 families) comprising the elderly, grandparents with their Aids-orphaned grandchildren, child-headed families and people living with disabilities. The nutritious meals were provided daily from Monday to Friday. At the start of the Covid-19 pandemic, they were unable to continue with the Soup Kitchen, but the families are now provided with monthly food hampers (These vulnerable families are not Muslim).
Covid-19 initiative: HECT in collaboration with the Islamic Women's Initiative Network and the greater Muslim community distributed 4 000 small hampers door-to-door during the first lockdown making donations of blankets and clothing — Zimbabwe experienced a very long, cold winter in 2020.
A blanket drive realised 1 500 comforters which were given to the vulnerable in Hatcliffe Extension, squatter camps, orphanages and the homeless. Hundreds of schoolboys received new uniforms donated by Paramount Garments in Harare. Another donation of men's trousers was received by HECT. These were distributed to high school boys and men in the area. All these were also donated by Paramount Garments in Harare.
Water and Sanitation: Due to lack of safe drinking water, the community is prone to outbreaks of diarrhoea including cholera. To address this the trust sunk six boreholes to provide safe water to residents in the surrounding areas.
Skills training centre for young women: The construction of this centre has just been completed. This was funded by a grant from the Islamic Development Bank.
The school will cater for young women who have not completed high school, teaching them skills in cooking, knitting, sewing and arts and craft to assist them in gaining self-sustainability.
Once the students have completed the vocational courses, they'll do a business course to help them to market their goods. HECT will encourage the young women to produce high quality goods for the export market.
Girls who have completed high school will have a chance to do the International Computer Driving Licence and will be assisted in getting meaningful work.
A jewelry-manufacturing workshop is also planned.
The trust plans to run adult education classes as there are many women who cannot speak or read and are unable to assist their children with schoolwork.
Library/reading room at Hatcliffe 3 Primary School: HECT has constructed a prefabricated library/reading room to encourage the children at a local primary school to enjoy reading.
Islamic Medical Association of Zimbabwe
The registered non-profit private voluntary organisation IMAZ is situated in Harare, Bulawayo and Kwekwe and has plans to expand to other cities around the country in future.
IMAZ is managed by a board of medical doctors and other non-medical affiliate members.
The organisation is committed to alleviating the plight of the underprivileged regardless of colour or religion, by assisting them to access basic healthcare, at the least cost, within the shortest possible time.
Below are projects run by IMAZ.
Al Shifa medical clinics for the underprivileged in Harare, Bulawayo and Kwekwe.
Al Shifa dental clinics in Bulawayo and Kwekwe.
Free eye camps (Bulawayo and Harare) run in conjunction with various donors including Federation of Islamic Medical Associations, Save Vision project, International Islamic Relief Organisation of Saudi Arabia and Al Basar International Foundation. (NB: Logistics in Harare are facilitated by iWin)
Circumcision camps
Medical outreach programs
Providing HIV testing and counselling
Blood drives.
In a drive to support the health and wellness needs of the Hatcliffe Extension community, IMAZ saw the need for an affordable, sustainable permanent healthcare facility and land measuring 2 300m2 was purchased in 2012 for the construction and setting up of such a facility.
In 2015 IMAZ held two outreach clinics in Hatcliffe Extension proving the need of such a facility.
With a grant from the Islamic Development Bank (IsDB) and collaboration with the Islamic iWin and other donors, the construction of the first phase of the clinic commenced in September 2017.
With another grant from the IsDB the second phase of the clinic was started in March 2019.
The clinic was completed in August 2020 and is open to everyone regardless of their faith.
Due to the Covid-19 pandemic, the clinic only opened its doors in April 2022 and provides the following essential services, maternal and child care, providing post-natal care for mothers and care for the new-born, under five clinic, essential immunisation services for children under five years among other services.
A pharmacy, basic laboratory services, ultrasound and dental clinic among others to provide first-class services to the community at a low cost.
Project activities related to the construction and running of the Hatcliffe Extension healthcare facility are being executed through collaboration between the IMAZ and iWin.
A specialised implementation committee was formed to oversee the construction and day-to-day running of the facility. The clinic is being run by qualified personnel
Future collaborations
IMAZ is in the process of finalising collaboration with the University of Zimbabwe Faculty of Health Sciences for their medical and dental students to have exposure in seeing patients at Hatcliffe Extension
Islamic Women's Initiative Network
The iWin was registered as a private voluntary organisation in 2015. It is managed by a group of like-minded women who embody the Islamic principles of peace, tolerance, integrity, compassion and humanity. The members of iWin are guided by excellence in all that they do, and it is their desire to make a positive difference by helping communities strengthen themselves.
Win is an Islamic charity organisation dedicated to empowering the disadvantaged, women, young people and their families. iWin aims to assist women and youth to restore their lives and to provide appropriate opportunities for a better future.
Win undertook the task to respond to communities in need.
Infrasructure: In 2016 in collaboration with other stand owners in the shopping centre in Hatcliffe Extension, IWIN installed water and sewer reticulation
A mosque was subsequently constructed in Hatcliffe Extension attended by 250 Muslim families.
2020: Construction of the Hatcliffe Extension Clinic in collaboration with IMAZ is completed.
The Frail Care Project was initiated by iWIN in July 2012 provides just over 100 elderly Muslim people who are the caretakers of their families are provided with basic groceries monthly hamper, which helps them to manage their lives with dignity. iWin is supported in this project by the Muslim community and the Islamic Welfare Fund.
Slice for smile is a project run by IWIN since 2013. Volunteers visit Sally Mugabe Children's hospital in Harare once a week providing the children visiting the opportunistic infection clinic in the outpatient department with a healthy snack
Hatcliffe Extension Clinic: iWin collaborated with IIMAZ to build and run a primary healthcare Clinic in Hatcliffe Extension
Community empowerment: In line with their vision of serving humanity, iWin has envisioned uplifting communities by setting up self-sufficiency projects. The Stapleford Poultry and Horticulture scheme is one such project where the aim is to assist the community in generating a source of income and help break the cycle of poverty. iWin is empowering and trains unemployed women with poultry rearing skills to create a source of sustainable income for them and their families.
Win assisted the ladies to further set up two greenhouses, where the ladies can plant seasonal vegetables to increase their source of income.
Shelter: Many people cannot afford a decent abode due to the economic difficulties. iWin has assisted familes living in shacks, with tworoomed wooden cabins.
Covid-19 initiative: iWin worked hand in hand with HECT and the Muslim community to provide 4 000 small food hampers during the pandemic.
Cyclone Idai: iWin collaborated with, and supported Miracle Missions and the greater Muslim community providing relief to the affected areas.
Related Topics