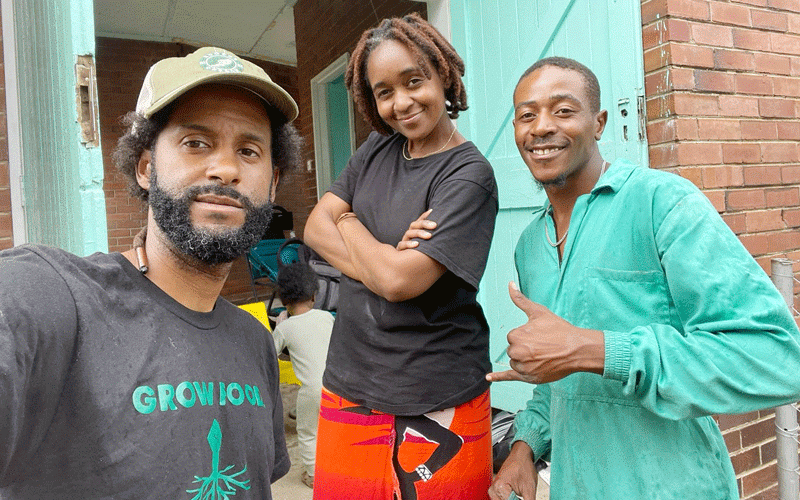 THE relationship between man and nature has always been reflected in cultures and arts.
In the wake of various environmental crises, the arts sector has played a formative role by either depicting or narrating environmental realities or taking a communicative role.
The arts sector represents a discourse shaped by religions, economies, politics and others.
Under different denominations such as land art, eco-art, environmental art, sustainable art, and nature art, environmental concerns have gained weight in artistic production beyond pure communication and representation of positions shaped outside the arts sector.
Permaculture, which is the development of agricultural ecosystems intended to be sustainable and self-sufficient is what Arnold Morgan Jr from Oregon, United States, the founder of Morganic Roots is imparting to young artists in Bulawayo to assist them with knowledge of sustainable living and nutrition.
Through his company Morganic Roots, Morgan Jr has been working with the Mzilikazi Youth Centre on a permaculture project to promote sustainable agricultural practices and means of sustenance for the youth.
"Morganic Roots is a company that is premised on the promotion of sustainable farming and education with the major thrust and aims being to improve food security. Nutrition and being healthy are requisites for everyone and hence as a company we put emphasis on the creation of nutrition gardening. An important aspect is being aware that a healthy garden is one characterised by a diversity of vegetables, which will bring a variety of nutrients and vitamins," Morgan Jr said.
"I have a background in permaculture which has in actuality given me a holistic view of sustainability through one connecting to nature. The ethics of permaculture encompass three dimensions which are the care for the earth, which includes the environmental dimension with all living and non-living things plants, animals, land, water and air. It also focuses on reservation and restoration of destroyed natural ecosystems.
"A second ethic is that of care for people as it touches upon societal issues and promotes self-reliance and community responsibility and claims for access to resources necessary for existence such as housing, health, rights, community, and education.
"The third ethic is that of the fair share, which concerns the economic dimension such as livelihood, income, meaningful work, production and business, and focuses on setting limits to consumption and to redistribution of surplus time, money, energy, information."
Morgan Jr also highlighted that he was on a global mission to grow the Morganic Roots Company into a business and enterprise that would spread to wider communities and schools in Zimbabwe, and in many other parts of the world so as to grow the project.
"In Zimbabwe, I noticed how sustainability of livelihoods is a must. We have knowledge and resources and hence there is need for more information spaces and availability of resources especially to the youth so that they can actively partake in agricultural projects. Bulawayo, where I am right now, has everything, but I believe simple resources like water, electricity and even a car can help one establish something related to the sustainability of the livelihood. What I can say is it is not an easy journey, but a struggle which needs commitment.
"An interesting truth is that issues of farming or gardening don't really attract the youth. I am married to an Afro-fusion musician who hails from Mzilikazi "Ratie D". We are also working with Mambira Foundation to infuse permaculture with art so as to capture the youth.
"On January 28 we had a workshop with the youth from Mzilikazi which also comprised dancers from the Loxion Dance Crew where we spoke about the importance of permaculture. I guess we could call our project Perma-Art as we are fusing art in issues that orient from sustainable farming and we are also aiming at drawing the youth to focus on their sustainability. Morganic Roots with Mambira Foundation are working strategically to edutain on the importance of healthy living and connecting to the land," he said.
Currently, the project is focused on the training of youth at the Mzilikazi Youth Centre in permaculture, and the project has seen the creation of a sustainable garden at the youth centre. The garden has mostly perennial plants such as guava, peaches, mangoes, corn, lettuce, spinach, cabbage and lemons which usually require less maintanance.
The garden at the youth centre also uses companion planting, which is the mixing of plants like flowers and herbs. It is a new style of gardening as it co-exists with nature and processes that relate to pollination and the germination of seeds.
"Putting the permaculture project at the Mzilikazi Youth Centre is aimed at teaching the youth about the therapeutic effect of having a garden as it is a space where one embraces nature and can study or even drink tea and talk to a friend. With time the project is also looking at putting a greenhouse as currently we are at the first phase, which is to mean that the greenhouse will be the second phase. Hence we are still in need of more funding for us to put the project to fruition. The greenhouse will help the youth in generating livelihoods through the selling of seeds and plants which are on high demand in the global market too," Morgan Jr said.
Such a vision like the one being implemented by Morgan Jr shows the need for a new generation of urban farmers and gardeners in Zimbabwe and global transformation of metropolitan areas structurally and visibly.
"This they can do by turning rooftops, abandoned lots and other disregarded places into edible landscapes, improving human and ecological health as well as creating beautiful places. Of relevance too is the need for concepts of sustainable lifestyles, self-sufficiency and local impact to remain at the forefront when raising awareness for the current environmental issues especially through the utilisation of art as a powerful tool," he said.
Claire Dangarembwa-Morgan, also known as Ratie D, who is an Afro-jazz musician outlined the important role of art synergies in the enhancement of sustainable living and healthy living.
"I was born and bred in Mzilikazi, but I am now based in the United States with my husband Morgan Jr. My father is former soccer star Philemon Dangarembwa and as you know, Mzilikazi is the hub of art in Bulawayo, hence I am also an Afrofusion artiste. I play mbira and guitar and I am a songwriter working with Mambira Foundation, which has partnered with Morganic Roots company in the perma-art project in Mzilikazi," Ratie D said.
She said she uses song as a powerful tool for development within communities.
"My songs seek to empower the girl child as I seek to motivate her to live in accordance with her aspirations and never lose hope in accordance with her dreams and aspirations. For example, in the song Igolide, it talks of a child as someone golden and meant to be cherished and loved," she said.
"The other song Woman of Africa speaks of the important role of women in development of the continent considering the work that they do. The songs I do connect to permaculture as there is a need for young girls and women to be also actively involved so as to ensure their livelihoods and good nutrition."
The project at the Mzilikazi Youth Centre is also under the curation of Guest Sonono who is a local permaculture expert. He is working as an educator and also permaculture designer.
"Permaculture is a form of art. I design gardens as a way to express myself and so as to harmonise with nature, which I see as something that relaxes the mind. In permaculture we use a very bio-diverse system which maintains the balance of the eco-system," Sonono said.
For example when I see a chameleon I am of the understanding that it has an effect on the garden. Basically permaculture is the creation of an organised system of gardening and hence this is an important project."
Phil Silonda, a local resident and retiree from the Museums Department, said the projects teach young people sustainable farming and good designs for gardens.
"This keeps the youths out of the streets and curbs drug abuse. Having Morganic Roots Company in Mzilikazi is important in teaching how to merge arts with permaculture. Residents are in support of the initiative," Silonda said.
Combined efforts of community arts with agricultural and horticultural production are successful in promoting a sustainable lifestyle. The case of Morganic Roots and Mambira foundation at the Mzilikazi Youth Centre is a good example.
Raymond Millagre Langa is a Musician, poet, orator and Independent Researcher. He is also the founder of Indebo edutainment Trust. Follow Raymond Millagre Langa @Millagre Ray Langa on Facebook, @Millagre Langa on twitter and email [email protected] or [email protected]
Related Topics