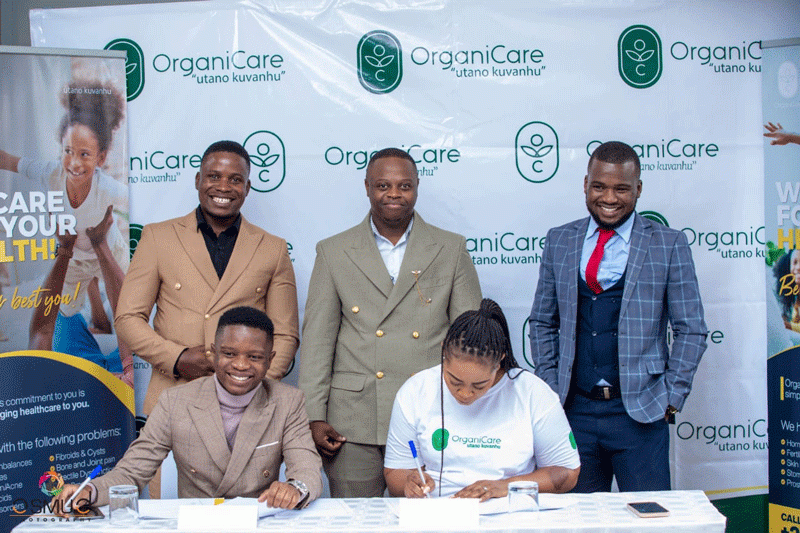 ONE of the most innovative local health care companies, Organicare Zimbabwe has ramped up efforts towards ensuring health for all by engaging leading influencer Madam Boss born Tyra Chikocho to become its brand ambassador and vehicle for community education.
Organicare Zimbabwe general manager Philani Lunga told Standard Style that their drive was to ensure quality, affordable health care for all and they are happy to engage Madam Boss in their drive to enhance market education.
"Our focus is the production of herbal products that are affordable and above all, that have the capabilities to treat known ailments affecting citizens on a day-to-day basis," Lunga said.
"We are happy to work with Madam Boss to raise awareness on the various ailments affecting citizens and educating them on available solutions they can get at Organicare Zimbabwe."
Lunga said their approach was unique in that they intend to avail the dispensary of treatments both from office and through home delivery towards better convenience.
"Our scope of operation is the dispensary of food supplements both on office and offering home deliveries, conducting both office and home visit scans or check-ups and educating the general public on how to live a life with a guaranteed good health," he said.
"We believe this will guarantee personalized and tailormade service that will ensure better health and results for those that enlist for Organicare products."
To ensure the best for clientele, Organicare Zimbabwe conducts scans and check-ups in Harare and Bulawayo for now with plans to roll out the service across Zimbabwe in the pipeline.
"Currently we are offering check-ups and scans in Harare and Bulawayo, but the hope is to spread the service across Zimbabwe and beyond," Lunga said.
"We also do physical health consultations in the two cities and sell treatments to patients in the above mentioned areas. We also offer free deliveries of the treatments in those selected areas," he said.
As a new age organic health player, Organicare Zimbabwe offers free online and over the phone health consultations.
The company also have other service areas where they offer free deliveries of treatments in Mutare and Masvingo and the uptake has been more than encouraging.
"The general public benefits from our services since our mainstay is to build a healthier and happier society.
"We also create employment for the general public and we are currently working on a Trust project to ensure better reach and improved coordination," he said.
Organicare products are 100% organic and most users have testified to their efficiency.
"Our products are 100% natural, meaning that they work in a way that is fair and safe for your body as they do not contain any chemical elements," he said.
To add on, the high efficacy of our treatments is the one that makes us stand out from all the other brands out there. Our production and quality control team always makes it their goal to keep fortifying the products so that they are the best on the market," said Lunga.
Madam Boss said she is happy to be working with the vibrant player in promoting health living under the hashtag "Utano kuvanhu".
"Organicare is an innovative company and our goal is to be the leading Organic Healthcare company in Southern Africa offering the best health facilities as well as the most effective organic treatments," she said".
"We bring value to the local health industry by providing people with highly effective treatments that bring them a better quality of life. This act also brings high value and recognition to the whole local health sector."
The company will be conducting various outreach campaigns and public education programmes in partnership with their Brand Ambassador as they seek to entrench their footprint in Zimbabwe and beyond.
Related Topics