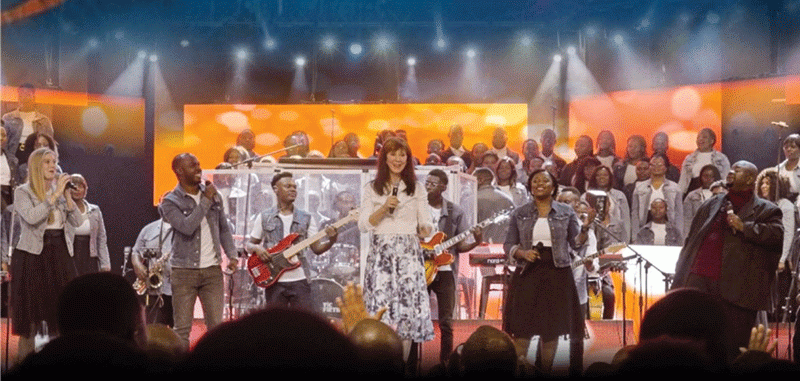 TOP gospel musicians, who are part of a collaborative project titled Magnify, have described working with songwriter, worship leader, teacher and recording artiste Pastor Bonnie Deuschle as gratifying in their pursuit to spread the Word of God.
Gospel music diva Janet Manyowa, Pastor G and Tembalami, Bernice Tianna Munyaradzi, Sarah Deuschle, Tommy Deuschle (Celebrate Africa), Jonathan Deuschle, Taps Mugadza and Nigel Nyangombe are part of the project, a single, that was released on Friday during the Celebration Church International annual Kingdom Prayer Conference.
Pastor Bonnie Deuschle is co-founder and co-pastor of the church, one of the largest in Zimbabwe along with her husband Tom.
According to Pastor Bonnie Deuschle, the title Magnify was inspired by the Bible verse Psalm 34:1 which says: "Magnify the Lord with me and let us lift up his name together."
The song, which yesterday had accumulated a lot of listenership on online platforms, was produced and orchestrated by Nigel Nyangombe, Pastor Tom Deuschle II who worked as the executive producer as well as Daniel Deuschel and Tremier Msipa who are the contributing producers.
Mixing and mastering was done by Gordon Tamie Bimha and Terriworld handled the artwork design.
Musicians who contributed to the project described the song as uplifting and something that Zimbabwe needs especially at the moment.
"Magnify is really special as it comes at a time when there is a lot of hurt and confusion in the world as most people are still going through post pandemic traumas," said Pastor G.
"This song re-aligns people with their purpose and it makes one think about eternity and what happens when one dies is best explained by this song."
The song has a unique combination of dominant vocals with great instrumental rhythm.
The choir announces in dialect with a powerful harmony of how God is magnificent by singing "Humambo Ndewenyu", which means the Kingdom is yours.
Little Bernice Tianna Munyaradzi who has an angelic and euphonious voice which has a soft natural feeling to it also featured in the song and her mother Valinette Munyaradzi describes herself as a 'proud mom moment'.
"Pastor Bonnie is one of the most amazing people that anyone can work with and for me, because I have worked with her on songs in church and other Celebration albums it is sort of an everyday thing to work with her," said Manyowa.
"There is nothing more special than working with someone whom you know so well that her heart goes out to worship God in the congregation.
"I am used to singing with her, but it is so special at the same time as I believe Pastor Bonnie is a voice that God has placed in our ministries so that we can be uplifted and sing his praises."
Tembalami weighed in saying they have managed to create a song that Zimbabwe and the rest of the world is ready to hear.
"To me Pastor Bonnie is the mother of contemporary worship, way before some of us had even begun to record music she had begun writing music," he said.
"I recall one of her songs which she wrote for Ron Kenoly who is a world worship leader titled; I Bow My Knee before Your Throne, I have admired her since then and over the years.
"I have been associated with Celebration Church as I have done a lot of collaborations with the choir and now I am here with Magnify."
Tembalami said Pastor Bonnie wrote the song Magnify under the anointing of the Holy Spirit because "it puts God at the front and centre of everything which makes it prophetic".
Bonnie Deuschle acknowledged the people she worked with, saying the essence of worship was about coming together.
"Worship is about a group, a congregation, the Bible says one generation shall praise your name to another so it is also about combined generations which are what we have managed to do in this song," she said.
Pastor G acknowledged the anointing which he came across in the making of the single and applauded how Bonnie Deuschle has managed to maintain what he described as a "vertical kind of worship".
He encouraged other established and aspiring gospel artistes to take up the same style.
To date Bonnie together with the Celebration Choir have released more than 15 albums that include Seven Times a Day, God is in this Place, One True God, Heaven's Song and Yahweh, among others.
Related Topics