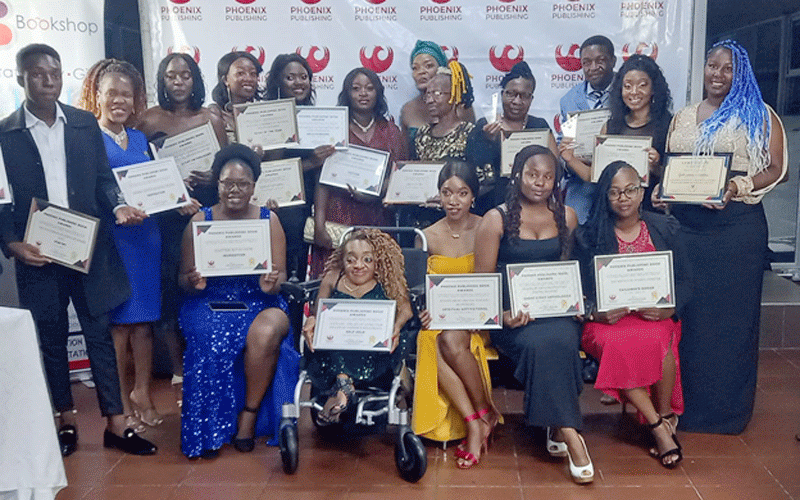 A HARARE-BASED publishing company Phoenix Publishing recently honoured several authors at an inaugural book awards event held in the capital recently.
The application process which opened on March 1 and ended on September 30 saw authors from multiple genres submitting their literary works for adjudication.
Phoenix Publishing director Faith Mudiwa Chipangura, a 12-time book writer, said the awards were aimed at appreciating the great work being done by writers which sometimes goes unnoticed.
"The ceremony brings books, writers, and the publishing world to the reading public," she said.
"Whether local, regional or niche-based, these literary events celebrate and showcase writers from every perspective and offer writers critical opportunities to promote their work to a circle of readers most likely to engage with them."
The awards focused on several categories including fiction — romance, fantasy, adventure, sci-fi, motivational, spiritual: prayer, journals and devotionals, self-help, autobiographies, memoirs, poetry and short story anthologies, cookbooks, and children's books just to mention but a few.
Different writers and decorated individuals came in their numbers to support the event.
Business leaders; 143 Communications, fashion hub headed by the media maverick Tariro Makanga House of Tari, fellow book publishers and book stores; Rios Africa Lifestyle Bookstore, Innov8 Bookshop streamed to partner and celebrate the event.
Theophilus Masukume, as the MC of the day, kept the audience entertained with his priceless, witty yet captivating hosting skills.
The adage, dreams do come true had a symbiotic meaning on this night. This is a story of a girl from the southern part of Zimbabwe, which never took writing and publishing seriously which came to life to defy the odds in the literary space.
Authors who walked away with awards include businessman Rinos Mautsa, respected thought leader Simba Nyamadzawo,influential disability rights champion Florence Mudzingwa, prominent authors Imelda Tsumba and Audrey Chirenje just to mention but a few.
Literary guru's Philip Chidavaenzi and Fungai Sox were also honoured for their sterling contribution to the literary industry.
Phoenix Publishing offers various editorial and publishing services.
Similar to book fairs and festivals, the award ceremony; provided a great opportunity in bringing new books to the surface, in turn creating writers' fan bases.
Related Topics