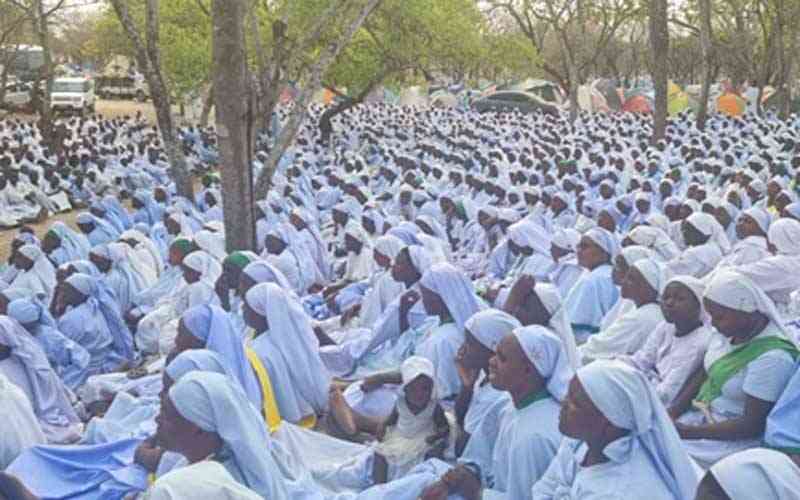 Popular apostolic sect leader Echoes Chiore, affectionately known as Madzibaba Echoes, last weekend held an annual gathering in Nhamoyebonde village, after a wrangle from a rival faction.
The Johanne Masowe Jerusarema Bhesidha sect was dragged to court by a faction led by Ekenzi Gondo claiming that his sect was the rightful owner of the Guruve shrine.
Gondo also approached the courts trying to bar Chiore and his flock from conducting their activities but lost.
In a High Court judgement passed on October 21, Gondo lost the case leaving Chiore with powers over the Guruve shrine.
"It is ordered that, the urgent chamber application for a spoliation order be and is hereby struck of the with costs due to the failure by the deponent to the found affidavit to produce proof of his authority to represent the applicant and to institute these proceedings on behalf of the applicant," read the judgement.
The 10-day gathering, famously known as Mutambo WeJorodhani ne Pasika, was attended by thousands of worshippers from all over the world.
Chiore told Standard Style that the gathering went well.
"In previous years all groups would gather at the same shrine, but God's time is the best," he said.
"The matter is settled and we are now worshipping in peace."
The Guruve shrine was founded by the late Madzibaba Dhasiwesi, who is father to the current leader Chiore.
Traditional leaders also endorsed the Chiore family as the owner of the place.
Johane Masowe Echishanu Jerusarema Bhesidha has more than 70 branches in and outside Zimbabwe.
Related Topics