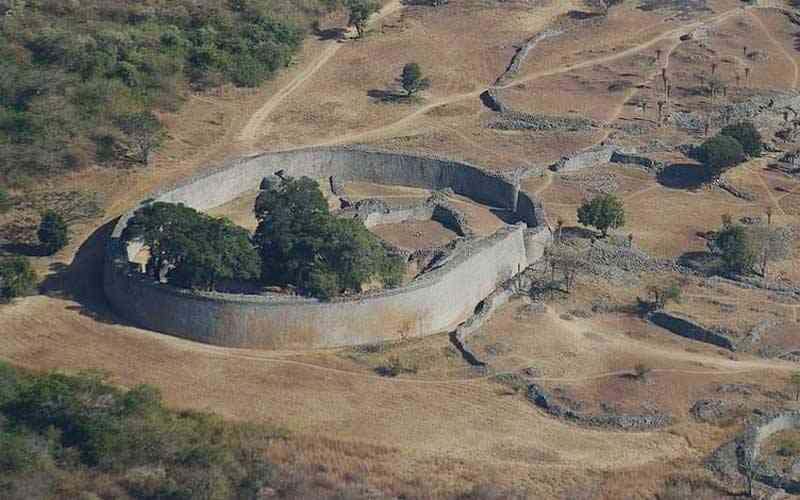 GREAT Zimbabwe Monument, which is described in travelling and touring lingo as a medieval city situated a few kilometres from Masvingo town, is the largest dry stonework structure in central and Southern Africa.
This description goes to explain that the monument could have been a capital of a great kingdom during the late Iron Age whose origin is somehow hazy.
It is believed that construction on this ancient city began around the ninth Century and continued until it was abandoned around 15th Century.
However, various theories have been proffered on who constructed the magnificent dry stonewall structure which spans an area of seven square kilometres.
Yours Truly "deliberately" explains prominent features found at the monument some of which have found their way into national emblems, coat of arms among others.
The monument site is generally divided into three main categories — the Hill Complex, the Great Enclosure, and the Valley Ruins. The first two are characterised by mortarless stone construction, but they also include ruined dagga (earthen and mud-brick) structures that may once have rivaled the stone buildings in grandeur.
An inner wall runs alongside the outer wall forming a narrow parallel passage, which is about 55 metres long and it leads to the Conical Tower.
The purpose of the 15-metre diameter tower, is reportedly unknown while others are of the opinion that it could have been a symbolic grain bin.
Readers of this column might be aware of one Cosmas Nyamutswa whose recent findings on the ruins makes interesting reading as he seeks to quash notions that the whole edifice was the citadel of Monomotapa Empire.
Nyamutswa, in previous articles under the travelling and touring column, has challenged historians and archeologists to interpret important historical features found at Great Zimbabwe Ruins such as conical tower, parallel passages, and purpose of an eleven metre high walls, special enclosure, and mounds of stone inside and outside the huge stone structures.
"It is very embarrassing as they (historians) have not been able to interpret the Zimbabwe Bird in a manner that resonates with rest of structures at the site. The Zimbabwe Bird is our national bird that is in our national flag, our coins, the Coat of Arms and many other areas considered to be important to our country. The disappointing part is that we do not know it's significance," said Nyamutswa.
He went to state that most people have no basis for giving further interpretations in the absence of artifacts which have been hidden from public for more than a century.
"The books, which discuss all artifacts have been discredited by lecturers while students are discouraged from reading them. The commonest artifacts recovered at Great Zimbabwe were 10cm soapstone models of circumcised men's organs and there were more than 200," said Nyamutswa.
"This information is found in writings of two earliest excavators who worked at different times at the monument.
"The two in order of excavations were Theodore J Beng and Richard Nicklin Hall; they took pictures of excavated artifacts and published them.
"Some phallic artifacts look like the Conical Tower situated in the Great Enclosure. So the monument speaks for itself and does not require speechifying for it. The artifacts speak of circumcision and so does the Conical Tower."
On whether King/Chief Monomotapa ever ruled or built Great Zimbabwe Ruins, Nyamutswa who calls himself an anthropologist had this to say: "He (Monomotapa) did not built it.
"The structures and artifacts talk of circumcision and Monomotapa and his people were never circumcised and there is no evidence that he ever lived there. Indigenous leaders live in the village at homes they constructed before becoming leaders.
"The palace concept they attributed to Monomotapa is a foreign concept and was never applied by indigenous people. No new leader who goes and stay in the residence of his or her predecessor."
He went on to state that the monument was constructed by the first tribe who introduced circumcision and are also part of biblical 12 tribes of Israel.
To the uninitiated, 12 tribes are comprised of Asher, Dan, Ephraim, Gad, Issachar, Manasseh, Naphtali, Reuben, Simeon, Zebulun, Judah and Benjamin.
Yours Truly is at sea, trying to figure out or deduce which of the above named tribe has "title deeds" to Great Zimbabwe monument and how is this related to the Holy Book.
And the debate rages on.
Till we meet again in the next column.
Comments always welcome on: [email protected] or Twitter@DubeBurzil
Related Topics