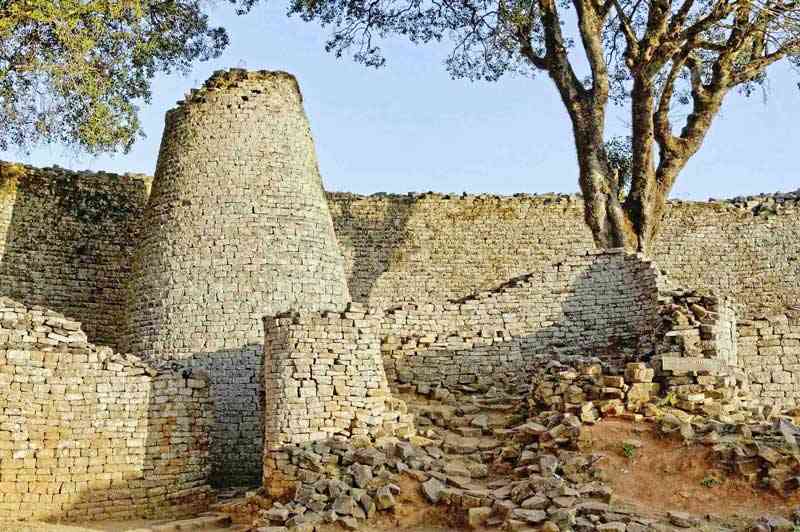 THE festive season is gradually hovering upon travelling and touring enthusiasts with various hotels and lodges coming into the fore offering all sorts of appetizing discounts on any particular excursion that would be of interest.
Some of the interesting places that come into mind include Victoria Falls, Lake Kariba, Hwange National Park, Skywalking in Inyangani, Mutarazi Falls, Lonely Tomb in Hwange, Great Zimbabwe Monument and Pupu War Memorial among others.
Most jaunts to above named places are usually planned in advance for budgeting purposes and other related issues so that everything becomes smooth sailing to travelling and touring parties.
This week, Yours Truly looks at Great Zimbabwe Monument which is the country's most sought after dry stone walled structure whose edifice continues to be a marvel to both local and foreign visitors.
These ancient ruins situated on the outskirts of Masvingo town are believed to have been constructed between 11 and 15th century and the structures remain intact despite not having any form of mortar having been applied.
Great Zimbabwe ruins are believed to be the largest collection of dry stoned walled structures in Africa south of the Sahara. The world heritage site was home to a cattle-herding community who also became adept at metal-working.
The ruins are considered the most impressive ancient structures in sub-Sahara and are in the same league with Pyramids in Egypt. They are a source of African pride whose chiselled walls of the Great Enclosure are a marvel to watch.
The iconic stone tower and complex chevron patterns are a work of high engineering skill whose capabilities are yet to be surpassed even to this day.
However, various theories have been proffered on who built Great Zimbabwe and objectives behind such an onerous task that has left historians scratching their heads in search of a conclusive answer.
Yours Truly recently came across some interesting information concerning Great Zimbabwe proprietary courtesy of Cosmas Nyamutswa whose findings might also need to be put into consideration especially on whether the place was also home to kings and queens.
There is a general belief that the whole structure served as a royal palace for the local monarch and could have been used as the seat of political power. Among the edifice's most prominent features were its walls, some of which are eleven metres high.
However, Nyamutswa who calls himself an anthropologist begs to differ and reckons that
"Archeologist, historians, social scientists, anthropologists ,people of various academic backgrounds and man on the street have given credit for its construction to various groups," said Nyamutswa who is also an author of a couple of non-fiction books.
"Primary and secondary schools gave credit to the Rozvi tribe for having constructed Great Zimbabwe Monument. At universities they try to give credit to all Shona people.
"My logic, however, says first we must know what it was built for through studying the culture displayed by artefacts recovered by archaeologists.
"Then we know what it was built for as it becomes easier to identify the builders. This approach involves identification of all artefacts that were excavated at the national monument.
"It is these objects that have narratives of Great Zimbabwe and a story might start to build up."
Nyamutswa added: "Unfortunately, the history that we know is not supported by recovered artefacts and for this reason archaeologists have found it difficult to interpret very important historical features such as the Conical Tower, Parallel Passages, eleven metre High Wall, Sacred Enclosure, mounds of stones inside and outside huge stone structures."
"It is embarrassing that they have not been able to interpret the Zimbabwe Bird in a manner that resonates with the rest of the infrastructure at site. The disappointing part is that we do not know its significance.
"Consequently it appears that we know less than five percent of history of Great Zimbabwe.
"What we know is that the ruined structure was built of stones in Masvingo and that there is a complex on top of the hill and others in the valley below.
"We can describe what we see on the structures just like anyone uneducated and there is no basis for giving further interpretations in the absence of artefacts which have been hidden away from public eyes for a century.
"History students at universities are not told of the entire list of artefacts recovered."
Nyamutswa goes on to describe how Great Zimbabwe Monument could have been the citadel of circumcision rites not a tribal palace.
Yours Truly will unpack how others believe that the Conical Tower was constructed to "represent" a male circumcised organ among other iconic features found at this particular ruin.
Quite interesting!
Till we meet again in the next column.
Comments welcome on: [email protected] or Twitter: @DubeBurzil
Related Topics