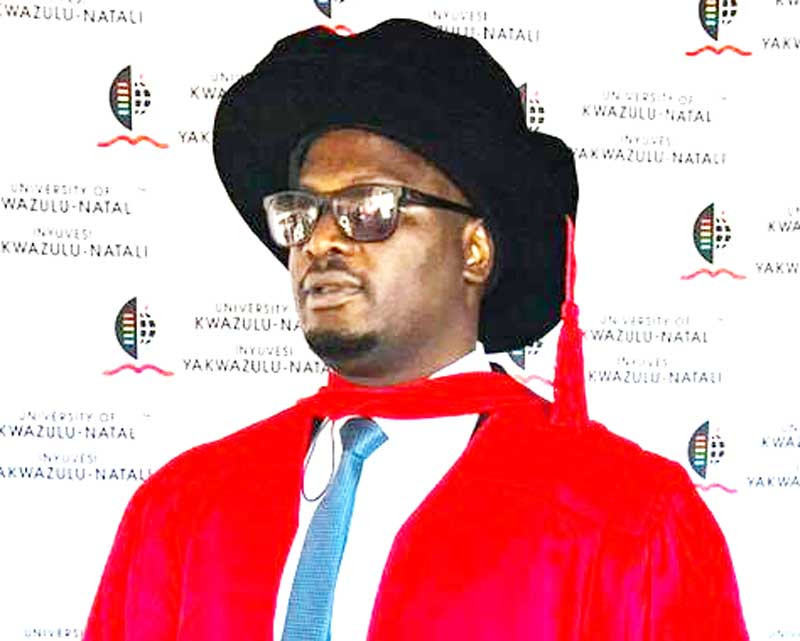 The effect of Twitter — as a social blog — on corporate reputation management in the telecommunication industry in Zimbabwe, was the focus of research completed by the regional secretariat director of the Media Institute of South Africa (Misa) and executive director of the Institute's Zimbabwe region, Tabani Moyo.
Moyo earned a Doctor of Business Administration (DBA) degree from UKZN for his study, which aimed to determine how Twitter can be used as a social blog to improve the corporate reputation of organisations operating in Zimbabwe's telecommunications industry.
This was u Doctor of Business Administration (DBA) ndertaken guided by the broader objective of developing insights on how the telecommunications industry is responding to shifts from traditional to contemporary approaches in corporate reputation being driven by social blogs.
The study examined whether social blogs contributed to social capital and new perspectives in the management of corporate reputation in the Zimbabwean telecommunications industry.
The study revealed that social blogs direct traditional approaches to reputation management in the industry towards new perspectives.
A framework on the effect of social blog platforms on reputation management was developed to respond to these disruptions.
Moyo's research was guided by experts Professor Cecile Proches (Leadership); Professor Emmanuel Mutambara (Management), and Dr Upasana Singh (Information Technology).
Understanding that acceptance into doctoral studies is also dependent on supervision capacity, Moyo says he was pleasantly surprised when he was accepted at UKZN and three supervisors were assigned to guide him which made the university his institution of choice. '
"When I applied I initially had one prospective supervisor but ended up having three, which shows you how meaningful and value-adding the process is."
Above all, UKZN is a competitive institution, highly positioned and indeed a global forum for knowledge reproduction.'
Moyo juggled studies with a demanding job at Misa in Zimbabwe where he leads the team dual roles as being its country director and regional director - the regional network has a presence in eight southern African countries.
He is tasked with providing strategic leadership in the development and implementation of Misa's Southern Africa Regional Strategy (2021-2025), including leading and managing regional programmes.
Acquiring the DBA degree anchored his approach towards gearing Misa to attend to complex realities facing the telecommunications industry and remain ahead with a clearly defined strategy that leverages on collaboration and solidarity with the entire ecosystem that supports strategic thematic areas.
Moyo says the DBA has been a transformational force upon which MISA strategy is anchored.
The new qualification has given Moyo a competitive edge over his peers as he now has expertise in communications, marketing, business administration and academia.
He holds qualifications in journalism and communications, marketing management, media studies and business administration. He is also a certified chartered marketer of the Chartered Institute of Marketing (CIM) and Fellow of the CIM-UK.
Moyo sits on regional, continental and international boards which allows Misa to connect the dots from its national chapters to global spaces.
He also served on the Southern African Internet Governance Forum; and is the vice-chair of the Pan African access to the information network, the Africa Freedom of Information Centre; IFEX, a global network of more than 100 institutions defending expression; and the Global Forum for Media Development, an international network of more than 200 organisations defending media and journalism at a global scale.
His main interest now is to embark on meaningful research that impacts positive change in moving humanity forward.
Moyo has started sharing the findings of his research with the telecommunications industry in southern Africa through publishing in reputable journals.
His supervisors congratulated him on his achievement, they said: "Dr Tabani Moyo, you are a perfect example that if you set your mind to something, you can achieve anything."
"It was such an interesting academic journey mentoring you.
"We congratulate you on earning this doctoral degree and for setting a new direction for the southern African media fraternity."
Moyo, a karate enthusiast, says he is indebted to his supervisors and grateful to his wife and two sons for their unwavering support during his doctoral journey. —University of KwaZulu Natal
Related Topics