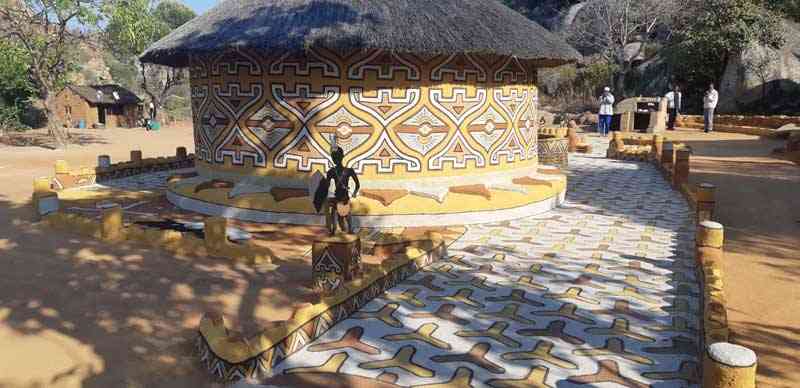 AT least 860 women took part in the eighth edition of My Beautiful Home contest where they decorated their homes with different shades of clay. The event was held on Wednesday at Amagugu International Heritage Centre.
The programme, spearheaded by Ekhaya Gaia National Gallery of Zimbabwe in Bulawayo and Amagugu International Heritage Centre, last year attracted 703 women who took part in the contest which aims to promote the traditional women art of clay painted homesteads in the Matobo Hills.
The women got prizes such as water tanks, wheelbarrows, ploughing wheels, chicks, pots, dishes among others. It was organized with the support of the French Embassy in Zimbabwe, The Alliance Française of Bulawayo, the German Embassy, the Zimbabwe Tourism Authority, the Lions Club of Bulawayo, Tragers Products, Mine Quip and Chemical, Freight Consultant, Fortwell Wholesale to name a few.
"This initiative originally created in 2014 by three organizations - Ekhaya Gaia-Maison Terre, the National Gallery of Zimbabwe in Bulawayo and Amagugu International Heritage centre," Ekhaya Gaia chairperson Veronique Attala told Standard Style.
"This year, 860 women took part in this contest by decorating their home with different shades of clay.
"The jury gave the prizes to the best ones selected.
"Since 2014, this contest rewards every single participant to their merit and design, where prizes are chosen for their utility values in the rural areas, has contributed to improve the lives of many families."
She said the photos of the contest displayed on social media have developed international interest to visit the Matobo Hills, and support the development of ecotourism.
"This contest has its origin in an ancestral tradition in the country, after the rains and the harvest and during the dry season where women have finally a little bit of time to mend and decorate the rural homes with different shades of natural clay (as well as charcoal and ashes) found in the surroundings," Attala said.
"Nevertheless, this tradition is fading with the parting of the families, having members moving to the towns.
"There is now a huge pride amongst many families of the Matobo Hills, to revive this tradition and compete for the best decorated home in the Matobo.
"The increased number of women in this year's edition is very encouraging and we hope next year, a thousand women can take part in this programme.
"My dream is to have internet in Matobo so that people can get information on this and woo more people, tourists and do ecotourism bringing money to the community."
Attala added: "This initiative, encouraged by the Ministry of Youth, Sport, Arts and Recreation, was also organised with the support of Acol Chemical, African Bushcamps, Hamara Farmers, the Matobo Research Institute, Forster Irrigation, Tanvest, Quality Foods, Southern Cross Estate and private donors such as Basil Schur and Widgie Farley."
A representative from the French embassy, Sylvia Rojaonah said they were happy to see women empowered.
"We saw the women preserving the Matobo heritage, their culture and heritage too," Rojaonah said.
"We supported this event and it keeps drawing the attention of more people.
"We offered financial support among other things and from what we have seen, we are happy to recommend tourists to come to this part of Zimbabwe."
One winner, Zibusiso Thabethe (49) in ward 15 in Nyumbane Village, Matobo said "I am so happy because I won and this kind of project encourages us women to be hard-workers, put our community in the limelight, our homes clean.
"Working together also makes other women who are lazy to have the zeal of also wanting to take part. So since the establishment of My Beautiful Home project, I have never missed taking part in any edition and this time I won a Jo-Jo tank, pot, millet and chunks."
Renowned educationist, poet, playwright, historian, biographer and founder of Amagugu International Heritage Centre, Pathisa Nyathi and the event was a success and is grateful to Veronique who helped source sponsorship.
"So it has been a very successful event and most grateful to Veronique who gets in touch with sponsors. She has been always very successful in that score. So we hope this will continue so that it becomes sustainable," he said
"I was speaking to one of the sponsors who said they need something sustainable. We need now to include gardens so that there is production of vegetables and other items so that the rural areas have facilities that will attract people from town.
"They will have their DSTVs, water, the jojo tanks, virtually everything and yet its airy. We hope this will make rural areas attractive and that translates to development while at the same time preserving our cultural heritage in particular the visual art form."
Nyathi said at the same, time people experienced intergenerational transmission of our heritage so that they create a legacy and pass on to future generations.
Related Topics