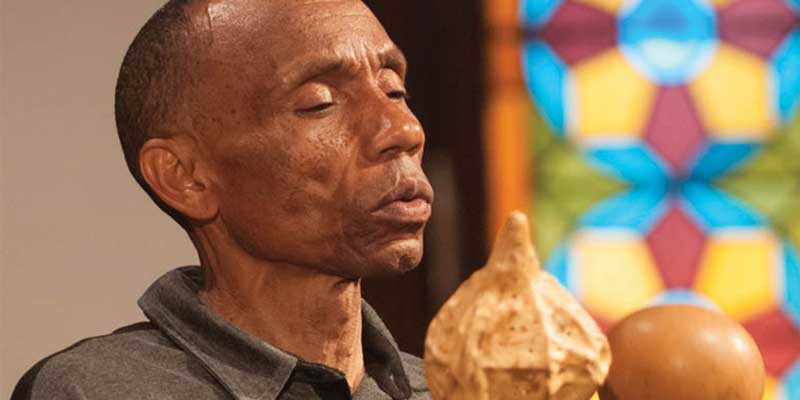 Yes, there is a business to still talk about in music in Africa despite the heavy loss of many musicians through death.
This week, we learnt with great sorrow and sadness of the passing on of Thomas Mapfumo's young brother and long serving percussionist in the Blacks Unlimited, Lancelot Mapfumo. Our condolences go to his brother, Thomas Mapfumo and the rest of his family and fans.
This is not the first time a Zimbabwean musician has died, but we continue to grieve when such an incident takes place.
We share our grief with all those who knew Lancelot and are saddened by such a loss. Despite the many losses of musicians that we have experienced in the past, we still do not accept that death in human life is a constant. We refuse to accept that we are all going to die at some point but when one goes, the grieving does not stop.
Zimbabweans still revel and show concern about the musicians who have passed on, such as Simon Chimbetu, Paul Matavire, John Chibadura, Leonard Dembo, Andy Brown, Chiwoniso Maraire, Jethro Shasha, Biggie Tembo, Ephat Mujuru, Tendai Mupfurutsa, Zexie Manatsa, Dorothy Masuka, Marshall Munhumumwe, Tobias Areketa, Oliver Mtukudzi and many more. These musicians died with their individual talents and it is almost impossible to replace such levels of giftedness.
These are great losses, but now it is time to start thinking about the suffering of those who are still with us. Their welfare is important to us if their creative abilities are to be sustained. I could list up to a hundred such musicians, but I dare not as they do not wish to be labelled as destitute. Privately, they continue to suffer the worst economic hardships as the price of basic commodities such as diesel, petrol, electricity, bread, sugar, mealie meal, meat and cooking oil continue to rise.
This reminds me of the 1982 hit song by Misty-In-Roots: Jah Jah How Long Do We Have To Suffer?
However, there is no need to despair as Zimbabweans, especially musicians, know how to struggle through hardships.
Our hope is with the new artistes coming onto the market.
With the Zimbabwe economy currently on its knees, many musicians are struggling to make a living. Some have even become destitute as they continue to suffer the worst economic crisis experienced by Zimbabweans.
But there is hope for new and up-coming musicians as African music begins to get recognition throughout the world.
Twenty years ago, Africa was not regarded as a serious music player in the Western world. Today in terms of maturity and competitiveness, Africa seems to be at the forefront of the music world.
Internet penetration in Africa has made it possible for Africa and the rest of the world to enjoy African music. Internet penetration is growing double-digit year over year and expected to reach 500 million people in Africa by 2025. In addition, the African population is expected to double from 1.2 billion to 2.5 billion by the year 2030.
Africa is a massive continent, and it is massively underserved across all industries, including the music industry.
Providing locally relevant solutions to this audience is the biggest opportunity.
The biggest challenge is providing relevant solutions to the consumers.
The continent is extremely segmented, not only is every country different but each customer segment within each African country has different listening habits that need to be catered for.
For instance, in Zimbabwe, the Zimbabwe Music Rights Association (Zimura), an association that manages the music rights of music composers/authors and publishers caters mainly for Zimbabwean musicians in a different way. Musicians in Nigeria, South Africa, Malawi or Tanzania are looked after by the different music organisations there. But of late, African artistes making international hits seem to be catering for the whole continent.
Established in 1982, Zimura is an association of composers and publishers of music that was created with the purpose of protecting the rights of musicians under the copyright law. It does not matter where in the world a Zimbabwean artiste's song is played. There are mechanisms in place now which allow royalties to be collected for that airplay.
When I was a member of Zimura board of directors, we would collect royalties on behalf of artistes like Audius Mutawarira who was based in Australia, Calvin Gudu who was based in the U.K. and Stella Chiweshe, based in Germany.
Zimura protects the performing rights of authors and collects royalties on their behalf. It also renders a valued service to music users by providing them with a single central source where applications should be made by anyone wishing to perform a musical work in public or broadcast it or relay it via a diffusion service. As such, no one is allowed to conduct a public performance of music without the prior permission of the author. Anyone who doesn't act in accordance would amount to an infringement of copyright and will be subjected to legal recourse.
In the past, corporations such as the Zimbabwe Broadcasting Corporation (ZBC) have been taken to court by Zimura for defaulting on royalties payable to musicians.
Everywhere else, especially in Western countries composers and publishers have no problems receiving royalties from organisations such as South African Music Rights Organisation (SAMRO), Confederation of International Songwriters and Composers (CISAC), British Academy of Songwriters (BAS), Performing Rights Society (PRS), Music Publishers Association (MPA) and World Intellectual Property Organisation (WIPO).
These organisations have had a long history of looking after musicians' rights all over the world. We are glad to know that in Africa, many musicians have woken up to these rights.
However, in some African countries, musicians find it difficult to get royalties due to them for their compositions. With the rise of the music business in Africa lately, it is time that Africa, as a whole needs to get its act together. There is need to ensure that every African recording artiste receives royalties from wherever his/her music is performed publicly just like the Western recording artistes do.
There are some significant structural differences in some African countries. Firstly, the rights market is very different with few centralised rightsholders of hyper-local catalogues.
Secondly the customers are a lot more segmented with different music listening habits and patterns within each customer segment.
It is possible to find a segment that is similar to the western world, but different customer segments consume music in very different ways across Africa.
I am confident that in the future 15-20% of all music on the global charts will be by African artistes. With African artistes such as Akon, Burna Boy, Davido, Angelique Kidjo, Black Coffee, Major League, Wizkid, Sarkodie, Diamond Platnumz, Youssor Ndor, Tiwa Savage and many more, African music with its unique and charming musical qualities, has impacted world music greatly.
The music industry is going through a massive democratisation.
The western world has historically been significantly overrepresented on streaming services and with the biggest audiences being western, so has the music that's being consumed.
It is extremely exciting to see that as music services are capturing global audiences so does the popularity of African music, genres and African musicians. The movement is funding local ecosystems and enforcing the growth of African music.
Despite the massive growth in smartphones and high data usage customers, the majority of people in Africa are still on very basic phones and a huge amount of people are not even online, yet they all consume music in one way or another.
To me, the music industry is missing out massively by focusing on the products and models that are now and for the current listeners instead of considering products that will increase penetration and grow the pie of music consumers and revenues.
Mdundo., a music streaming company based in Kenya, is often called the Spotify of Africa. It has over 5 million active users through its website and Android app, more than 90 000 registered artistes, and over 20 million downloads and streams per month. While conventional streaming platforms give most of their revenues to record companies and distributors, Mdundo disperses half of its income directly to the artistes. For the artist, that is the way to go.
For African youth, the music industry — from making music to marketing it— could be a promising source of employment in this world's growing creative economy. Streaming music in Africa alone is set to generate close to US$500 million by 2025.
This is why policymakers should support Africa's growing music industry and to my mind, they should take my predictions of the future of the music industry seriously.
Feedback:frezindi@gmail.com
Related Topics