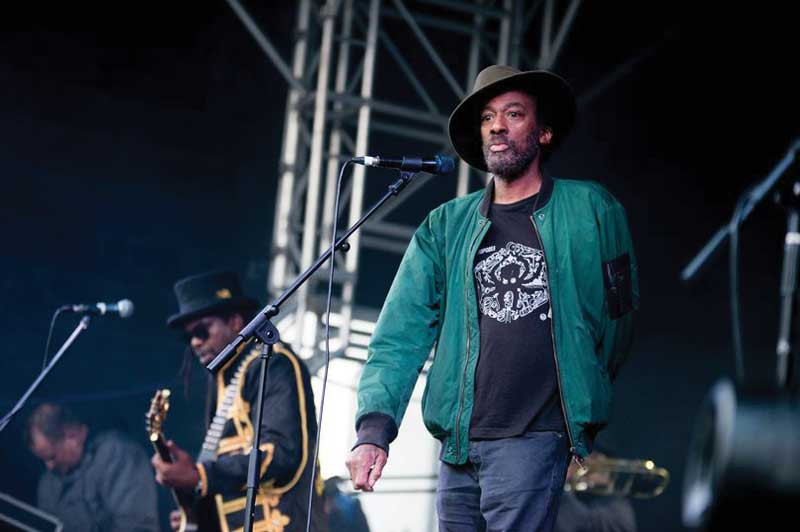 Angus Gaye, who sang and played drums for Aswad died this month on September 2. Born on September 24, 1959, he would have been 63 years old this month.
It was in August 1982 that Radio DJ, Mike Mhundwa and I decided to invite Aswad from the United Kingdom to perform in Zimbabwe. I had been friends with members of this group for a few years while resident in the U.K.
Since we did not have money to pay for their flights, we borrowed money from Charles Tawengwa of Mushandirapamwe Hotel. An entourage of 16 people came to Zimbabwe. These included the Ruff Cut Band who were the backing group for the three musicians in Aswad, namely Brinsley Forde, Tony Robinson and Angus Gaye aka Drummie Zeb.
Unfortunately, Drummie Zeb did not come to Zimbabwe at the same time as his colleagues. He was apparently ill and could not make the flight. Brinsley said that without Drummie, there would be no show. I asked another friend, King Sounds, who had also arrived with his band, The Israelites, to use his diplomatic skills to phone and persuade Drummie to come to Zimbabwe. The next day Drummie and his manager, Mike Campbell arrived on Air Zimbabwe.
Mhundwa and I had been waiting for him at the airport We were all excited to see him. We took them to a small hotel in the Avenues where we found an excited crowd of youths wearing dreadlocks and in red, gold, green scarfs surrounding the hotel.
In no time, at all billows of smoke were seen coming out of the windows. The hotel landlord called me aside, and asked me to stop these guys smoking. I couldn't but I told Martin Augustine and Clifton Bigga Morrison who were part of the Ruff Cut Band to tell the rest of the group. "No Man!," said Drummie Zeb. "This is a sacred herb that gives us motivation. It is the only cure for asthma for the rastaman. Can you move us to another hotel?" We did and the band was happy.
I remember Elizabeth Taderera aka Katarina of Mukadota family commenting about Angus Gaye: "Öh he is such a handsome man!. He was worth waiting for. Fred, please introduce me to him". I did and the two of them were inseparable in the two weeks that the band was in Zimbabwe. When Angus returned to the U.K., he kept calling me and would say, " Hey Fred, How is Elizabeth, man?"
The shows in Rufaro Stadium, Harare and Barbourfields Stadium, Bulawayo were sold out, the latter being marred by a failed P.A. system.
Aswad's original line-up was formed in London during the mid-1970s. The three main artistes, met at Holland Park School in London. All were of Caribbean heritage, with Drummie Zeb's parents originally from Grenada. This was at the peak of Bob Marley and the Wailers fame.
As they listened to Bob Marley, they wanted to sound like him and Brinsley took the lead vocals at first.
They were part of a rebellious British reggae movement that included bands like Steel Pulse, Misty In Roots and dub poet Linton Kwesi Johnson.
Aswad started as a hardcore roots-reggae act with songs like Three Babylon and Not Satisfied. Drummie Zeb's passionate playing on the 1982 In-Concert album, won him widespread acclaim.
As the band's sound and image became more commercial, Drummie Zeb assumed most of the lead vocal duties on songs like the global 1988 hit, Don't Turn Around as well as Give A Little Love and I Need Your Love.
With these hits, Drummie Zeb slowly replaced Brinsley on the lead vocals and I remember King Sounds explaining to me: "For as long as these songs continue to bring in money, the band will remain intact, but as soon as the money dries up, they will split up. Brinsley's ego will not allow him to continue with Drummie as Aswad's new front man." I agreed.
David Rodigan, a British radio DJ on Capital Radio at the time who was known for his selections of reggae music, commented: "The move to use Drummie as the lead vocalist was a good one and Aswad have now become the world's best reggae group. Even some bands in Jamaica cannot match this.''
Indeed, the money began to dry up in 1996 and Forde decided to leave the group for what he called "spiritual reasons''.
From 1996 onwards, the band played without Brinsley, with Angus Gaye as lead vocalist.
Angus Gaye, who sang and played drums for Aswad died this month on September 2, 2022. He was 62.
The band announced his death on its Instagram page as follows but did not provide details:
"It is with deepest regret and profound loss that we have to announce the passing of our brother Angus 'Drummie' Gaye," the post reads: "Drummie was much loved and respected by both family, friends and peers alike. [He] has left us to join our ancestors and leaves a huge void both personally and professionally."
When I saw him in Ashmore Road, off Harrow Road, London, in 2018, I almost did not recognise him. He had lost a lot of weight. We spoke briefly and I congratulated him on behalf of Brinsley Forde who had been honoured with an MBE in 2015 by Her Majesty, the Queen of England.
Gaye and his bandmates, Tony Robinson and Brinsley Dan Forde met at Holland Park School in London and released a number of singles that dented the UK chart before scoring big with Don't Turn Around in 1988, which reached the Top 10 in other countries including Ireland, Belgium and the Netherlands. Buoyed by the international success of fellow UK reggae band UB40 at the time, the single was from Aswad's 12th album, Distant Thunder, which hit No. 10 in the UK and went gold there.
Aswad — a proper noun that means "black" in Arabic — followed up Don't Turn Around with Give a Little Love later in 1988, reaching No. 11 in the UK, and had another Top 10 hit there with Shine in 1994.
A lot of Aswad's fans throughout the world, including Zimbabwe, especially those who saw the band perform in this country in 1982 are devastated to receive the news of Angus Gaye's death.
One Angella, a now married woman who attended the concert at Rufaro Stadium asked me the other day: "Ïs it true that that handsome drummer of Aswad is dead?"When I confirmed the news, she broke into tears.
Born on September 24, 1959, Gaye also produced songs for acts including the Swedish group Ace of Base, whose 1994 take on Don't Turn Around became an international hit. Taken from the group's multi-platinum debut album, the remake made the Top 5 in the U.S. and UK and topped the Canadian single chart. It also hit the Top 10 in several other countries including Denmark, Germany, Finland, Scotland and Iceland.
Gaye also produced tracks for Vanessa Mae, Carroll Thompson and others.
The group quickly became recognised among reggae fans for their rich melodies and compelling harmonies, woven over hard rhythm tracks and later inspired horn riffs. Aswad first gained national attention in 1976 when their debut single release Back To Africa hit #1 in the UK Reggae Charts.
In 1994, the band were nominated for a second Grammy for Best Reggae Album of the Year. The album was also a major hit in the UK and Japan, where it produced a #1 single Shine, boosting worldwide sales to more than 600 000.
Love Fire, Aswad's popular anthem released in 1981 and Warrior Charge have become part of the reggae canon and both are still covered today by many Jamaican record producers. The group's 1983 Island release Live and Direct is considered one of the quintessential live reggae albums.
They are the only British group to have recorded and/or performed in concert with top Jamaican artistes such as Burning Spear, Bob Marley, Peter Tosh and Bunny Wailer.
Aswad toured extensively, playing to packed houses ranging from London's Royal Albert Hall (supported by Linton Kwesi Johnson and Janet Kaye, they became the first Black group to perform in this royal hall which was built for the Queen's selected groups such as Sir Elton John, Sir Cliff Richard, Sir David Bowie and Sir Paul McCartney), Montego Bay's Reggae Sunsplash to venues in Zimbabwe, Africa, Israel and Japan. They also headlined numerous international events such as Rock in Rio festival and Nelson Mandela's 70th Birthday concert celebration including Help a London Child attended by Princess Diana.
In 2000 Aswad received the prestigious Outstanding Contribution to Black Music at the fifth Mobo Awards.
The death of Angus Gaye and his outstanding contribution has left a huge void in the reggae industry. MHDSRIEP.
Related Topics