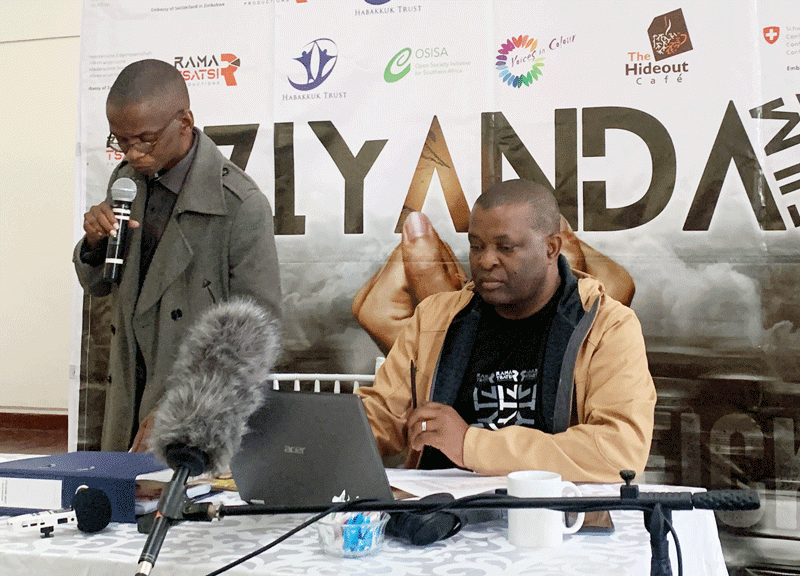 Ziyanda film executive producer and MD of Ramatsatsi Productions, Dumisani Nkomo says the film industry has the potential to become a major economic driver in Zimbabwe because of the richness that it carries in terms of locations for shoots.
Nkomo said this last Wednesday during a press briefing on the film Ziyanda whose production is expected to begin in November this year.
Ziyanda is an exhilarating feature film, which tells the human trafficking story through the lens of African women. It is set to be produced by Ramatsatsi Productions, a Zimbabwean based company in partnership with several South Africa-based production companies.
Some scenes will be shot in South Africa where post-production processes would be done. Ziyanda is expected to do the rounds in international film festivals and leave an indelible mark in the film landscape.
The film will be directed by South Africa based Zimbabwean born multi-award winning film director, Bonginhlanhla Ncube, aka Mr B, alongside acclaimed cinematographer Michael Mutombo, originally from DRC, but based in South Africa.
"The film industry can become a major economic driver in Zimbabwe if the right chemistry is distilled," Nkomo said.
"Ziyanda is a microcosmic process, which seeks to demonstrate that film is a business and film can contribute to sustainable economic growth through upstream and downstream economic activities which can unlock employment creation and economic growth.
"Ziyanda in particular can reposition Zimbabwe as a film destination of choice and the unique locations, which the country has, shows the potential of marketing the country as a tourist destination.
"There is unlimited economic and social potential in the film industry and Ziyanda will contribute greatly to this upward, sustainable growth trajectory through film tourism."
He said from a tour he made at the National Gallery of Zimbabwe in Bulawayo, Mr B said: "Bulawayo has a plethora of unique colonial buildings, which are well sought-after location sets for period pieces set in the early 1900s.
"Some of you don't know that Daniel Crag's first appearances in film was a film called The Power Of One, which was shot mainly on Railway Avenue."
Nkomo added: "The African Filmmaker (as he prefers to be called) further adds the importance of film tourism and that having a big film production taking place in a city contributes to the economy. He adds his disappointment in Zimbabwe's CCIs and the leadership involved."
Mr B said this project's success will only come about if a lot of parts in a huge machine come together.
"We need assistance, we need assistance in terms of buy-in, let everybody be involved," Mr B said.
"I am glad that a story that we are telling is not a political story, its a human story.
"What matters is are you a human being? Are you worried about your brother, sister, cousin or anybody you know disappearing and becoming victim of this human trafficking scam that goes around the world and its undetected sometimes it is detected?"
He said Ziyanda was an African story told by Africans.
"So for a change, it is a story that is told from an African perspective, but talking about, addressing a global issue," said Mr B.
"We have watched several Hollywood films that are based on the very same theme, but its time for us Africans to tell this story.
"Let the world see how we tell that very same story they have been telling."
Human trafficking ranks third among the world's worst crimes with the top spot claimed by drugs.
A modern day slavery phenomenon whose centre piece is exploitation of human beings through sex and prostitution, forced labour, drug paddling including human organ harvesting.
Globally, there are over 24 million victims of human trafficking. The United Nations Office On Drugs and Crime, projected in 2020 that the advent of the Covid-19 would accentuate and intensify human trafficking due to huge loss of jobs aggravated by the pandemic.
Recently there have been numerous accounts of Zimbabwean women stranded in the Middle East after falling prey to human traffickers who lured them through false job offers.
Related Topics