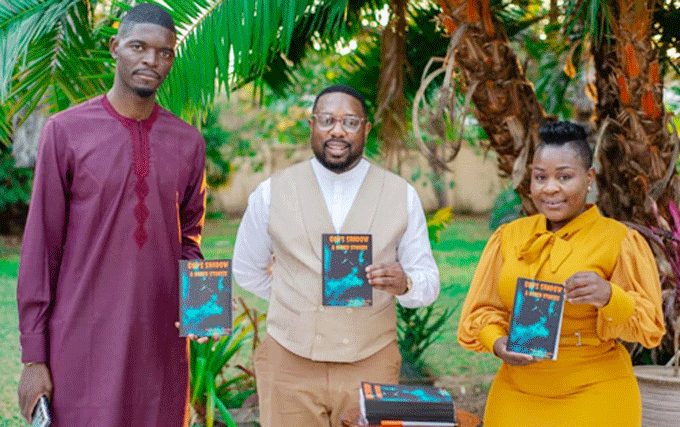 By Takemore Mazuruse
Novelist and playwright Humphrey Sambo recently launched his third book titled God's Shadow and Other Stories.
The book, a joint effort with his Europe-based sister Lucille Sambo, is a compilation of stories, which are somehow interlinked yet separate from each other.
"This publication is a big high for me coming at a time when chips are generally low given the Covid-19-induced lockdown," Sambo said.
"I am however happy that, working with my sister who has also helped me with my first two publications, we managed to get this beauty out. It's a must have publication and I hope it speaks to every reader who lays their hands on it."
The first copy of the book was bought for US$$100 by businessman Mike Billion while guest of honour at the event Shuvai Mugadza bought 10 copies.
Mugadza, who is the country manager for DHL Global Forwarding and recently recognised as one of the Top 40 Most Influential Business Women, highlighted the importance of writers in shaping community.
"Reading makes the man or woman and I heartily congratulate Humphrey on the occasion of his third publication launch," she said.
"I am a wide reader myself and even with the busy work schedule, I go for audio books so that I can listen to them while I go about my business. It's important that we embrace a culture of reading and for that reason I salute young writers like Humphrey [Sambo]."
The book takes a closer look at family, church, relationships among other things. Sambo who is inspired by writers like the late Dambudzo Marechera said he was happy to be unpacking everyday life through his work.
"I grew up in the same town that Dambudzo Marechera was raised and I would hear his stories, the books he wrote, his travel to the UK and so forth," Sambo said.
Sambo said he was inspired by different mentors and his writing was a gift from God.
He said the presence of great literature by writers like Ngugi WaThiongo, his favourite Maya Angelou and other greats like Chimamanda Ngozi has been the building blocks of his writing passion.
"Navigating through the books from all these great writers exposed me a lot," he said.
"A writer doesn't write because of time. Different writers have different writing patterns but the bottom line is that they write when inspired."
The book targets the African man, the struggles that he goes through and also helps him identify with the issues.
Related Topics