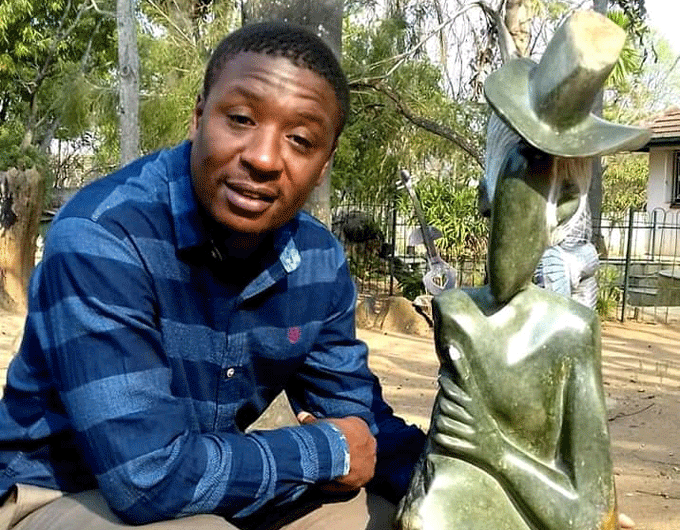 By Sindiso Dube
Internationally acclaimed sculptor and lawyer David Chengetai Ngwerume has hit out at government over its failure to support the arts sector while concentrating much on sport.
Ngwerume recently hogged the limelight after he crafted a stone sculpture advocating for Covid-19 vaccination.
The sculpture, titled Arms made of a black and white spring stone, features a man wearing a surgical mask receiving his Covid-19 vaccination jab on the arm.
Ngwerume, who is among the 5 352 artistes from 124 countries who are participating at "The Beauty of the Games" in the ninth International Beijing Art Biennial.
The ninth edition of the arts showcase is being held in China from January to March and is organised as part of the 2022 Winter Olympics, with the theme The Light of Life.
In an interview with  Diplomacy and Development, Ngwerume revealed that he has received no government  support and had to do it on his own.
"For me rock bottom always produces more champions than privileged, l have been doing all my work through my personal savings and we do not have any support," he said.
"Our ministry tends to focus more on sports than arts, but I have come to terms with that curse and I am ready to conquer the world through my art on my own," he said.
"The world is now one global village wherein good art work can be noticed and it trends and I am glad God made it happen for me.
"China as a friend to Zimbabwe should cultivate knowledge to its counterpart on how our government should align the sector through supporting artist as it is a foreign currency earner.
"It should strengthen marketing opportunities and separate the Ministry of Arts from that of Sports which is dark clouding on the arts."
Speaking on the positive and negative aspects of the artist profession in Zimbabwe, Ngwerume said: "Positively art has been a profession that has changed lives in Zimbabwe for some single handedly."
"Negatively the economic down turns have hit hard in the sector due to dropping number of tourists and that has found some quoting and going job-hunting.
"My ambition remains so resolute that more and equisite work is coming despite the challenges, I shall keep on pushing my audiences into newer territories producing sculptures outside the proverbial box.
"I am so ready to go further than being world acclaimed and become one of the world's greatest in God's right time,"
Ngwerume is a holder of a Bachelor of Law honours LLBS from the University of Zimbabwe and a practicing attorney with his own law firm Ngwerume Attorneys at Law In Harare and also Art History and International Relations from Oslo University in Norway.
He said his desire was to influence change in the world and make it a better place through various mediums from stone sculpture, paintings to installations.
Follow Sindiso on Twitter @Sindora_ZW
Related Topics