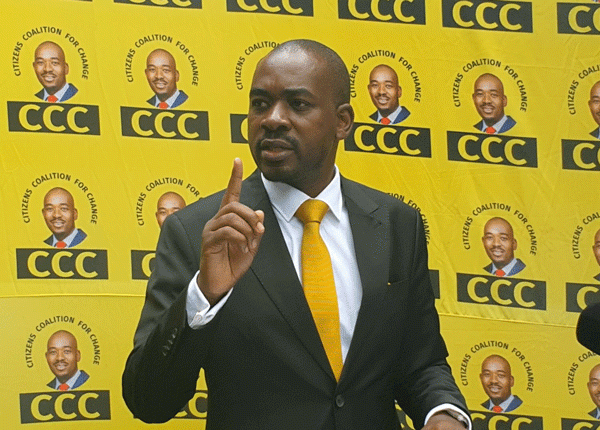 Nelson Chamisa and CCC must start drinking from the half-full glass, rather than the half-empty one.
Yes, lots of bad things happened at election time. Sick attempts by the Zimbabwe Electoral Commission (Zec) to frustrate opposition voters in areas that FAZ had mapped as crucial to sway the presidential tally.
A real but still sick plot by Zec to carve out constituencies and wards in a way that favoured Zanu PF. A voters' roll no show. Banned rallies. The list is long and winding.
Chamisa described the elections as a huge fraud and went crying to Sadc.
Even though the odds are against him and CCC, the main opposition is still insisting that Sadc and the AU must step in and help frame out a political solution to the—once again—disputed polls.
While the party may be harbouring the hope of a coalition government of sorts, real reason must tell Chamisa and company otherwise.
A coalition is a no-no. You don't want to jump into the crocodile-infested waters and hope to come out alive. There are predators in there. They know just one rule. To eat prey.
If you ask me, if the playing field was levelled out, Chamisa might have gotten more votes than he did.
President Emmerson Mnangagwa might have gotten less as well.
That would have forced a presidential run-off. In terms of parliamentary seats, CCC might have gained two or three more, but Zanu PF would still have taken away the bigger share.
It's a fait accompli now. With CCC councillors and MPs having already been sworn in, all talk about contesting the elections and their results becomes useless jawing.
The CCC will be the main and only opposition in parliament for the next five years, after which we will go to the next polls.
Amidst all the sourness that Wamba and his CCC are clearly suffering, these dudes must also be counting the blessings. In other words, it's not all gloom and doom.
First thing. Having denied Zanu PF a two-thirds majority at the elections, it means that Mnangagwa, his party and government won't be able to change the constitution willy-nilly.
One big fear that most of us had was that Mnangagwa might want to tinker with the constitution to extend his rule beyond 2028, seeing as it is he had already, Freudian-style, promised to be there in 2030.
If anything, the prezzo is now fodder for impeachment, given that it's not all the MPS and senators from his party who exactly love or like him.
He knows it and has said as much before. Look at this. CCC and Wamba have actually made history.
History of which, in the frenzy of the post-election season, is not getting the attention that it deserves. The party and its presidential candidate, Wamba, went into the elections without a home. It was a homeless movement.
No office, no address, no fixed abode and, therefore, no bank account.
Dougie took away Harvest House a couple of years ago and we know that.
So, boardroom meetings took place in all manner of venue, just barring under the bridge.
To see how bad things have been, the party was even barred from holding press conferences and meetings at Zimbabwe's hotels after the polls.
That made CCC an institution of political street kids.
Contrast that with Zanu PF. IT had its infamous Shake Shake house on a road aptly called Rotten Row. It had all sorts of other opulent and spacious spaces to do its business.
And, unlike CCC, it had the liberty to hold its rallies even in your bedroom.
So, for the first time in the history of elections, a grouping of political street kids still managed to garner millions of votes. Even liberation movements like Zanu and Zapu had offices in the midst of the anti-colonial struggle and after ceasefire. Mind you, the CCC was almost structure-less too, save for a head—Wamba—and a distorted torso in the form of Wamba's closest aides.
But the virtually formless CCC still managed to gain close to two million votes and 73 seats, and could have done better if the field was better done.
A relatively young formation, CCC spooked a well-established Zanu PF out of its boots. Not only that, it managed to throw blinding mud in the face of that party and its presidential candidate.
You all know Nevers Mumba now. He is the chap whose team decided to call a spade a spade.
Even though their preliminary report didn't exactly put it that way, the overriding perception now is that the Zimbabwean polls were a sham and, therefore, the political leadership that emerged out of it is a sham too.
Meaning that, for the next five years, the leadership will be a banana leadership with hardly anywhere to run, courtesy of the challenge from Wamba and CCC.
Furthermore, Sadc seems to be getting bolder with its members and it may not be business as usual for future elections.
This is very important because it will still give CCC and Wamba relevance into the next elections in 2028.
As it is, you don't expect the administration whose tenure has been controversially renewed to do anything meaningful.
It's the same old stuff. A suffering population. Big question marks around democratic transition. Corruption. More human rights abuses. No drugs in hospitals. Inflation. Useless Zimdollars. More and more anger and frustration among the people.
If anyone still had hope about what the coup mongers can do, just look at Mnangagwa. He has reappointed as co-VP, the fatally discredited Kembo Mohadi.
Two years ago, hissing Mohadi was forced to resign when audios indicating that he was doing hanky-panky with young married women in his office, hotel rooms and probably on hay beds at his farms or farms came out.
Fine, Mohadi claimed then that his voice was cloned by his political enemies but, he added, he was innocent.
He didn't even look like he believed himself when he said so, let alone most of us from the excitable mass.
In any case, what circumstances have changed for him to accept re-appointment? He and Mnangagwa probably assume that we have forgotten. No, we haven't. Mohadi remains seriously discredited.
The main point here, though, is that, by re-appointing Mohadi to the VPship, Mnangagwa has just demonstrated that he and his administration are not prepared to do things right.
If anything, we will be seeing more, more and more of the shoddiness, crudeness and mediocrity that we saw in the post-coup establishment since 2017.
What does that mean for Wamba and company?
It means that they have a robust opportunity to make inroads into the Zimbabwean electorate due to festering disillusionment. It means the Mnangagwa administration will become more discredited than it has ever been before.
It, in turn, means that there is a bigger chance that, come 2028, CCC will have a bigger chance to get into power. But then, it depends on what Wamba and CCC will do between now and then.
They need to transform CCC into a solid institution. Get a constitution, do structures, reach out to the people and cast away this strategic ambiguity thing.
Ride on the rising wave of anger and protest. Force reforms rather go to parly to get loans and spew vulgarities.
After all, Zanu PF is a dying giant. It has failed to transform or renew.
Even though it has introduced some new blood into leadership positions, the top remains very old school, and will be frailer in five years.
It's highly likely that Constantino Chiwenga will be the next presidential candidate. But then, before he finishes saying "rand reform" or "skirid rebhara", people will be done with their ballots.
Put differently, with Chiwenga as its presidential candidate, the Zanu PF goal will have no keeper.
People are increasingly looking for fresh blood. And Zanu PF doesn't even have a young leader in sight.
It is a deliberate but ironically tragic decision. They went into the elections without a substantive chair of the youth wing. That was to suppress young leadership and ensure the old wood remained floating in the pond.
That's one big advantage that CCC will have. The youth wave. The stats will show you that Zimbabwe has 16.7 million people. For this past election, some 8.8 million were eligible to vote, even though only 6.6 million registered.
That means close to eight million Zimbabweans are under 18.
However, in the next five years, you are likely to have at least one more million people turning the 18 years corner.
That means more young voters, the majority of who will still be jobless and angry with the Zanu PF government. That's in both urban and rural areas.
With enough mobilisation, sensible reforms, a credible party and leadership—meaning that, among other things, Wamba must get more mature and be less of the Pentecostal preacher/glossy orator—CCC can gain at least half of the new voters while Zanu PF gets less, particularly in rural areas.
lTawanda Majoni writes in his personal capacity and can be contacted on [email protected]
Related Topics