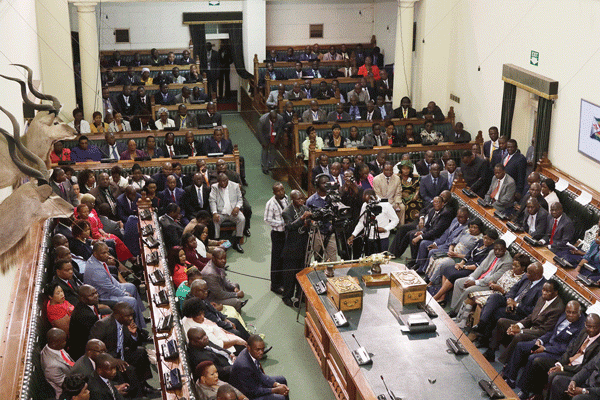 Introduction
In 2013, Zimbabwe adopted a pro-gender equality constitution that provides in Sections 17, 56 and 80 for gender equality in all sectors including politics.
The constitution stipulated that 60 seats would be reserved for women under proportional representation (PR), which would be distributed among political parties.
The seats complemented the 210 National Assembly constituency seats on which men and women compete, but which men dominate due to historical marginalisation and segregation.
The PR or quota system was meant to expire in 2023 but was extended by two five-year terms, throwing women a brief leadership lifeline.
Momentary hope for women
With the quota system in the past 10 years, more women took leadership positions and for the first time in Zimbabwe's history four women contested as presidential candidates in 2018.
The four were former vice president Joice Mujuru of the People's Rainbow Coalition (PRC), former deputy prime minister, Thokozani Khupe of the Movement for Democratic Change (MDC), Melbah Dzapasi of #1980 Freedom Movement Zimbabwe (FMZ) and Violet Mariyacha of United Democratic Movement (UDM).
The women emulated former Liberian president Ellen Johnson-Sirleaf, the world's first elected black woman president and Africa's first elected woman head of state.
In the same year, Johnson-Sirleaf observed the Zimbabwean elections, firmly solidifying the importance of women leaders in a country characterised by patriarchal leadership.
Declining numbers
Despite the progressive laws women, who constitute 52% of Zimbabwe's population, are not adequately represented in parliament or local authorities.
Following the 2018 harmonised election, women only constituted 48% of senators and 31.5% of legislators – this despite 60 seats being reserved for women elected on the PR system.
Only 11.9% of the constituency Members of the National Assembly were women.
The representation of women in local government was even lower at only 14% in 2018.
In the 2022 by-elections, out of the 28 parliamentary seats contested only five women were elected.
At the local government level only 19 women were elected to councils as opposed to 103 men.
Women's political participation face a bleak future as numbers continued to decline.
In the 2023 harmonised elections, 637 contestants are vying for National Assembly seats, but only 70 are women, from all political parties and independent candidates.
Compared with the 2018 elections where 237 out of 1648 candidates were women, this represents a decline from 14% to 11%.
In the past four years women's political participation has declined owing to various factors.
Scourge of physical and online political violence against women
Women are vulnerable and have often been victims of politically motivated violence instigated by men.
Following the 2018 elections, the Women's Academy for Leadership and Political Excellence (WALPE) has recorded over 60 cases of women reportedly maimed, tortured and even killed for political reasons
Violence against women goes beyond physical clashes that hinder political participation, to include online threats, harassment, intimidation, hate speech and cyber-bullying.
Resources unavailability and constraints
Lack of resources has also limited women's political participation.
Many women fail to raise the funds to campaign, while the Zimbabwe Electoral Commission (Zec) recently increased the candidate nomination fees.
In 2018, presidential candidates paid US$1,000 and legislators US$50, but this year the fees rose to US$20,000, and US$1,000 and US$100 for Senate and council candidates.
WALPE and other pro-democracy women's rights organisations petitioned against the hefty nomination fees but to no avail.
This is, however, not a clear reflection of the economic situation prevailing in the country.
The unemployment rate stands at more than 90% and wears the face of a woman.
Patriarchal attitudes
Often, women who engage in political activities are labelled and called by derogatory names and their lives magnified and put under the spotlight.
Women political leaders' marital status is of public interest with many claiming no sane man can marry a politician, while few people bother about a male politician's marital or extra-marital affairs.
The patriarchal nature of Zimbabwean society discourages women from participating in politics.
Society stereotypes women as weak and inferior, lacking emotional intelligence, and only suitable childbearing and household chores
This renders many aspirations of becoming a woman politician difficult as they have to overcome patriarchy at home, in the community and the party they are affiliated to.
Unintended effects of PR
Proportional representation seats for women in Parliament and in local authority councils has had unintended perverse effect.
Women's participation in constituency and ward elections has become more difficult in political parties which are male dominated.
Male-dominated political parties expect women candidates to contest the reserved seats while constituency and ward seats are kept as the preserve of men.
This is contrary to the purpose of the PR seats.
Increasing women's political participation
For women to take a truly equal role in political affairs society should shift its patriarchal attitudes and stop stereotyping and regarding women as inferior to men.
Shifting these societal attitudes and norms may take time, giving women greater access to resources so that they become economically active will expedite the process.
Apart from temporary PR seats, political parties should respect the Constitution and international gender commitments, and field an equal number of women candidates to men for elected parliament and council seats.
Helen Kadirire* is the Women's Academy for Leadership and Political Excellence (WALPE) Media and Publications Officer. WALPE is a women's rights organisation based in Harare. She writes in her personal capacity.
These weekly Perspectives articles published in the Standard newspaper are coordinated by Lovemore Kadenge, an independent consultant, managing consultant of Zawale Consultants (Private) Limited, past president of the Zimbabwe Economics Society (ZES) and past president of the Chartered governance & Accountancy Institute in Zimbabwe (CGI Zimbabwe). Email – [email protected] and Mobile +263 772 382 852
Related Topics