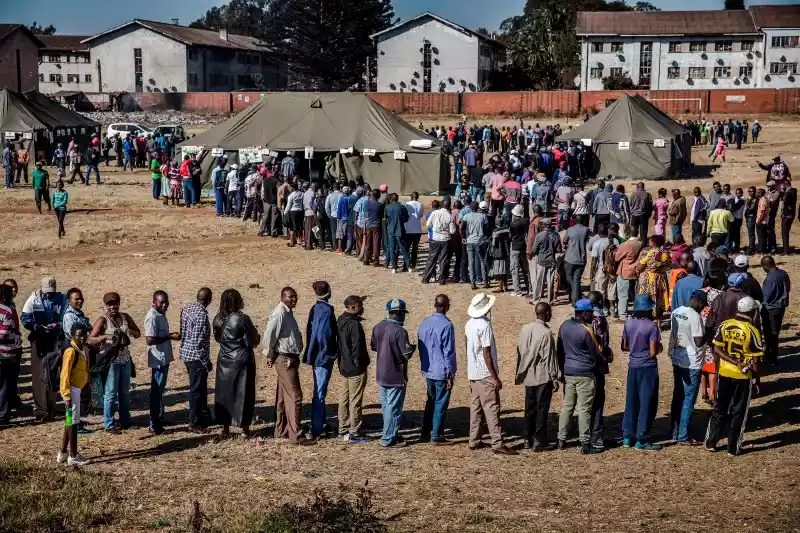 At least two dozen presidential, national, regional and local elections are held across the African continent each year.
The sometimes fierce electoral competition, a history of violence or vote rigging make it especially important to know that elections are free, fair and credible.
This is where election observers come in.
The Conversation Africa's politics editor, Thabo Leshilo (TL), spoke to Kealeboga J. Maphunye (KJM), a political scientist and elections expert, about the often difficult, and sometimes even dangerous, work of observers.
TL: What do election observers do?
KJM: There are two kinds of observers: domestic and international.
Both may be politically and economically aligned or impartial. Aligned observers usually support their governments, organisations or funding agencies' policies.
All may be from civil society organisations or bodies like the African Union (AU), United Nations (UN), Southern African Development Community, Economic Community of West African States and Intergovernmental Authority on Development.
Observers cannot criticise a country's election practices, electoral body or machinery – except discreetly.
They may not stop any electoral process to "rectify" what they see as "discrepancies". They must document these in their final report.
The terms election "observers" and "monitors" are used interchangeably. This often blurs their differences.
"Monitors" normally play an interventionist, robust role such as questioning election outcomes publicly. Unlike traditional observers, they may also lobby or agitate to amend or overturn election results. They may also criticise some electoral practices.
Very few African countries allow "monitors" to oversee their elections. They see them as promoting hostile advocacy against their governments and national interests.
TL: What do they do? Why do we need them?
KJM: Most election observers assess a country's pre-election readiness and adherence to its electoral and other laws. They also assess a country's ability to hold free, fair and internationally accepted elections. They comment on the outcome.
Both international and domestic observers serve as a verification mechanism. They provide an extra layer of accountability to the voters and international community on the conduct and outcome of the election. Their presence may help alleviate disputes.
TL: How much influence do they have?
KJM: Their presence and reports assure regional and international bodies like the AU, UN, Commonwealth and governments of the legitimacy of electoral processes and outcomes. Their reports may be referred to where disputes or post-election violence arise.
Winners often cite the reports as proof of their electoral victory. Losers, on the other hand, might use them to support their allegations of election malpractices or rigging. These may lead to the questioning or annulment of election results.
Different observer missions may contradict each other. When this happens, their pronouncements that elections were "free and fair" are less useful. They can be challenged.
TL: What standards are they held to; are there codes to observe?
KJM: Observers rely on international and regional standards and national legislation to do their work. For example, the Southern African Development Community has a set of election principles.
Yet some countries flout or overlook the standards. This allows unscrupulous incumbents to win unfairly. Endorsing such illegitimate election outcomes can compromise the integrity of observers and the elections.
TL: What makes them successful?
KJM: Their success lies in their visibility at polling stations. Also key is their power of persuasion when dealing with contesting political parties, and election management bodies. Their mere presence in a country during an election can assure voters that someone impartial is watching the process.
This may minimise violence or electoral malpractices. Their reports may also help exert diplomatic pressure or influence on election management bodies, governments and other stakeholders.
Observers rely on innovative tools like taking representative samples of polling stations, and biometric and global positioning system (GPS) technologies. These may convince stakeholders that their coverage of a country's election was geographically balanced and evidence based.
TL: Which are the common obstacles?
KJM: Observers can face rough terrain, election-related violence, misinformation, uncooperative governments and unwarranted or illegal internet shutdown. They sometimes face hostile or pessimistic opposition parties. In some countries, biased election management bodies may undermine observers' work.
The Covid pandemic showed how viruses and diseases may undermine elections. In volatile countries, such as the Democratic Republic of Congo, Somalia, Mozambique, Mali and Nigeria, observers also face rebel attacks, abductions and killings.
The cost of organising and deploying observers, including providing for their daily needs and welfare, continually poses challenges for observer missions.
TL: Which are the worst countries in Africa for election observation?
KJM: There are no "best" or "worst" countries for observing elections anywhere in the world. But, in Africa, observers regularly risk dangers arising from political instability, insecurity, violence and other crises in countries like Somalia, Chad, Central African Republic, Cameroon, Nigeria, South Sudan and Mali.
Such countries can't guarantee observer safety and security, nor ensure an environment conducive to free, fair and credible elections. Election related violence in countries like Kenya, Uganda, the DRC, and Côte d'Ivoire undermines election observation.
So does insecurity and terrorism (Burkina Faso) as well as war (Sudan). In Zimbabwe, Congo Republic and Ethiopia, pre-election instability, post-election violence and other malpractices have affected the quality of election observation. – The Conversation
Related Topics