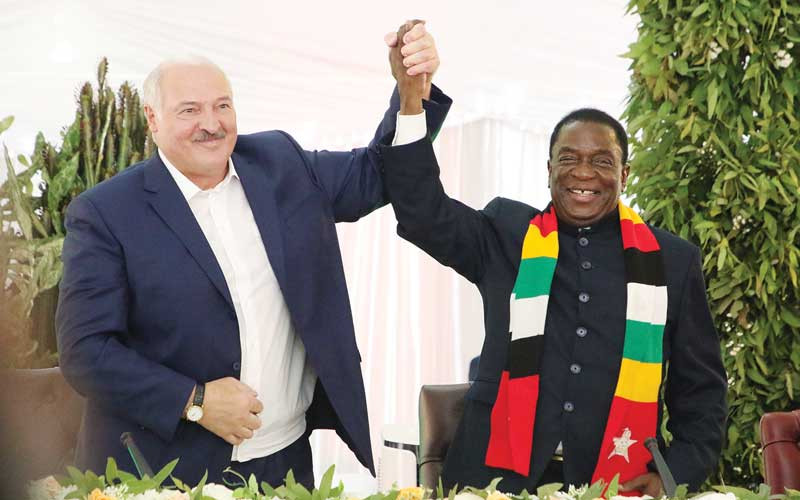 In a bizarre ceremony recently, Zimbabwe's President Emerson Mnangagwa offered a stuffed lion to the visiting Belarusian president, Alexander Lukashenko.
In exchange, Zimbabwe received US$66m worth of agricultural equipment for the agricultural mechanisation programme, notably tractors made at the famous former Soviet plant in Belarus.
In the speeches that followed both praised each other's countries, noting their commonalities as both being subject to sanctions by western 'imperial powers' and both with an interest in agricultural mechanisation, with the Belarus delegation invited back for the International Trade Fair in April.
Such is the isolation of Zimbabwe these days that international diplomacy amounts to this!
This of course is not the first time that Zimbabwe has benefited from Belarusian tractors.
Several years ago, another shipment arrived with great fanfare, again part of the on-going diplomatic manoeuvres that countries shunned by most must deploy.
Of course, the tractors could be very useful, and particularly given the draft power shortages that have emerged due to the mass mortalities of cattle due to tick-borne diseases over the last few years.
Many farmers across our sites are investing in tractors as here in Wondedzo near Masvingo.
As farms upgrade, mechanisation is essential, especially on the larger A1 and A2 farms in the resettlements.
As our work has shown investments in tractors have been central to boosting production for many, although maintenance, spare parts and so on continue to plague tractor owners.
Some have taken up hiring out tractors as a business and A2 farmers with machinery often rent out ploughing services to their A1 and communal area neighbours.
The More Food Africa scheme supported by the Brazilian government has also provided tractors to small cooperative groups (see picture below), with mixed results as Toendepi Shonhe found in our study area of Mvurwi .
Tractors are of course political, as I have noted before on this blog.
And the performance between Mnangagwa and Lukashenko was clearly so.
But as a source of patronage tractors are unsurpassed.
From the infamous mechanisation scheme of Gideon Gono to handing out these gifts from abroad, where they end up will inevitably relate to who is connected to who, despite what the worthy policies from the ministry say.
While there are only a few of them and overall they make little overall difference, they help oil the wheels of patronage in rural areas, favouring those who can return political gains, especially in the build-up to elections as now.
However, sadly, most end up broken within a few years, depressing symbols of failed aid programmes and their politics. I fear the same fate awaits the shiny red machines that have come from Belarus.
The exchanging of dead lions and tractors in Zimbabwe was somewhat overshadowed by the rather more high-profile diplomacy going on across Africa at the same time.
And they are not unrelated.
For example, the South Africa government received the Russian foreign minister, Sergey Lavrov, demonstrating to the world that Russia, despite the war in Ukraine, is 'not isolated'.
Meanwhile, to some international outcry, South Africa announced joint naval operations and military drills in its waters with the Russians and Chinese.
Elsewhere, US Treasury Secretary Janet Yellen was touring Africa hot on the heels of President Biden's US-Africa Summit in December.
And not to be outdone, the new Chinese foreign minister, Qin Gang, was touring African countries during January, continuing a long tradition of high-profile African visits at this time of year.
In the build-up to the next Brics (Brazil, Russia, India, China and South Africa) gathering in Durban in August this year, South African offers of olive branches to the Russians and Chinese make sense.
However, since the heady days when the Brics grouping was launched, things look very different, with economic fortunes changing and political complexions shifting (although of course Lula, one of the great proponents earlier, is back in Brazil).
What does this all mean in terms of shifting geopolitics in Africa?
The Zimbabwe-Belarus relationship is a slightly sorry side-show, but how South Africa positions itself definitely matters.
Initially seemingly critical of Russia's invasion of Ukraine, but like many African nations, including Zimbabwe, South Africa has since offered a more conciliatory tone, positioning itself as 'neutral'.
With the decline of US/western hegemony, African nations know full well that good relations with Russia, China and India are essential.
The forays by Russia into Africa are growing, although not in any way matching the Chinese.
However, their diplomatic position is less subtle and so has the ability to make waves.
Always willing to foment divisions with the West, recently Russian flags were seen being waved by protesters in Burkina Faso who were condemning the effects of what they see as continuing French colonialism.
Russia will continue to look to Africa for support as the Ukraine war drags on and Russian investment will be a key part of their bargaining position.
So, an exchange of a stuffed animal with a bunch of red, metal machines was certainly bizarre, but has to be understood in a wider context. Zimbabwe, like Belarus, are bit-part players in a bigger geopolitical game, but intimately bound up in it…. as is the dead lion and the tractors.
*This blog was written by Ian Scoones and first appeared on Zimbabweland
Related Topics