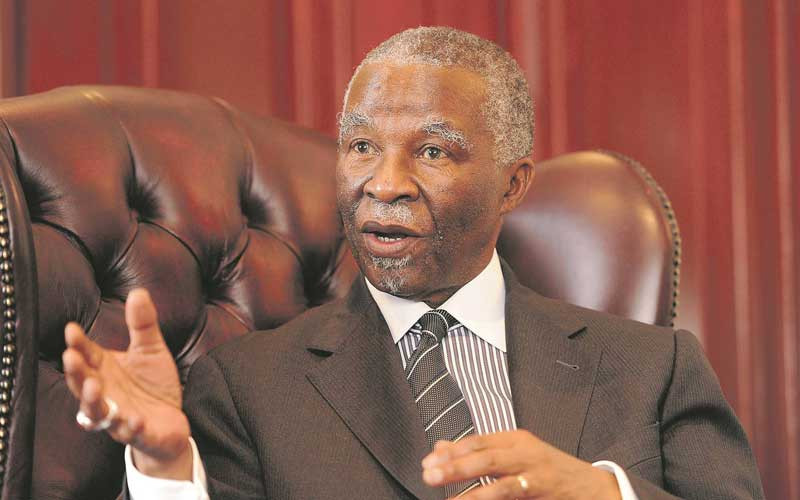 Thabo Mbeki was vice-president and president of South Africa from 1994-2002.
After he was recalled, and the trajectory of South Africa took a disastrous path economically, he spent all his energies travelling, making notes, and sharing his ideas on what went wrong.
In this essay, I will concentrate on three issues; namely who are we? Secondly, Mbeki concluded that since no serious effort had been made to provide for the war veterans, it dawned on them that one way to earn a living was to achieve an elected position, from which the incumbent could then pilfer (or divert) resources meant for the public good to his own purpose.
At the upper end of the ANC hierarchy, international intelligentsia, somewhat schooled in Margaret Thatcher economics (now called globalists) were devoted to the destruction of the state institutions themselves (called state capture) and selling them off at next to nothing to their globalist entrepreneurs.
I am an African
It came late in life for Mbeki to realise the full meaning of that phrase. Whatever one may say about Margaret Thatcher or Tony Blair, they were English imperialists and the blood of their fathers, Winston Churchill and Lord Nelson ran in their veins. They were not apologetic about who they were. The British (as indeed the Americans) will go to the end of the world to rescue a fellow Englishman.
Leadership is all important, especially in newly emerging countries which are creating new identities. Unfortunately, though some leadership aspects can be learned, generally leaders are born.
Nelson Mandela and Bishop Desmond Tutu were comfortable in their own skins and had they been given time would have hammered a rainbow nation.
Mbeki's summation of is identity is important. "I am an African."
The curse of Africa, which Mbeki realized as late as 2002 in his great speech, I am an African, was that perhaps most of our elites, armed with western degrees and accolades, have lost touch with the blood of their kinsfolk and are incapable of empathy and sympathy with the primitive 20 000 Tshilonga tribesmen who are displaced in favour of the Cotzeer brothers. Similarly, four villages in Mutoko were removed to give room to a 175-hectare quarry by a Chinese Company.
The Tshilonga and the Mutoko tribesmen were told by the Chinese that they were wasting their time.
The Chinese had already been to the president's office and had been given the go ahead. The rainy season is upon us. An old Mutoko woman suffered a stroke at the news.
But who cares, we are governed by mercenaries. To Mbeki, an African (both black or white) who can share the common experience of oppression and lack of grace exhibited towards fellow humans.
Such a human cannot pass by the suffering of the Tshilonga people without shedding a tear in empathy.
South African Capo de Capo
The South African mafia combine outright thuggery and a veneer of globalist World Bank Thatcherite econometrics. They would rather see their brothers sold off into slavery rather than disappoint those that have bought their hearts.
Michael Lomes was awarded a Rand 745 million Kusile power project under Black Empowerment Enterprises. Before anybody could say hi, the pricing had risen to Rand 1.6 billion. The juicy part is that there is no power plant at Kusile and Lomes is fighting extradition from his hide-out in London.
Twenty such projects have been identified.
A Chinese import-exporter by the name of Hueng was avoiding customs duties. Being a foreigner, he was locked up and deported. He re-appeared complete with permanent resident papers. His partner was Zuma's son.
In his speech two weeks ago, Mbeki pleaded with the national council to elect honest and trustworthy leaders and mentioned the pressures swelling around President Cyril Ramaphosa.
Ramaphosa, a cattle farmer says he sold some "buffaloes" to a Sudanese rancher Muhamad Mustafa.
Stacks of rands, worth three million were stacked in mattresses in his bedroom. Household staff were involved in the theft of the money. Ramaphosa called in a private posse to trace the thieves across the Namibian border. Violence occurred as the thieves were roughed up. Bribes were exchanged to keep some mouths shut.
There is no evidence that Mustafa exists. There are no bank accounts referring to the millions of rands. The reader can make his judgment. Is RamaphosaCapo de Capo (godfather of the mafia).?
Globalists
Globalists wreak havoc on national sovereign assets. Under-funded and in disrepair, they sell them for a song to their offshore global friends. Backed by intellectual prostitutes' free enterprise think tanks in New York and London, Mbeki confesses that they make a formidable force to reckon with.
Tom Myeni and Yakhe Kwinina at South African Airways "ran the airline into the ground, in part with fear and intimidation. It found the lack of accountability and transparency at SAA and SAA technical enabled state capture and corruption."
The issue here is whether Myeni and Kwinina were sent there to destroy the largest airline in Africa with a 135-plane portfolio?
Zimbabwe's Zesa (Electricity Commission) under the leadership of native intellectuals preceded the shenanigans at ISKOR (South Africa). Sidney Gata, chief executive at ZESA's connection with the globalists can be traced to 1997 – 2000 when he served as Executive Director of Integrates Systems Ltd (UK). In that position, he was seconded to the Investment Bank of Zimbabwe and played a major role in the Hwange Privatisation and Expansion. The major shareholders were Bernhard (Belgium) and Tractebel (Malaysia).
The electricity supply became even more precarious since these privatisation deals at Hwange.
Gwata, appointed chairman of Zesa in 2006 served for serval years after that. He was relieved of his position after several allegations of nepotism and incompetence. The main issue is that the electricity supply to customers was unpredictable, putting commercial enterprises at risk.
Yet, in 2019, he was recalled by minister Fortune Chasi. Allegations of nepotism resurfaced after he rehired former colleagues Fortune Sambo, Engineer Nyachowe and Macrone Utah.
Gata, now chairman and chief executive soon clashed with the board. In normal circumstances, the Board, when sitting, is superior to the Executive Officer. Gata claimed, rightly so, that he was answerable to the minister and since he was both chief executive and chairman, he was not under the authority of the Board.
Gata, who had failed to turn around the fortunes of Zesa in his previous appointment should not have been allowed within one thousand yards of Zesa.
These globalists have only one aim, to destroy national sovereign wealth and sell the remnants cheaply to their foreign masters.
Ken Mufuka is a Zimbabwean patriot. He writes from the US.
Related Topics