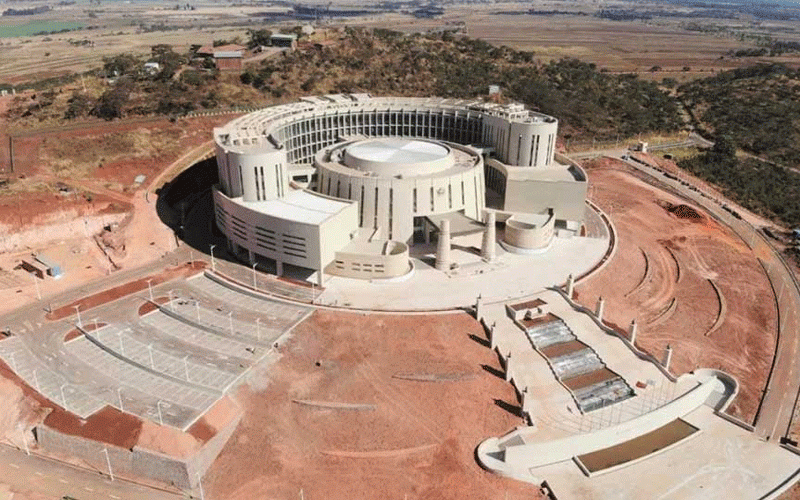 On November 23, 2022, the President of Zimbabwe, Emmerson Mnangagwa gave the state of the nation address at the new iconographic parliament building that was designed, funded, built and "donated" by China to Zimbabwe.
The new parliament building is such a colossal and magnificent national edifice which adds to the infrastructure stock of the country.
In his address, Mnangagwa hailed the new parliament building as a new testament of the close ties between Harare and Beijing whose historical pedigree goes back to the era of liberation struggle in the 1960s and 70s.
On the other side of the ledger, the lavish parliament building "gift" stands as a veritable exemplar of the extent to which Beijing is prepared to keep Zimbabwe within its geostrategic orbit.
Ever since China adopted its 'Going Global Strategy' in the tail-end of the 1990s, Beijing has been dolling out millions of dollars to African governments in support of the continent's 'infrastructural revolution'.
China's focus on economic infrastructures was further catalysed by president Xi Jinping's signature programme of 2013 — the Belt and Road Initiative (BRI) which has seen China construct and refurbish over 200 public buildings in Africa including judicial courts, stadia, universities, residential buildings, theatres, schools, hospitals, factories, military housing, police headquarters, airports, ports, roads, railways and bridges and many more.
President Jinping's BRI sets out to connect Asia with Africa and Europe via land and maritime networks with the ultimate aim of rewiring China as a global superpower.
In this context, Africa has become a geostrategic locus for Beijing, largely because of its natural resource endowment.
Focus on Parliament buildings
Apart from the economic infrastructures, Beijing has also been focusing on financing decision-making houses such as presidential palaces and state houses as well as parliaments which are the centrepiece of this opinion piece.
As observed by Innocent Batsani Ncube, a Zimbabwean researcher based at the School of Oriental and African Studies, China has so far constructed and renovated over 14 parliamentary buildings across Africa including national assemblies and parliaments in Cameroon, Congo Brazzaville, Cote d' Ivoire, DRC, Gabon, Guinea Bissau, Lesotho, Malawi, Mali, Mozambique, Seychelles, Sierra Leone, and Togo.
The latest recipient of this tapestry of generosity is Zimbabwe.
However, the cost of Zimbabwe's grandiose parliament building is subject to speculation as both Beijing and Harare have been economic with the truth.
Over half a dozen different figures have been reported with some media reports placing the value of the new parliament building at US$79 milliom and some at US$100 million, US$120 million, US$140 million, US$160 million and the highest figure so far is US$200 million.
The lack of clarity on the actually amount of the "gift" is not necessarily surprising given the opaque operations associated with Beijing in Africa and elsewhere in the world.
Unfortunately, this gives credence to the speculation that the new parliament building is not a donation after all but has been financed through a "hidden loan" in the form of resource-for infrastructure (RFI) arrangements involving platinum, gold, chrome and nickel.
Temple of democracy
Ideally, the national parliament should be a symbol of sovereignty, national pride, and national identity. In modern societies parliaments act as temples of democracy and as the highest forums of debate that decide issues of public good.
This is why the architecture of a parliament should be designed, funded, maintained and wholly owned by the state. Considering that Zimbabwe's new parliament building was "donated" by China whose political system can be roughly described as authoritarian, and whose governance system is antithetical to electoral democracy, there are concerns that it may actually be used as a foundational stone for the incubation of illiberal state in the country in the image of China. It is unlikely that the underbelly of autocratic Beijing will ever act as a 'maternity ward' for birthing and sustenance of constitutional democracy in Zimbabwe.
In line with its governance system, Beijing does not provide any kind of support to parliamentary committees to effectively and efficiently discharge their duties of holding the executive to account.
Instead, it focuses only on the public optics — the infrastructures that promote its business, commercial and diplomatic interests in the country.
Given the elevated place of Beijing and its dollar diplomacy, it is hard to believe that the legislators will ever pass any laws that would curtail some of the excesses of China in Zimbabwe.
For instance, today there are many questions about Chinese investment, trade, finance, hidden debt, environmental degradation, and unfair labour practices among others that will require the legislators sitting in the iconic building gifted to them by Beijing to protect our national interest from the same.
Sadly, Zimbabwe's conflicted legislators will most likely act as protectors and guarantors of Beijing interests in the country rather than the interests of Zimbabweans.
As such, Zimbabwe's captured parliament is likely to become a scaffold of Beijing in its enterprise of constructing illiberal states as part of its dream of a Sinocentric world order.
Beyond the gift
On a different note, having buildings of national importance such as parliament constructed by external actors exposes the country to security threats and the threat to the other states that have bilateral trade, investment and security relations with Zimbabwe.
It seems many African countries including Zimbabwe have not learned from the security breaches to the African Union Headquarters in Addis Ababa that was constructed by China in 2012.
The gifting of the AU headquarters was accompanied with secret installation of microphones and cameras that were used to transmit information to Shanghai. Arguably, the cost of getting the information would have been more than the US$200 million that was used in constructing the AU headquarters.
There are claims that China has found it cheaper to collect intelligence information through bugging most of the public buildings that it has been constructing around the globe as part of its BRI programme.
It is not a secret that Beijing is an aspiring global superpower and is currently involved in tense geoeconomic and geopolitical competition with the US and its transAtlantic allies.
Like its competitors, China would do anything possible to outmanoeuvre them to have access to Zimbabwe's natural resources, markets, and to ensure that Harare is always on its side in multilateral platforms including the United Nations General Assembly where country votes count.
Clearly, China's dollar diplomacy which is oiled by financial largesse to the ruling elite is calculated to earn Beijing support in its aspirations of becoming a global geoeconomic actor.
It is hardly surprising therefore that most of the countries that have had their parliament buildings constructed by China including Zimbabwe support Beijing's policy positions on South China Sea as well as its one-China policy on both Taiwan and Hong Kong among others.
In net, institutions such as parliaments should be locally designed, locally financed and locally owned.
I know am closing the stable when the horses have already bolted, but for the future, it is important to underscore that Zimbabweans should have been given the opportunity to design and construct the country's new parliament building rather than letting an autocratic state embellish its values in the iconographic and historical monument for the country.
*Dr Gorden Moyo is the Director of the Public Policy & Research Institute of Zimbabwe. He is an expert in African agency, global finance &, emerging markets and developing economies
*These weekly articles are coordinated by Lovemore Kadenge, an independent consultant, past president of the Zimbabwe Economics Society and past president of the Chartered Governance & Accountancy Institute in Zimbabwe.
Feedback: [email protected] and Mobile +263 772 382 852
Related Topics