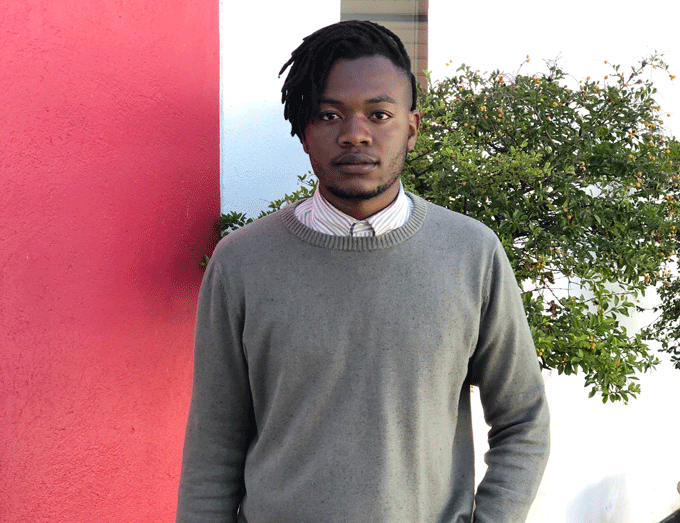 By Grant Moyo
Content creator Usher Nyambi says the resistless feedback he always gets is ever so special, whether positive or negative it helps him to grow and perfect his craft.
Seeking to tell purpose driven stories that educate, uplift and inspire people from the African chaste, in his creative capacity Nyambi is a filmmaker, writer and researcher, who is aware that storytellers and content creators might have hairsplitting innovative ideas, but if they are restricted financially their cognitive content will not reach its full potential.
Hence, he is always open minded in his approach, constantly leaving room for forward-looking ways to create quality content using limited resources.
Nyambi, who was born in Rusape, spent most of his childhood in Botswana where he did his primary education at Acacia Primary School and The Learning Centre School.
When he returned to Zimbabwe, he attended Goromonzi High School and completed his A' Level at Prince Edward. Nyambi is a third year International Relations student at Africa University in Mutare.
Besides directing film-making projects such as Dreads At Work and To Be A Man, he is the editor and curator of Samora Central, a blog established to celebrate creatives and entrepreneurs that hail from Zimbabwe.
"I can safely say I had a happy childhood, my parents taught me ubuntu (values of respect)," Nyambi said.
"Living in Botswana, the community was always at the heart of everything we did.
"My first ever exposure to the arts was through storytelling. Since my Setswana friends frequently asked me about Zimbabwe,whenever I visited my grandparents in Bulawayo, I'd pay attention to everything being said and happening around me.
"Treasuring all the memories guaranteed that I went back with fascinating stories.
"School was really exciting, my favourite subject was English. I vividly remember the excitement I'd get whenever my Grade 2 teacher read for us in class. That's where I developed my love for literature.
"My mother being a teacher by profession, encouraged me to read at home.
"Although I was a slow reader, I read a lot of books.
"In high school at Prince Edward I was a member of the Toastmasters and Human Rights Club with a keen interest in history, business studies and literature."
The content creator stressed that his film project titled Dreads At Work, which addresses the post colonial stigma on dreadlocks, came about and was inspired by his own journey with dreadlocks.
As his dreadlocks got longer, loads of people would often pressure him to cut them off, as they labeled the hairdo unprofessional and not acceptable in a formal set up.
Nyambi began questioning this stereotype which had fast become a cultural norm.
"After some extensive research, I figured out that the colonial concept which was endorsed by the corporate years back was still extant," he said.
"I was convinced to create a body of work through film — as it is one of the most effective mediums with the power to change perceptions.
"Credit to Tino Chimuka (cinematographer), Kuda Chakwanda (photographer), Riyan Chindowa (model) and Tatenda Gora (model), for playing pivotal roles in making the production (Dreads At Work) successful.
"The feedback was affirmative, people connected to the body of work.
"Across all social media platforms the insights showed that masses had a keen interest.
"What I observed is that if a message or content is properly packaged and delivered, it is bound to have a great effect on the audiences."
Seeing the necessity for men to have open dialogues about mental health, Nyambi's film concept To Be a Man was based on the idea of the phrase that says "a man should always be tough and not show emotion".
The content creator highly believes that being a man is showing strength, but sometimes strength is the ability to accept weakness and emotional lows.
Just like a lot of societal pressing issues, the conversation on mental health literacy should be an open discussion. Nyambi reckons that this is how the society can strengthen its support systems.
Glad that slowly but surely more people are starting to freely talk about mental health, he extended his admiration to platforms such as the Friendship Bench, which is doing a lot to help people air out their experiences.
Weighing in on his blog work, Nyambi said Samora Central is a cultural project inspired by the mission of uniting Zimbabwean creatives and entrepreneurs.
He has always wanted to document culture, and Samora Central is his leeway to fulfilling his dream.
Nyambi curates the blog's social media platforms and puts together articles.
With expanding audience reach being his sole mission, he describes his experience as a fascinating journey in which he has discovered some really "cool" headed creatives that people may not know about.
Nyambi is on the threshold of finally getting his content published in written format.
Being an avid reader of literature, history and any material he can get hold of in an attempt to learn more, he acknowledges that he does not read for entertainment but to get solutions that might help the society.
Curious about Africa's cultural aspect, Nyambi is of the notion that the young generation of African lineage is more Eurocentric and westernised in terms of their lifestyle influenced by popular culture.
As a result, it has further disconnected them from the African norms and values.
"Youths are the future, they can change the game. My generation and the one that follows have the responsibility of putting Zimbabwe on the global map," he said.
"I believe that we can export our talent and have our own people grow into global creatives.
"Art and creativity shapes and conserves culture,from the books we read to the music we listen to and the films we watch.
"All of it has an impact on how we perceive the world. A lot of kids have never been to the United States yet they utter fluently in American accents due to the influence of culture.
"As African natives we should find ways to sustain and grow our culture, and this can be done through embracing our indigenous languages by all means."
He added: "Zimbabwe should follow suit how Nigeria and South Africa are exceptionally exporting their culture within and beyond the African continent through film, fashion, food, art, language and music genres like Afro pop and Amapiano, which are making waves worldwide."
"It's important for us to support and embrace our local creatives, particularly those who push our indigenous languages.
"The late internationally acclaimed Zimbabwean music maestro Oliver Mtukudzi is cogent evidence that there is room for local performing artists and creatives to reach global success by embracing their own culture.
"Meaning, if we keep digging we'll get the diamonds."
Despite noting funding for projects as the biggest hurdle for most creatives, Nyambi encourages storytellers to keep navigating for innovative ways that keep audiences beguiled, such as creating riveting avant-garde content which is relevant, timeless, entertaining, educative and informative.
Grant Moyo is a prolific writer, innovative media personality, entrepreneur and a creative artist who is passionate about using his creative mind for the betterment of society. Follow him on Twitter: @TotemGrant
Related Topics