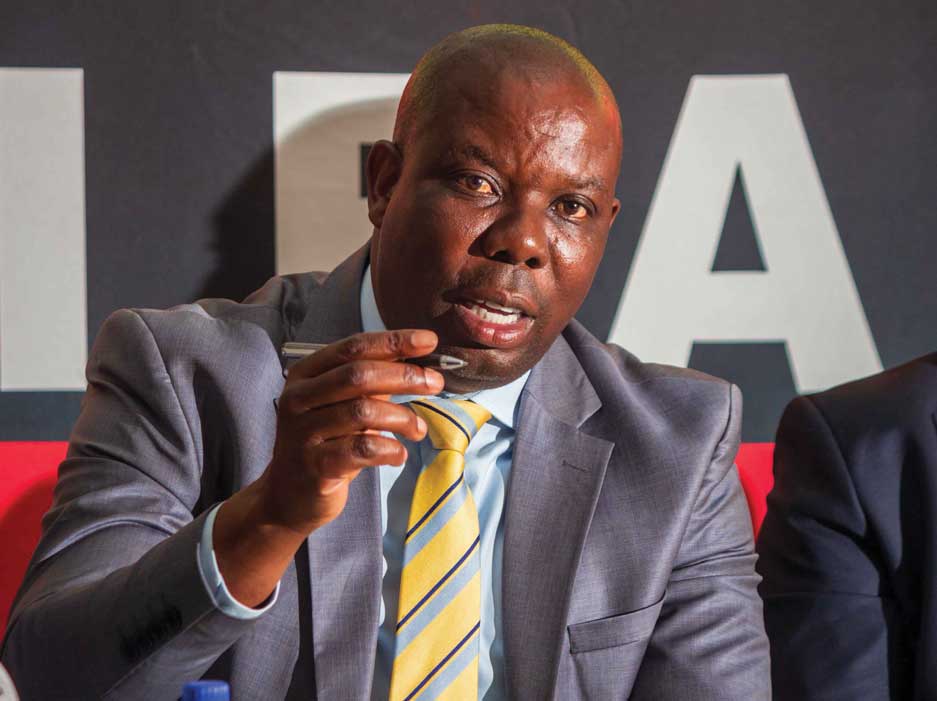 BY MICHAEL KARIATI IT came as a shock when acting Zifa president Gift Banda announced last week that his association was busy looking for a national team coach.
The former Njube Sundowns director made it clear that he was in favour of a local coach whom he would task with building a strong Warriors side in preparation for Zimbabwe's return to international football.
What Banda forgot was that the Zimbabwe national team cannot be built without its international stars and without matches to assess the players themselves as well as the overall strength of the team.
Right now, Zimbabwe is banned from international football including friendly matches with other countries, which means the so called national team would be confined to playing against local teams like Dynamos, Highlanders and FC Platinum — but to whose benefit ?
Isn't it a waste of time and money for the coach to experiment with locally based players when in the end the team will be made up predominantly of foreign based players?
This has happened over and over again and there is no way that whoever the coach will be, would opt for locally based players at the expense of the likes of Marvelous Nakamba, Marshall Munetsi, Prince Dube, and others making their names abroad.
Banda is only a few weeks in office but already he is starting his football business at the wrong end of the stick and needs to change his way of doing things before Zimbabwe further loses its football direction.
In fact, the direction Zimbabwean football is taking clearly shows total confusion as those at the top do not seem to have a clue as to what needs to be done first in view of the situation at hand.
The question is: What does Zimbabwe need first? A national team coach or readmission to international football and then the Warriors and their coach follow later?
Surely, after his ascendency to the Zifa throne, Banda's first step should have been to think of what needed to be done as a matter of urgency first before dreaming of secondary projects like the Warriors.
One school of thought is of the opinion that Banda should first find a way of being on talking terms with Fifa and negotiate his way around Fifa's weaknesses to gain that Fifa confidence before the Warriors project.
From what has happened so far, one can dictate that Banda is getting advice from advisers of failed past Zifa leaderships who believe that Zimbabwean football begins and ends with the Warriors.
This borrowed line of thinking only helps to destroy Zimbabwean football even further especially at a time when there are so many other challenges facing the Zimbabwean game.
In fact, on the playing field, what Zimbabwe needs is a strong foundation that is Under 17, Under 20, and Under 23 national teams to feed talent into the senior team and that is where coaches are needed and not at senior national team level.
One football pundit jokingly suggested that Zifa should add US$2 000 to the US$7 000 that Zdravko Logarusic was earning and divide the US$9 000 as salary for the three coaches for the Under-17, Under-20, and Under-23, to start a talent identification and rebuilding programme at junior level.
Nobody really knows when Zimbabwe's International ban will be lifted and Zimbabwe in the meantime should forget about the Warriors until that time arrives when the team would be needed.
Zimbabwe is not like Brazil or Nigeria who have thousands of players scattered all over the globe and enough talent back at home which makes the job of the national team coach difficult to pick up his team.
Zimbabwe's foreign based players can be counted by the finger and the talent reservoir back at home is limited which makes it easier for the coach to pick up his team three or so days before a game.
This is just to explain to Banda that there is no need at all to panic about the Warriors but first things have to be done first even if means sacrificing the advice of one or two trusted friends.
The acting Zifa president should be warned that what he will do will be judged against what others have already done and what he should do is to avoid the danger of the football family reflecting on the past and concluding that Cuthbert Dube, Phillip Chiyangwa and Felton Kamambo were better..
For your views, comments, and suggestions, [email protected] or WhatsApp on 0773 266 779.
Related Topics