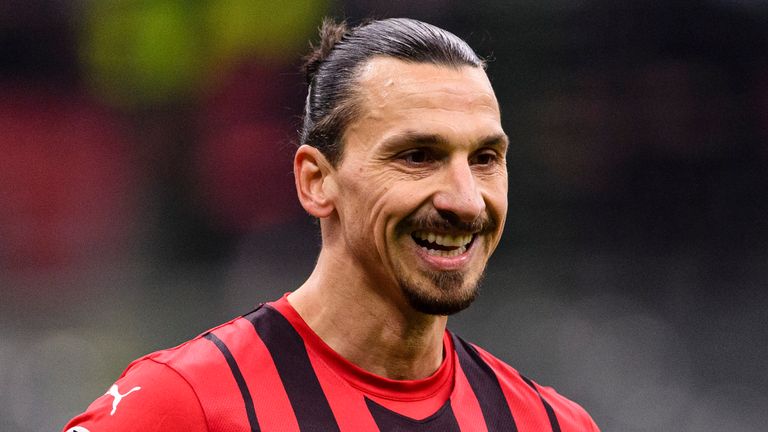 BY ZAK HAWA THERE'S a new trend developing in the modern game where older players once considered surplus to requirements, aging players once deemed too slow and past their sell by date, supposed veterans in their mid-thirties, are now being regarded as still eminently suitable, still capable of performing on the highest stage and as a result, are still being signed onto new mega deals and contracts.
In the past week we have just had Zlatan Ibrahimovic signing a new contract with AC Milan at the ripe age of 40.I'm flabbergasted! Perhaps they felt obliged as he was their talisman in securing their first Serie A title since 2011 and I suspect that there may have been more than a touch of gratitude towards Zlatan. But is he not too old to still be playing at the top level?
My own observation suggests that it ought not to be possible as the modern game has never been as physical or as demanding as it is now. I ask the question what it is then that makes Zlatan so special, so unique, so extraordinary that he can continue to make a valued contribution at such an age.
I guess it's safe to say that although he may be controversial and loves to hog the limelight, he remains in unbelievable shape; he's mentally extremely positive and brings proper direction to his team.
What's amazing though is that on closer introspection, one begins to realize that he's not the only player extending his career successfully. In fact there's a new trend of older players who continue to set the game alight, and who are in demand and eagerly sought by the very best clubs around the world.
Karim Benzema is the front runner for the Ballon d'Or at the ripe old age of 34 after guiding Real Madrid to an unlikely Champions League and League title double.
He's playing the best football of his life having emerged from the shadow of previous Ballon d'Or winner and all-time great Cristiano Ronaldo. Not only is Karim's game at its highest level ever but he is in the most superb physical condition of his career and doesn't look like he's about to slow down anytime soon.
It's quite apparent that Real Madrid recognize what they possess in Benzema and seem unfazed by their failure to sign Kylian Mbappé from PSG. They genuinely believe that Karim the Dream (as soccer journalist Julien Laurens affectionately refers to him) is good for another few years while they wait patiently for Mbappé to come to his senses and join them.
Across in Barcelona, the restructuring of their squad is now in full flight and for this discussion we will abstain from the debate about how they are able to continue their pursuit of the world's best while supposedly being in dire financial straits.
This week they pulled off the coup of the transfer season by bringing onto their books arguably the only player who could currently rival Karim Benzema as the best striker in the world in Robert Lewandowski.
La Liga fans must be rubbing their hands in glee for this season's El Clasico as they will once again have the two best goal scoring machines on the planet, albeit with a combined age on match day of 68! Real Madrid fans could never have imagined that Benzema would slip into the mantle of the goal king so effortlessly after Cristiano Ronaldo had moved on while Barcelona fans will be forgiven this season if they no longer reminisce of their departed elder and king Lionel Messi, once Lewandowski starts banging the goals in bucket loads!
Talking of Cristiano he's showing no signs of slowing down either. For all the drama he stages off the field, he provides more than his fair share of dynamic drama on it and without his goals from a poorly functioning Man United team, I doubt that Manchester United would even have finished in the top 10. The man is 37, looks like a fresh faced 27 and in all likelihood, appears like he could continue playing for as long as he wants to.
Cristiano's longtime rival and widely regarded as the best player of all time Lionel Messi, is meanwhile quietly preparing for what might be a grand swansong this year as he realistically aims for a World Cup final triumph to end off his remarkable career. Lest we forget, he is no spring chicken either having just turned 35.
I ask the question then, is 35 the new 30!? Right now I'm genuinely beginning to think so!
Look around the top European leagues and you see a pattern emerging.
Chelsea let Rudiger and Christiansen depart to sunny Spain comfortable in the knowledge that their rearguard is well marshalled by 37 year old Thiago Silva.
They have also just recently secured the services of 31 year old Koulibaly from Napoli in Italy. Antonio Conte's first transfer move this season was to invite 33 year old Ivan Perisic of Inter Milan to join him at Spurs while Manchester United still seriously slow in acquiring new talent, had no hesitation in asking a recovered 30 year old Christian Eriksen to come to Manchester.
Lest we forget that Real Madrid's Champions League triumph over Liverpool was orchestrated by the golden old triumvirate of Kroos, Modric and Benzema with a still sharp and supremely supple shot stopper Courtois in goal.
The combined age of these four masters is 132 years and I have no hesitation that they will all be Carlo Ancelotti's regulars during the season. Footballers have never been as determined, as focused, as physically and mentally primed and more importantly as well paid as they are now, and so it stands to reason I suppose that we are going to see a lot more of these fine football specimens extending their careers.
In years gone by however, usually the only soccer players who regularly managed to play at the highest level into their late 30's were goalkeepers. Thomas N'Kono of Cameroon, Pat Jennings of Northern Ireland, Peter Shilton of England, our very own Bruce Grobbelaar and of course Dino Zoff who captained Italy to a glorious 1982 World Cup triumph at the age of 40 are examples of the great goal minders of a bygone era.
I do pity the Italian goalkeeper who was Dino Zoff's deputy over the years waiting patiently but hopelessly in the wings only to never to get a chance!
Outfield players who played into their mid-30s at top clubs were generally few and far between with a limited role and utilized largely for their match experience and morale boosting qualities.
Back home, one name that immediately springs to mind is Madinda Ndlovu who was a revered winger in the Raheem Sterling mould and one of Zimbabwe's true greats.
I liken him to Raheem Sterling because both of them were blessed with this tremendous and uncanny ability to majestically dribble past players as if they weren't even there, much like a Messi in his prime.
Sadly however it appears that they were both also blessed with rugby conversion skills when about to shoot for goal, much like a Naas Botha in his prime!
Madinda it must be said was according to press reports over a period of a decade always a promising young 17 year old. Based on that he must have been past 40 when he retired!
In South Africa I cannot look further than a portly Jomo Sono who was a player, coach, captain and father to his Jomo Cosmos players in the late 80's and 90's. He played well into his late 30's but suffice to say that even in those latter oversized years of his, he mesmerized all with his ball skills and vision. The Black Prince as he was lovingly known may have started out as a teenage wanna be, but over time he aced it and were it not for permit related problems (Juventus of Serie A were keen on him,)would have become one of the finest that Africa has ever produced.
Till the next time folks….
Related Topics