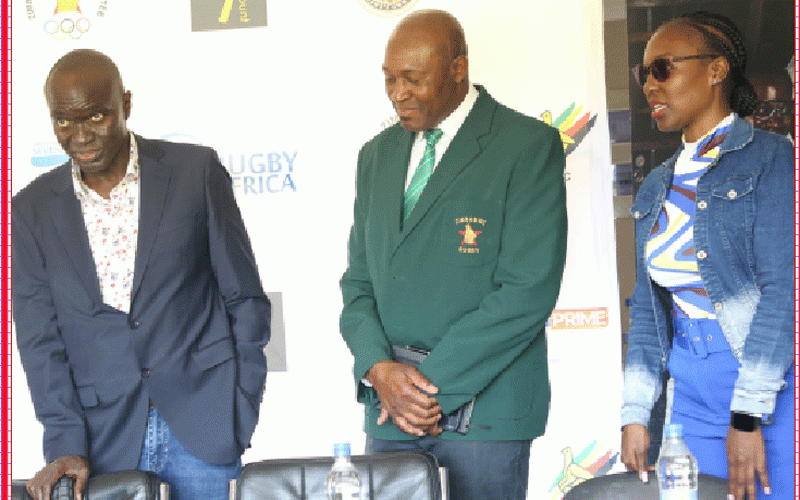 THE stage is set for some bruising battles for the prized tickets to Paris 2024 with teams arriving yesterday for the Paramount Garment Rugby Africa Men's Sevens Tournament scheduled for Harare Sports Club this weekend.
Only one team out of the competing 12 will get an automatic qualification for the Olympics with the runner-up and third placed side going for the repechage next year to compete for the final slot.
Africa Rugby competitions manager, Johnbsco Muamba confirmed the arrival of teams at a pre-tournament presser at Harare Sports Club yesterday.
"Ever since they (Zimbabwe Rugby Union) were appointed to host they having been working very hard and we are looking forward to a very good weekend and successful tournament," Muamba said.
"Ivory Coast, Madagascar, Nigeria and Burkina Faso have already arrived and today (yesterday) we are expecting Tunisia, Algeria, Kenya, Namibia, South Africa, Ugandan, Zambia and of course the hosts Zimbabwe to check in the hotel."
The teams are placed in three pools of four teams each.
"Day one will be the pool phase of the tournament and day two will progress to quarter finals, semi-finals and the finals. After the repechage only one more team will qualify," he added.
The continental body's treasurer and ZRU president, Aaron Jani said they are looking beyond the Olympics with a view of bridging the gap between Africa and the rest of the world.
"We are excited about this tournament. We are excited in a number of fronts; one of challenges we have had as Rugby Africa is the issue of game time. When we have tournament's like these ones it is very exciting for us to be able to give our teams some game time at a very high level," Jani said.
"We are not only looking at picking a team that is going to represent Africa in the Olympics. We are also looking at bridging a gap that exists between Africa and the rest of the world.
"This has been a challenge, it is something that keeps us awake as Rugby Africa and try to see how best we can narrow that gap that exists in terms of Africa and the rest of the world.
"This is the beginning of many tournaments that we would like to hold to increase the level of game time and the level of opportunity for all the teams.
"This is an opportunity that has been given to all the teams in Africa and I am glad that all the top African countries in 7s are represented here and are being given the opportunity to represent Africa in the Olympics."
ZRU vice president Losson Mtongwiza pledged to forge ahead on a transparent administration trajectory to repay Africa Rugby's faith in them.
"I would like to thank Rugby Africa for giving us this tournament, I think it's a clear sign of faith in Zimbabwe in the way the game has been run," he said.
"It is not just the hierarchy in Zimbabwe rugby but all areas, the provinces, the way people have come together and supported this tournament are a clear example of what rugby Africa has been looking for so we are very grateful to have the tournament and to obviously be able to put it together."
Meanwhile, newly appointed Zimbabwe Olympic Committee chief executive Marlene Gadzirayi said her association will play a significant role in assisting national sports associations in their bid to get athletes to the Olympics.
"We have supported the team during its camping in South Africa, we are trying to go beyond waiting on the associations to bring teams to us and clear them for the Olympics but we are also going beyond and say what help do you need," Gadzirayi said.
"We have partnered with First Mutual to make sure that the team went to South Africa for their preparations for this tournament. We are just hopeful that we qualify to go to France for the Olympics next year."
Related Topics