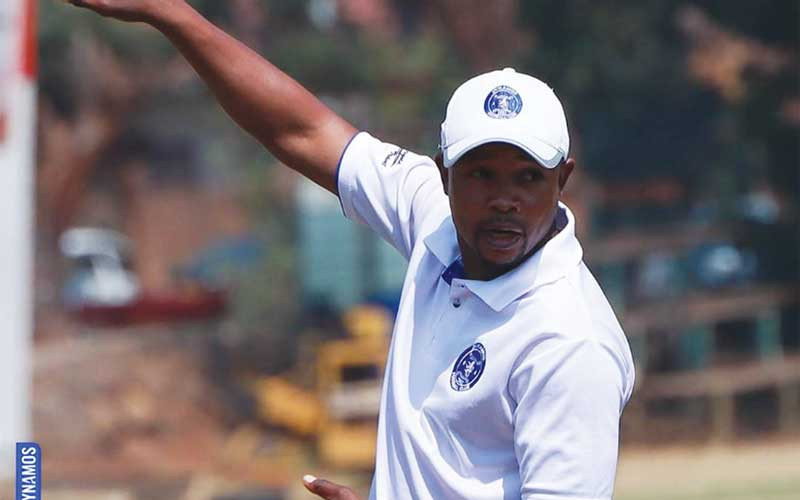 DYNAMOS . . . . . . . . . . . . . . . 0
SIMBA BHORA . . . . . . . . . . . .0
SIMBA Bhora collected a precious point from Dynamos after forcing a draw in their Castle Lager Premier Soccer League (PSL) match at Barbourfields Stadium yesterday.
The share of the spoils was Dynamos interim coach Genesis Mangombe's first blemish after taking over from the departing Herbert Maruwa.
On the other hand, it was a good outcome for Simba Bhora, who are fighting to steer away from the drop zone.
Simba collected their second point from Dynamos in their first season in the PSL and coach Tonderai Ndiraya was happy their game plan worked out.
He admitted that their plan was to frustrate Dynamos and avoid defeat.
"It was the plan really. Why? Because of where we are coming from. We are coming from two successive defeats and one of those against Dynamos in the Chibuku Super Cup," Ndiraya said.
"So we didn't want to come here and lose to Dynamos again. So it was a case of playing not to lose than anything else. We couldn't go for three straight defeats. So it was a case of playing for a point. But if chances were presented, we were going to be happy to collect the maximum points."
The match failed to live up to the expectations as both teams struggled to get into their groove.
Simba were defensive and Dynamos mentor Mangombe said that it was difficult to break down the low block defensive strategy by Simba.
He praised Simba for their defensive stealth and organisation.
"They were organised, especially in defence. Their organisation was good. They really wanted to make sure that they do not concede in this game. So it worked for them. I am happy with the boys; the way they are understanding the way we want to play. Otherwise, (we must work on) the transition and speed going forward. I'm happy," Mangombe said.
The fans that braved the cold were left frustrated as well. Goal-scoring opportunities were few and far apart. Mangombe tried to change dimensions in attack, but to no avail.
He introduced the usual game changers Ellie Ilunga, Emmanuel Paga and Nyasha Chintuli in the second half, but Simba remained resolute, with goalkeeper Simba Chinani slowing things down whenever he was called into action.
In the first half, Tanaka Shandirwa made an attempt from a freekick a few metres outside the box, but Chinani kept it out with an unorthodox save, as he cleared the dangerous looking shot using his legs.
Jayden Bakare shot wide in the 38th minute as Dynamos got another half chance.
Dynamos came back from the break playing with more intent. Elton Chakona's final touch was disappointing in the 53rd minute after a neat interchange of passes on the left wing presented him with an opportunity to shoot.
Shandirwa engineered another move in the 66th, but Ilunga took long to shoot and the Simba defence recovered to avert the looming danger.
Nyasha Chintuli's header missed the target by a whisker in the 67th minute from a tantalising Elvis Moyo cross, as DeMbare kept probing.
As Dynamos kept attacking, they were almost caught napping at the back when Tichaoma Chipunza's shot at the edge of the box was on target until Dynamos goalkeeper Prince Tafiremutsa appeared to tip it over the bar in the 71 minute.
However, referee Jimmy Makwanda awarded a goal kick.
In the end, the two teams settled for a point apiece, which the two coaches were satisfied with.
Teams
Dynamos: P Tafiremutsa, D Mudadi, K Moyo, E Moyo, F Mukarati, J Makunike, E Jalai, E Chakona (E Ilunga, 61), J Bakare (E Paga, 53), K Madera (N Chintuli, 61), T Shandirwa
Simba Bhora: S Chinani, R Kangadzi, P Jaure, H Manatsa (S Chatikobo, 79), A Manenji, I Nyanhi, W Tafa, T Chipunza, V Musarurwa, V Kawe, T Balakasi (K Mangami, 88)
Related Topics