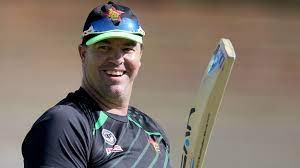 Heath Streak has been confirmed to be alive after reports that the former Zimbabwe captain had died spread overnight on Tuesday.
News articles reporting his death had been published by both the Guardian and Reuters, with many paying tribute to Zimbabwe's leading international wicket taker.
Among those who paid tribute was Henry Olonga, Streak's former teammate. Olonga has since tweeted to confirm that Streak was alive, along with a screenshot of a text conversation with Streak.
"I can confirm that rumours of the demise of Heath Streak have been greatly exaggerated," Olonga tweeted. "I just heard from him. The third umpire has called him back. He is very much alive folks."
Streak has reportedly hit out at those who spread the rumour. "It is a total rumour and a lie," he was quoted as saying by mid-day yesterday. "I'm alive and well. I am very upset to learn that something as big as someone apparently passing on can be spread unverified, especially, in our day and age of social media. I believe the source should apologise. I am hurt by the news."
Zimbabwe's Sports and Recreation Commission yesterday condemned those who spread the news.
"We live in an age where any news, particularly on social media, prefixed with 'breaking news' is taken as fact," a statement read. "Today (yesterday), this morning, including many of Heath's close family, relatives and friends, and indeed, Heath himself woke up to the news of his demise.
"If in fact it may not already be clear, Heath Streak is alive. He has not passed away. The undersigned has spoken to him this morning for his permission to issue this brief statement for the sake of his family and friends.
"Today (yesterday), of all days, and in the coming days, let us reflect deeply on what we choose to post, whether it is verified and factual, ethical or moral to do so, who we are hurting and causing trauma to; and ultimately whether our so called 'breaking news' is lawful under the laws of our country."
Streak, now 49 years old, played more than 250 games for Zimbabwe across a 12-year international career.
He claimed 216 Test wickets and 239 ODI wickets, both national records. In fact, no other Zimbabwean has as many wickets across international formats combined as Streak does in either Tests or ODIs.
A useful bat, Streak made one Test hundred, and averaged 28.29 in ODIs — more than legendary all-rounders Kapil Dev and Ian Botham. He also captained Zimbabwe 89 times across all formats.
Since retirement, Streak has taken up several coaching roles in and out of Zimbabwe. He is currently serving an eight-year ban from the ICC on anti-corruption charges. According to reports in the Zimbabwean media dating from May, Streak is currently undergoing treatment for cancer.
— Online
Related Topics