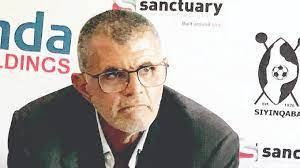 Highlanders................. (1)1
Green Fuel....................(1)1
Pressure is mounting on Jose Baltimore Brito after Highlanders drew their fifth game in a row, this time against Green Fuel, in a Castle Lager Premier Soccer League match played at Barbourfields on Sunday afternoon.
The Portuguese gaffer admitted that he was under pressure but said he was encouraged by the good performances.
"Yes, we have dropped 10 points out of a possible 15. These numbers worry me but if you look at the team in the past five matches, the team doesn't deserve to collect only five points. They deserve to collect more," he said.
"If you look at yesterday's results, this shows that this is a competitive league. Sometimes you look at the fixtures and you think this team will win but they draw. It makes our task more difficult. At least we are in a good position on the table," he added.
From the onset, Green Fuel looked composed with Xolisani Moyo winning most of the loose balls in the middle of the park, although it was the home team who created more chances in the first half.
Green Fuel fielded three former Bosso players in Honest Moyo, MacClive Phiri and Bukhosi Sibanda.
Midfielder Melikhaya Ncube thrust Bosso into the lead in the 30th minute when he fired a rasping drive past a stranded Bizabani from a freekick
But against the run of play, Bosso lost possession in midfield and Green Fuel capitalised after 39 minutes. Nqobile Ndlovu received an exquisite pass from Sibanda which dissected defenders Peter Muduhwa and Rahman Kutsanzira and fired past Ariel Sibanda.
Green Fuel coach Rodwell Dlakama was happy with his team's performance and he said that they had come looking to win.
"Given where we are at the moment, we were looking for the maximum points. We wanted to win but a point away from home is massive for us. So, I think that going forward this is going to act as morale booster. I'm happy with the performance especially in the first half where we managed to contain their raids," he said.
Highlanders
Ariel Sibanda, Rahman Kutsanzira (Lynoth Chikuhwa 45 mins), Calvin Chigonero, McKinnon Mushore, Godfrey Makarus Archiford Faira 79), Elshamar Farasi, Mason Mushore, Peter Muduhwa, Mbongeni Ndlovu (Mbongeni Ndlovu mins), Washington Navaya, Melikhaya Ncube.
Green Fuel
David Bizabani, MacClive Phiri, Tatenda Gora, Honest Moyo, Raymond Uchena, Gamu Chikengezha (Reginald 45 minutes), Xolisani Moyo, Collins Duwa, Bukhosi Sibanda (Obey Mwerahari 84 minutes), Nqobile Ndlovu (Ishmael Lawe 84th minute), Ashford Nyamajiwa (Denzel Mapuwa 79).
Related Topics