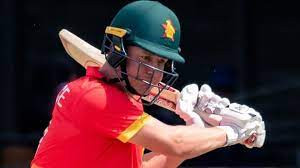 THE shock decision by Gary Ballance to retire from all forms of cricket, just three months after resuming his international career, has left Zimbabwe stranded ahead of the International Cricket Council Cricket (ICC) World Cup Qualifier, which will be hosted in Harare and Bulawayo from June 18 to July 9.
Ballance had been earmarked to play a key role in Zimbabwe's top order batting department in the upcoming qualifiers where they will be aiming to grab one of the two remaining tickets to the World Cup.
Zimbabwe Cricket made a gamble in awarding him a two-year contract despite his unceremonious return from England following his role in the Yorkshire racism scandal when he admitted to using racist language towards his former teammate Azeem Rafiq.
The gamble appeared to have paid off as Ballance had settled into a key member of the Chevrons' batting line-up across all formats of the game.
He scored a half century in his maiden ODI against Ireland in January before he went on to become only the second player in history to score Test centuries for two different countries after his ton for Zimbabwe against West Indies in February, having previously done so for England.
His latest ODI half century came in his last match for Zimbabwe late last month to inspire the Chevrons to a dominant series clinching seven-wicket victory against the Netherlands in front of a capacity crowd at Harare Sports Club.
The stage seemed set for him to shine in the upcoming qualifiers.
Instead, the 33-year-old former England batsman dropped his retirement bombshell on Wednesday evening almost a month before the qualifiers for the global tournament, which will be played in India later this year.
Curiously, Ballance, decided to announce his retirement through a statement issued via the London-based Professional Cricketers' Association and not his employers Zimbabwe Cricket, who are yet to comment on his retirement.
The player was yet to join the Zimbabwe team in their on-going training camp ahead of the upcoming qualifiers.
In his statement Ballance said: "I had hoped my move to Zimbabwe would provide me with a new-found happiness for the game and I will always be thankful to Zimbabwe Cricket for providing me with an opportunity to return to international cricket and welcoming me into their team.
"However, I have reached the stage where I no longer have the desire to dedicate myself to the rigours of professional sport and this would do Zimbabwe Cricket and the game itself a disservice, should I carry on. I wish them every success going forward."
The left-hander, who was part of the Yorkshire teams, which won the County Championship in 2014 and 2015 said, he would always cherish the memories from his playing career.
"I have been fortunate to have some incredibly memorable moments in cricket, winning County Championships with Yorkshire and gaining the ultimate honour of representing England and Zimbabwe. I want to thank all of my clubs, coaches, support staff, teammates and supporters for their guidance and encouragement over my career, it has been a privilege," he said.
"It is now time for me to move on to the next chapter of my life. I will be making no further comments on my decision at this time."
Balance's retirement has, however, angered local cricket fans, who questioned the timing of his decision and the negative impact it will have on the national team's plans for the upcoming World Cup qualifiers.
Related Topics