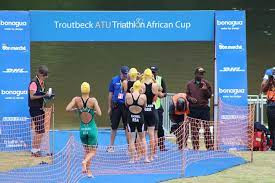 THE 2023 Bonaqua Africa Triathlon Cup elite men champion James Edgar from Ireland was impressed by the standards of the country's flagship event after he bagged the first international competition of his career at Nyanga's Troutbeck Resort on Saturday.
Edgar concluded his six-week long southern Africa expedition, in which he competed in four events across three countries, on a high note after upstaging a record 22-man strong start list.
South Africa had dominated all the other races winning in both the junior elite men and women class as well as in the elite women category before Edgar ruined the neighbours' clean sweep hopes.
Dylan Nortje from South Africa was second, while Mexican Jorge Alarcon Familiar was a surprise third.
"I feel great, it's my first international win so it's great to get it out here. The course and everything was amazing, so it definitely is a good race to get my first win. I am very happy," Edgar said after the race.
"It has been an amazing experience for me in Zimbabwe. People have been amazing, I can't complain about anything at all, the way this race is organised is superb. It ran smoothly for everything, I would definitely recommend people to come here," he said.
Edgar took bronze medals at the Africa Cup in Maselspoort and Port Elizabeth in February and March respectively, but failed to finish the race in Swakopmund, Namibia, last week.
South African Shanae Williams won the elite women class after upsetting favourite Barbara De Koning from Netherlands, while Slovak Romana Gajdosova claimed the final podium position.
In the junior elite competitions, South Africa took all the podium positions with Shaun Wolfaardt retaining his title ahead of compatriots Nathan Foster and Kyle Erskine. Kadence Ribbink also successfully defended her gold medal, romping home ahead of fellow South Africans Lome Gouws and Mia Van Der Veen.
Anje Van As was the country's best performer after she finished fourth in the junior women elite category, having done well in the swim and on the bike, but it was the run that let her down due to a leg injury.
Sponsors Coca-Cola's frontline marketing manager, Barry Otieno was happy with the event.
"Great turnout, great event! We have seen some brilliant performances from the athletes. We have also seen athletes from the African countries performing very well and it all goes on to show how our athletes and the event is improving every year.
"As sponsors we are happy to associate ourselves with this event. Bonaqua, being our still water, has been part of this for over half a decade now. We would like to see our sports men and women grow their talents and this is just one of the ways we use to support the great talent that we have," he said.
Other sponsors include iGo from Cimas, Rooney's, CFAO, African Sun, Troutbeck Resort, EcoCash and Simbisa Brands, who joined this year.
Related Topics