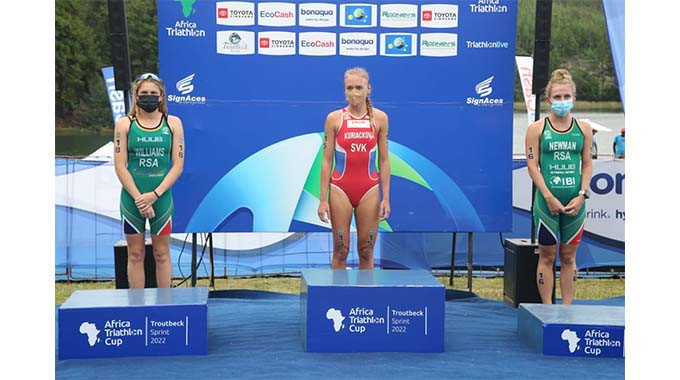 ZIMBABWE triathlon coach Pamela Fulton has tipped the country's top juniors to shine at the 15th edition of the Bonaqua Africa Triathlon Cup which takes place in Nyanga tomorrow.
Zimbabwe will not be represented in the elite class field of about 34 athletes from nearly 20 countries.
However, seven juniors, four girls and boys, will fly the country's flag in the junior elite class.
While acknowledging the strong junior contingent from South Africa, Fulton believes the local athletes can shine at the event.
"In our junior elite category we have got four ladies and three gentlemen, seven in total. Most of them went and raced in Port Elizabeth at the 2023 Africa Triathlon Junior Cup. One athlete who didn't race in PE is Makanaka Mawere. It is fantastic to have her back. She has been out of action for a while with an injury and to have her on the start list is good news," Fulton told NewsDay Sport.
The seven athletes include Mawere, the Mthethwa twins Mandla and Inkosinomusa from Mutare as well as Duwan Botha, Anje van As, Nicole Madya and Matipa Mawere, who is brother to Makanaka.
"An athlete who has been training really hard is Duwan Botha. He has had an incredible season and has been growing from strength to strength. He had a good solid performance at PE and he also had a good performance in Maselspoort in South Africa last month and we are hoping that he has another good solid performance in Troutbeck.
"Matipa Mawere is also an athlete expecting to do well. He went to PE and unfortunately he ended up having a puncture on his bike and was unable to finish the race which was very disappointing. He will be coming here wanting to prove himself and do well.
"Nicole Madya has been in the sport for quite a while. Her swim is not her strength, so she gets out of the water a little behind and works hard on the bike and the run. Her run is really strong and she has her confidence back after PE," Fulton said.
Anje van As will be making her debut in the junior elite class and is the youngest female athlete at only 16. A very strong swimmer after she won a silver medal for Zimbabwe in the 200-metre butterfly event at the on-going SA Junior National Championships in Durban, South Africa last week.
Inkosinomusa Mthethwa also did not travel to PE and they are quite new to the sport along with his brother, and Troutbeck will be a learning curve for them.
"There is a bit of a South African contingent coming and they are really strong. Two of their guys had podium finishes in PE, while another one won gold at Swakopmund, Namibia, last weekend. Their female, Kadence Ribbink had a podium finish in PE and also won Swakopmund last week, but I believe our athletes can challenge them," she said.
South Africa has 11 athletes in the junior elite class.
Related Topics