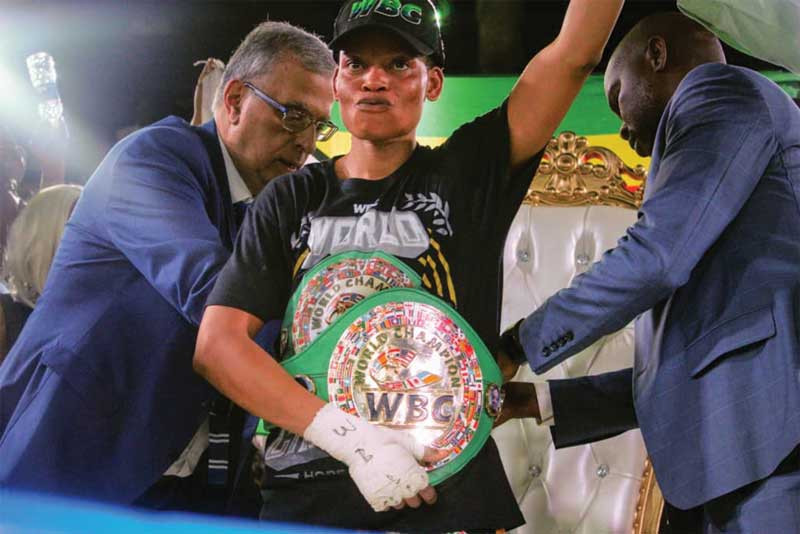 FIRST, her departure for Mexico was delayed due to visa application problems. Secondly, she had to spend another night in the Netherlands after her connecting flight to Mexico City could not leave due to bad weather conditions in Mexico.
Then she had to endure another 1400-kilometre journey to the venue of the fight in Chihuahua from Mexico City, only to arrive a few hours before the bout.
Yet, she fought gallantly but sadly lost out to world champion, Yamileth Mercado, a loss that still looks like a win to those who followed the fight and events leading to it.
It cannot be ruled out and in fact, there is suspicion that it was deliberate for the Mexicans to delay Kudakwashe Chiwandire in South Africa by sending papers that lacked vital information to guarantee the issuance of visas.
That she lasted all 10 rounds against a boxer of Mercado's calibre despite all the hurdles she had to overcome clearly shows that she has all the hallmarks of becoming a true world champion.
It should be placed on record that prior to the fight Mercado had an impressive record of 19 wins and three losses including five wins by knockouts.
Mercado's three losses came early in her career and she has grown stronger and stronger over the years but Chiwandire managed to hold her off.
What Kuda's handlers now need to do is not rush her for a quick re-match with Mercado, but to give Kuda time to forget about what happened in her gold belt title challenge and allow her to get herself back on her feet.
She still holds her WBC silver belt and the idea should be to defend that title against two other boxers of repute and then once again challenge for the gold belt.
She also has to improve her world ranking from 17th in the world, to the top 10, which requires a lot of effort and support as well.
What is ironic if not questionable about these world rankings is that Chiwandire is ranked even lower than both Catherine Phiri of Zambia and Zulina Munoz of Mexico, the opponents she beat on her way to challenging for the WBC gold belt.
There is no guarantee that Mercado will still be the holder of that gold belt with the passage of time, but the most important thing is that Kuda gets it one day or another.
Promoter, manager, and trainer, Clyde Musonda must have learnt a lesson from the Mexican debacle to know how to push things to be done well in advance, especially when dealing with foreign travel fights.
What we should have done with the Mercado fight was to protect our boxer by making sure that all the necessary requirements were applied for as soon as the date of the fight was announced.
History has its own uses and we now know what we have to do should we in future get into a fight that needs travelling outside our borders.
For Kuda, the journey is not over but has just started. She has fought two world-class boxers in Phiri and Munoz and beaten them.
She battled toe-to-toe with world champion Mercado and lost out under controversial circumstances, but the war is still on.
The goal for the Zimbabwean boxer is to one day challenge for the WBC gold title again but not immediately as that could prove disastrous.
What she has to do right now is to try and keep as well as defend the silver belt in her grasp and aim higher when she is really ready for the gold belt challenge.
They say Rome was not built in one day, but the fact that she already has put Zimbabwe's name on the world boxing map with that silver belt shows that she already has laid down her foundation for the building of Rome.
For your comments, views, and suggestions [email protected] or WhatsApp on 0773 266 779.
Related Topics