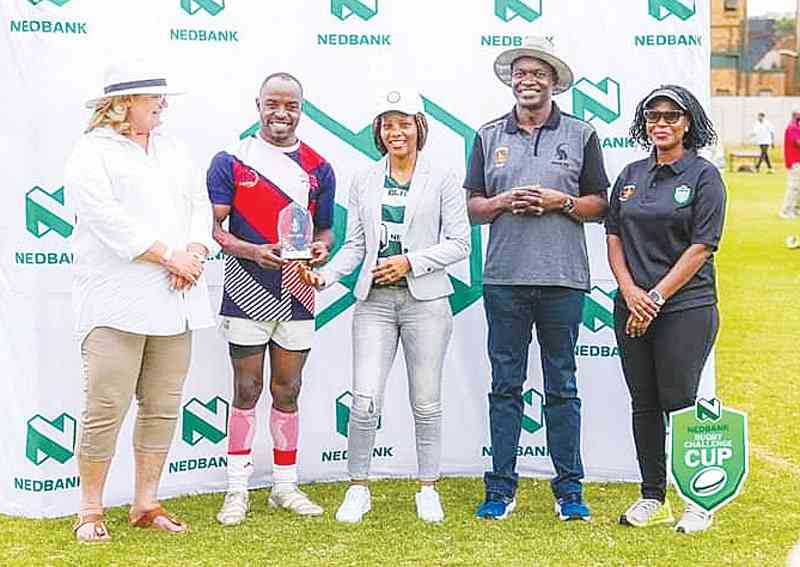 ZIMBABWE Rugby Union (ZRU) president Aaron Jani has paid tribute to their principal sponsors Nedbank following the success of the Nedbank Rugby Challenge Cup, which was played at Harare Sports Club over the weekend.
Hosts Harare Sports Club were crowned the winners of the second edition of the Challenge Cup after defeating rivals Old Hararians 34-29 in the final of the two-day tournament on Sunday.
Sportivo, who finished the competition unbeaten after victories against the Nedbank High Performance Under-20 Squad and Old Hararians, walked away with a floating trophy and the winners' cheque of US$4 500.
There were also individual prizes for excelling players and referees, courtesy of the sponsors.
ZRU boss Jani, who was at the weekend elected into the Rugby Africa executive board, said they are grateful for Nedbank's continued support which has allowed them to harness local talent.
"I spoke to several people who were at the tournament and it was all praise for the event," Jani said in an interview with NewsDay Sport yesterday.
"We are very grateful to Nedbank who have been really committed to assuring that we do progress as the Zimbabwe Rugby Union and that we tap into those previously disadvantaged or marginalised areas.
"We saw talent coming through from areas such as Mbare, which is very encouraging so this not only gives them career options, but also ensures that they stay in the country and are able to represent their nation at international level. In this regard, we are very excited and grateful that we were able to have that tournament," he said.
The former Zimbabwe rugby international noted that the tournament also provided national selectors a platform to assess local talent before finalising their squads ahead of upcoming international assignments. Zimbabwe's Under-20 squad is set to defend their title at the Barthes Trophy in Kenya next month, while the Goshawks will participate in the Currie Cup First Division in South Africa.
"To put the icing on the cake, we were able to finalise our teams for the Barthes Trophy and the Currie Cup, so this tournament was very valuable in that that sense. I also managed to speak to some players who were in the final and they were very grateful for the prize money that was made available by Nedbank. The sponsors in turn did confirm that in future they would like to have an even bigger tournament in terms of the prize money and the competition itself so we are very excited and grateful to Nedbank," he said.
Nedbank provided a US$23 000 sponsorship package for the season-opening tournament, taking their investment in local rugby over the last two years to almost US$400 000.
Nedbank Rugby Challenge Cup Results
Day One: Nedbank Development 3-14 Manicaland, Old Georgians 37-14 Pitbulls RFC, Harare Sports Club 48-0 Matabeleland Warriors, Nedbank U20 High Performance 17-20 Old Hararians
Day Two: Pitbulls 46-0 Nedbank Development, Matabeleland Warriors 24-12 Manicaland, Nedbank HPC U20 26-24 Old Georgians, Harare Sports Club 34-29 Old Hararians.
Follow us on Twitter @NewsDayZimbabwe
Related Topics