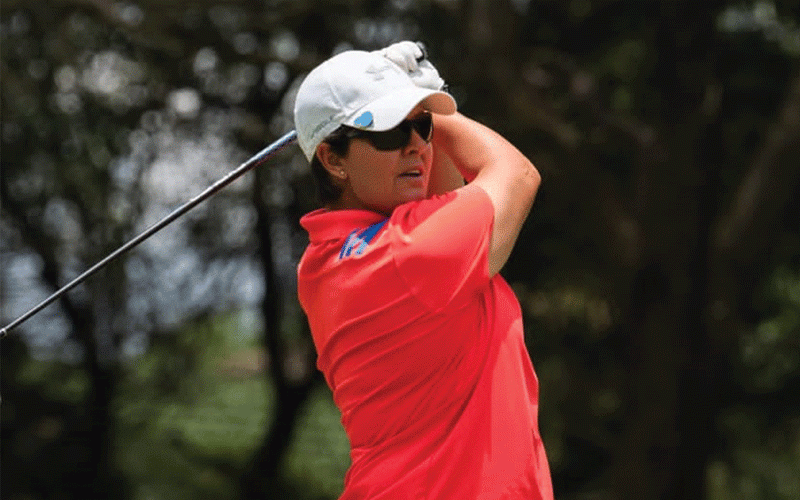 IT'S been close to two decades since top Zimbabwe female professional golfer Claire Minter started to pursue a career in golf.
Before that hockey had been her passion and still is. A multi-talented athlete Minter has also represented Zimbabwe in polocrosse, but after a seven-year hiatus following frustration with lack of sponsorship for female golfers, Minter decided to return to golf last year.
And this time she is hoping for better fortunes. Luckily for her things are looking up after she received her first pay cheque as a professional at the Nac Pro/Am tournament at Royal Harare on Friday night. The 42-year-old golfer showed a lot of promise from the beginning back in 2006 and quickly became the best female golfer in the country inside three years.
Minter reflected on her journey in golf, which saw her quit as well as undergo a double knee surgery last year.
"I have been playing for about 18 years and I only started playing golf when I was 25. I did give up for seven years and of course last year I came back. I had a little bit of a delay because I had a double knee surgery so it's good to come back again," Minter said.
"I love the game and I want to try and get back to golf as much as I can. I am coaching at the Brooke (Borrowdale Brooke) and Royal Harare. There is so much out there you can do, there are a lot of ladies out there playing golf. I am just looking to get more ladies playing and enjoying the game.
"I never really had motivation to take up golf, I mean my family didn't play any golf. I was more into hockey when I was younger. When I was in England I played hockey and when I came back to Zim there was no activity at that time.
"My dad bought me a set of clubs when I was still at school, but I didn't play then. And then I was like let me give golf a go and see what it's like and that's how I started out at Country Club.
"I just progressed from there. And from once a week playing I started getting better, started hitting nicely and then I became a member at Chapman. I started practising and I started competing and winning games," she said.
With only a few professional female golfers in the country Minter largely competes with men and finished tied for 50 overall in the Nac tournament while she emerged the ladies champion.
At the beginning of the month Minter, whose clothing is sponsored by Ray from LITE Active Wear, also won the ladies section at Maxi Pro-Am in Bulawayo.
As an amateur, Minter won the Zimbabwe Ladies Amateur Open a record five times in a row between 2008 and 2012 before adding another one in 2016.
In total Minter won not less than 25 tournaments as an amateur locally and was the Zambian Open champion in 2011.
She also represented Zimbabwe on the international stage. Her goal was to become the best in the country and now she wants to establish herself as the finest female professional golfer ever to emerge in Zimbabwe.
"Like any athletes if you are good at something the dream is to be the best in the country so that was my big goal when I started. I managed to achieve that in three years and I won the Zimbabwe Open five times and I won numerous tournaments here in Zim. It was my goal to be the best and it's still my goal to be the best," she said.
Only three female professional golfers took part in the National Aids Council Pro/Am tournament last week and Minter feels lack of support for female athletes is keeping more ladies from turning pro.
"There was no sponsorship for ladies that is why I stopped playing for a while in 2016 and there is still no sponsorship for ladies in golf. There are obviously only three ladies playing here so we are competing against the guys and it doesn't mean that we are not as good as the guys.
"If we can get more sponsors on board for ladies then maybe the juniors, who are coming up and are good can also decide to turn pro. But if we don't have any backing for ladies' golf in this country there is no point in the juniors aspiring to run pro.
"What is the point of having the status of professional and then not earn something. It's only in the last two tournaments in Bulawayo recently and here at Nac that I have received money in my whole career for playing competitive golf in Zimbabwe," Minter said.
Moving forward Minter is hoping to get sponsorship to compete in tournaments in South Africa, especially in the upcoming Standard Bank Ladies Pro-Am Series. The Mutare-born former Eaglesvale student is currently studying with World Golf Tutor Federation in England to be a qualified coach.
Away from the greens and fairways she worked as a safari camp manager and started her own woodwork company Skrood Woodshop in 2016.
She is also a qualified tennis coach.
Related Topics