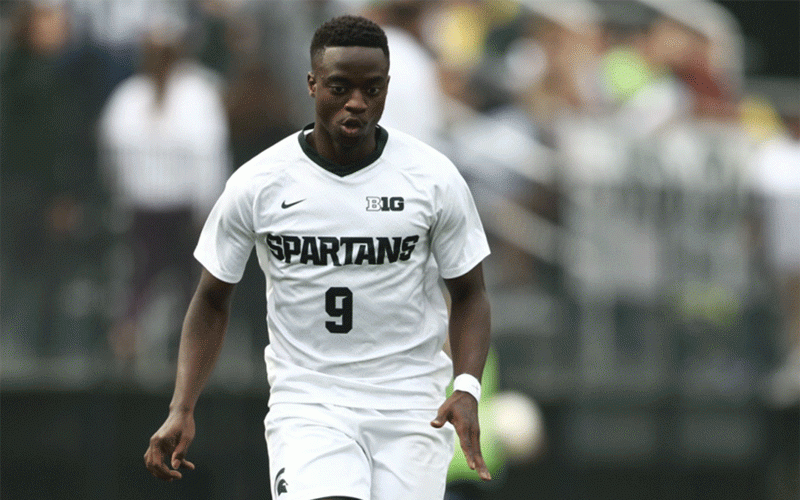 BARELY a year ago, promising Zimbabwe youth international forward Farai Mutatu was one of the bright young prospects on the US soccer scene after being picked by Los Angeles Galaxy during the 2022 Major League Soccer (MLS) Super Draft.
The gifted forward, who has made a name for himself on the US collegiate soccer scene with the Michigan State University (MSU), appeared set to feature consistently for LA Galaxy after going on to score two pre-season goals ahead of last season.
Mutatu has, however, not been able to showcase his talent in the MLS due to complications surrounding his immigration status in the US.
In fact the 23-year-old striker, who has been in the country since the start of the year was recently training with newly promoted Gweru-based Premier Soccer League side Sheasham Football Club in an effort to maintain his fitness.
"It's been great just being back home and seeing family and just being able to train," the Gweru-born starlet said in a interview.
"Sheasham FC, Construction Boys, it's a hometown club in Gweru, my family is also in Gweru. It's been nice to play for a local team in my own town. It's also been a great opportunity to learn about Zim football, whats it's like. It's been good; I've been able to stay fit and sharp.
"They are newly promoted into the premier division so it's a young team and they are hungry so I'm excited to see how they do this year," he said.
While it appeared Mutatu was initially training with Sheasham just to keep fit before he returns to the US, it now appears he could actually feature for the club in their maiden dance in the topflight league.
Officials at the Gweru-based side last week claimed that they have reportedly acquired Mutatu's services on a loan deal while Los Angeles Galaxy continues to work on his paperwork.
Although the length of his contract with the Gweru-based side was not revealed, highly placed sources at the club said he will be playing in the 2023 Premier Soccer League, which kicked off yesterday.
Mutatu featured for the Construction Boys in their friendly match against Ngezi Platinum last month.
He is one of the new faces at the club along with ex-Dynamos attacker Tanaka Chidhobha, former CAPS United pair of Diego Makurumidze and Tichaona Zota.
Mutatu's addition to the team comes as a huge boost for the Construction Boys in terms of experience as they aim to be impactful in the topflight.
An impeccable source within the Sheasham set-up confirmed the signing of Mutatu.
"We signed him, but he is not yet here. He is in South Africa at the moment. He will start training with us next week," the source said.
Born in Zimbabwe before moving to Michigan as a young child, Mutatu effectively played for his hometown college at Michigan State University (MSU) where he was a standout performer.
His impressive performances for MSU saw him earn a place at LA Galaxy that plays in the Major League Soccer.
However, he did not get any game time in the league despite impressing the LA Galaxy coach Greg Vanney last season.
So far only one Zimbabwean, Teenage Hadebe, plays in the US topflight league.
Five other Zimbabweans, the legendary Vitalis Takawira, Joseph Ngwenya, Mkhokheli Dube, Mubarike Chisoni and US-born right-back Edwin Munjoma have played in the MLS.
Mutatu, a Haslett graduate, had a breakout 2021 campaign for MSU, tallying seven goals and three assists in 17 matches. He finished his Spartan career with 13 goals and eight assists in 67 appearances.
Related Topics