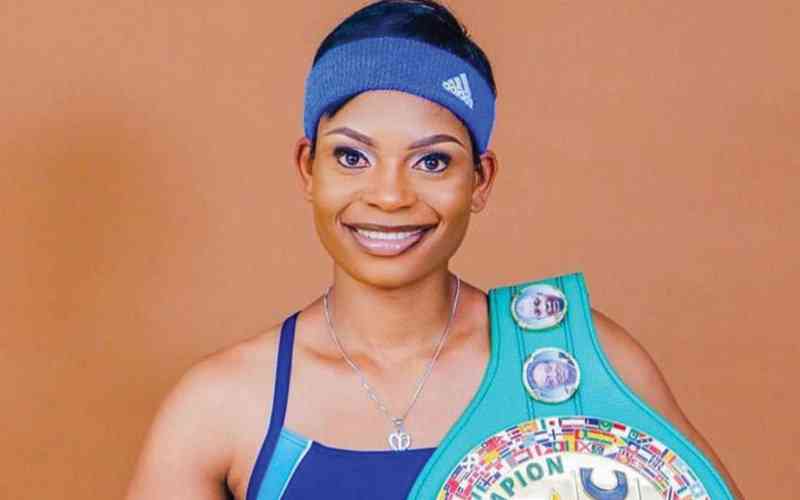 World Boxing Council (WBC) Interim Superbantam weight champion Kudakwashe "Take Money" Chiwandire's shot at the WBC Super Bantamweight world title fight is in jeopardy due to travel difficulties.
Chivandire was only expected to arrive at her destination in Mexico at mid night last night, less than 24 hours before her fight, after her scheduled flight from Amsterdam was canceled due to bad weather.
The complications, which emanated from delays in getting a visa, have left the title fight hanging in the balance as the bout is set for tonight.
Chiwandire is set to face WBC Interim Super Bantamweight champion, Mexican Yamileth Mercado after she successfully defended her title last year against yet another Mexican, Zulina Munoz.
As of yesterday, the travelling team were re-routed to Paris, France from Amsterdam due to bad weather from where she would connect to Mexico City.
"The team is currently in Amsterdam (yesterday); their connecting flight from Amsterdam to Mexico City was cancelled due to bad weather in Mexico City so they spent the night booked in a hotel in Amsterdam. They have been re-routed to connect to Mexico City through Paris so they are scheduled to leave Amsterdam at 11:59am Amsterdam time headed for France," said the marketing manager Eric Kandiwa.
"From there, if good weather prevails, they'll connect to Mexico City via a 14:45pm flight. The flight is normally a 12hr 15m journey which will place them in Mexico City at 8pm this evening, Mexican time. From there they'll connect to Chihuahua via a 3hr flight which will land them slightly after midnight."
Though Chiwandire will face the more experienced Mercado who has 19 wins and three losses as opposed to take Money's six wins, two losses and one draw, the boxer has been confident that she will bring the title home.
Her team have been bidding to have the fight postponed for a few days so that she can take a rest as well as acclimatise.
Related Topics