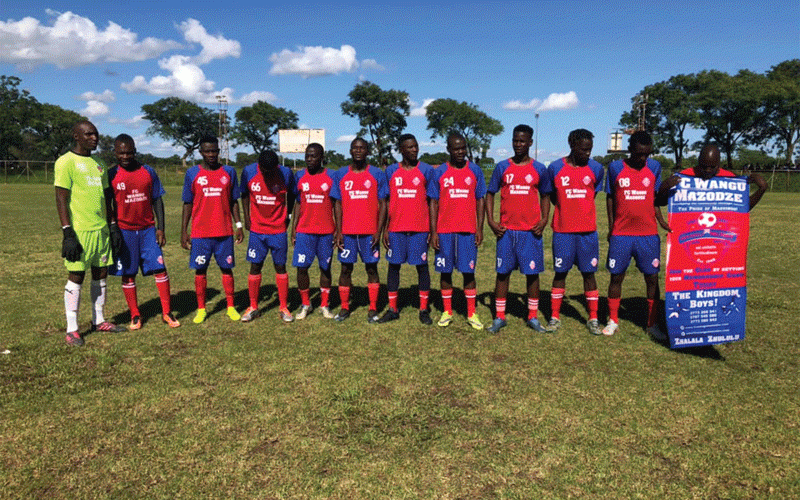 A NEW football powerhouse is emerging from the City of Masvingo.
Their motto is Zhalala Zhululu, which is loosely translated as happiness in abundance and their name is also unique; FC Wangu Mazodze.
It is named after the US-based founder and businessman Richard Wangu Mazodze and has already caught the eye with its colour, vibrancy and organisation in a city where Masvingo United used to rule the roost.
Mazodze is the proprietor of Zhalala Zhululu Tours, a passenger transport operation based in Mutare, which is just but one of his business interests.
It explains how the club owns a colourful luxury coach, which sent tongues wagging on social media in the past few weeks.
The immediate target for the club, which is barely two years old is to gain quick promotion into the top-flight league after they were invited to join the inaugural National First Division League by Zifa last month.
Opting to be modest about the project, Mazodze revealed the reason that prompted him to start the football project as well as the targets.
"We started this project just for the love of football. It was also in honour of my late father who was an ardent football supporter. I am not sure if it can be characterised as ambitious, but we are just doing the little we can considering the little resources at our disposal," he told The Sports Hub.
"The club affiliated with the Zifa Eastern Region in 2021. Our immediate plan is to win promotion into the Premiership. We also plan to have development structures if funds permit and possibly a women's team.
"Since the club is incorporated as a juristic person, we are looking forward to it having an independent source of funding leveraging on its fairly growing brand.
"Wangu is my middle name, which I share with my three sons — who love the team so much. Mazodze is my last name. So I found it prudent to call it after myself just like, Kaizer Chiefs and Jomo Cosmos in SA," Mazodze said.
Also known as the Kingdom Boys, FC Wangu Mazodze have had a busy pre-season as they prepared for the upcoming season and have played friendly matches with teams like premier league side, Chapungu FC and Triangle United as well as Renco Mine, Stars FC and yesterday they were scheduled to play TelOne at Mucheke Stadium.
Today they travel to face Mbesa Academy in Mberengwa.
Masimba Madziwana is the head coach while Forward Pfumojena comes in as goalkeepers' coach with former Premier League star George Magariro as the team manager and Passmore Mupingajira as his assistant.
Medic Ronald Gandi and the media team, which includes Donald Zendera and Joel Nepa are also part of the technical staff that has been tasked with taking the club forward.
Mazodze is happy with the progress the team has made so far.
"We feel that we did fairly well in our first soccer season last year. We have assembled a descent team and our following has had an exponential growth which we hope will continue,'' he said.
"I am just a simple villager from Masvingo currently living in New York City where I run a corporate consulting business specialising in financial modelling. My wife and I currently sponsor the team from the little we can spare."
The executive also includes club secretary Mary Makombe, committee member Trevor Chateuka and spokesperson Sukuoluhle Ndlovu in a female dominated executive.
Related Topics