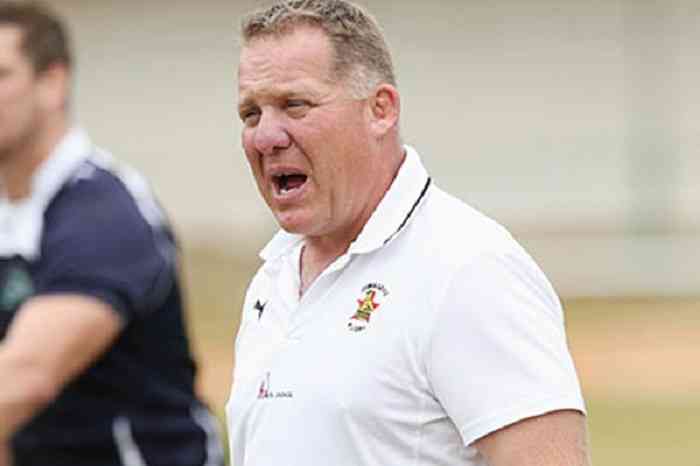 ZIMBABWE national rugby team coach Brendan Dawson says he will field a development side for the Currie Cup First Division which kicks off in South Africa on March 24 as the country begins its rebuilding mission for the next Rugby World Cup cycle after failing to qualify for this year's global tournament.
Zimbabwe will be making their return to South Africa after their participation in last season's Currie Cup First Division which they used to prepare for the 2023 Rugby World Cup qualifying tournament.
The Goshawks will begin their campaign with a date against South African Leopards on March 25.
Dawson will lead the Zimbabwe development side in the competition, which is now also known as the Mzansi Challenge after receiving the backing of the Zimbabwe Rugby Union board after last year's World Cup qualifiers.
Dawson, who has been training with some players in Bulawayo and monitoring the progress of other players in the provincial Under-20 competitions underway in Harare and Bulawayo, said he will field mostly a youthful team in the competition.
"We are really excited to be going back to the Currie Cup again this year as we look to lay a solid foundation for the next World Cup qualification cycle," Dawson said in an interview with StandardSport yesterday.
"Unlike last year when we fielded an experienced side as we prepared for the World Cup qualifiers, this time around we will have more of a development side made up of players who were part of last year's national Under-20 squad and some young and inexperienced players who we want to ensure develop physically and mentally through competing in the Currie Cup."
Dawson said while most overseas-based players will not be available due to club commitments, they will infuse a few experienced players to ensure the squad has the right balance.
"Obviously most of the experienced guys who are playing outside the country for instance in France will not be available because they have not been released by their clubs but we will look to include some of the other (seasoned) guys, who will be available. There are also some outstanding issues from the previous campaign that still have to be finalised with the players and we are doing everything we can to ensure that the obligations are met and we begin the new campaign on a new slate," he said.
Zimbabwe's development side which will compete under the Goshawks banner will be joined by four other international teams — the Diables (Spain), Simbas (Kenya) and Windhoek Draught Welwitschias (Namibia) while South Africa Rugby Union withdrew an invitation to Israeli outfit Tel Aviv Heat
The four teams will be joined by six South African provincial teams Leopards, Falcons, Boland Kavaliers, Eastern Province, Border Bulldogs and SWD Eagles.
All 10 teams will contest the Mzanzi Challenge in a single round format which includes a semifinal and a final match during the 14-week period, with the final set for mid-June.
At the same time, the six South African teams will carry points earned against each other into the race for Currie Cup First Division honours and the team who finish with the most log points (only matches involving the SA teams to be taken into account) will be crowned the winner.
Meanwhile, former Sables players Costa Dinha and TJ Chifokoyo have been added to the Goshawks' technical team ahead of the upcoming Currie Cup First Division campaign.
Former Sables skipper Dinha, who is also part of the Zimbabwe Under-20s technical setup has been roped in as assistant to forwards coach Graham Knoop while Chifokoyo takes over as the new team manager from Jason Maritz.
Related Topics