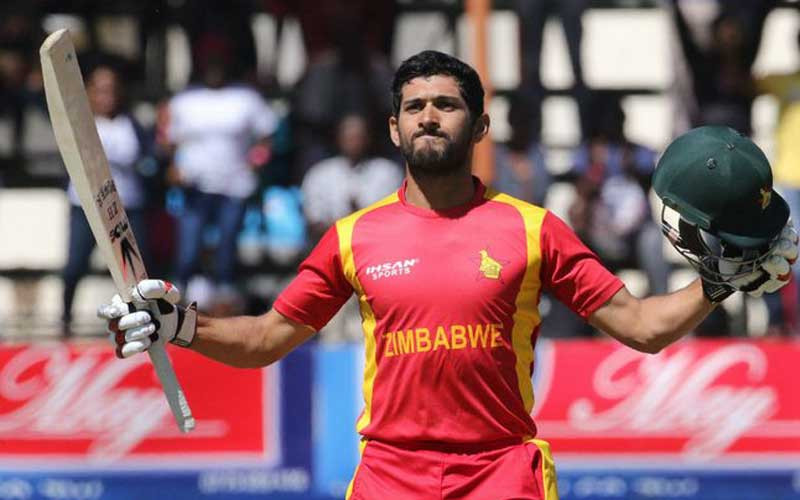 IT has been quite a ride for Zimbabwe, especially in the last two years or so. From being banned from international cricket in 2019, and not being allowed to qualify for the T20 World Cup 2020 (2021), the country has been on the rise, especially in white-ball formats.
Slowly, yet steadily, they are reminding everyone that they are here to compete.
Sikandar Raza has been at the forefront of that resurrection that has once again put Zimbabwe on the map — a team that cannot be taken lightly that can against all odds — not just put up a fight but also win. Raza too suffered a setback when he was diagnosed with a potential bone marrow cancer, something that took him some time to shake off and return to the top.
However, in April 2021, the tumour was removed and Raza was cleared of any senior illness.
"2021 I was diagnosed with a potential cancer and tumour in my bone marrow, which led to multiple surgeries. Then my bone marrow was filled with medicines and the synthetic bone for it to dissolve so that if there's any infection that's left in my bone marrow can die so that the infection does not come back again. I was put under observation for two years but my results kept coming back positive and healthy," Raza said in a chat with Cricket.com.
"All I said at that time is, 'Allah, if you have decided that this is the end of my career, may you help me find peace with it. If it is your will that it ends up being a life-threatening injury, and it's your will that my time is up, then let me make peace as well.' So, that was along the lines of what I was thinking," he added, recalling that phase.
Raza's toil paid off, especially in 2022, with 645 runs at 49,61 to go with eight wickets in ODIs. In the T20Is, he slammed 735 runs at a strike-rate of over 150, but what added another dimension to his game was his bowling in this format that fetched him 25 scalps at a miserly economy rate of 6.13.
Post the above-mentioned surgery combined with a few shoulder injuries, Raza could not bowl with his old action and as a result had to make some tweaks to ensure he does not have to give up bowling altogether. Luckily, for him, he worked closely with Sunil Narine during the Caribbean Premier League (CPL), whose action he looked to replicate and has done so quite successfully.
Despite the success with the ball, Raza does not feel he is currently bowling at his best.
"I still speak to Sunil bhai and I still annoy him and say that I am not landing the ball where I want to or I am not having the fizz that I am looking for to be more successful. I would say that it has got better, the control has got better, the landing has got better, but there is still a little bit more to do.
"I guess that's what keeps me going, the excitement that I want to get better, there is that part that is missing in my bowling and stuff like that. So, I still annoy him quite a lot."
His impressive all-round performances last year saw him find a place in ICC's ODI and T20I teams of the year — a feat that Raza feels has gone a long way in giving Zimbabwe recognition and respect.
"It hasn't really sunk in yet, that accolade itself. But what has sunk in is that a lot of people have been talking about Zimbabwe, there's a lot more people watching Zimbabwe, there's lot more people cheering for Zimbabwe, there's a lot more people that are appreciating the way we are playing cricket," the 36-year-old said.
"There's a lot more recognition and respect that the country has got in the recent past and if I have played a little role in that, that's what I am really proud and happy about rather than the personal accolades."
Speaking of the T20 World Cup 2022, Zimbabwe very much had it in their hands when it came to making it through to the semi-final. It would have been an achievement in itself given that they first had to play the qualifiers, followed by the first round of the mega event before making the Super 12s. It certainly would have been a fairytale had they made the last four, regardless of what would have followed.
They were saved by the rain in the first Super 12 fixture against South Africa and then beat Pakistan in a thriller. The Chevrons would have made it through to the next round had they won two of their next three matches against Bangladesh, Netherlands and India.
However, they lost a bit of steam after the Pakistan game, losing all the three matches, crashing out after giving so much hope.
"It's not an excuse, but we were the most travelled team. I don't think any other team did as many air miles as Zimbabwe. So, it was play, pack your bags, travel, train, play. Every third day there was a match. Eventually, I think the fatigue took over," Raza, who scored 219 runs and picked up 10 wickets in the tournament, said.
"The Bangladesh game hurt us very badly. The bodies were tired, people were mentally tired as well. So, it's something we are not used to but, it's a lesson learnt."
None of Zimbabwe's recent success would have been possible without their head coach Dave Houghton, who Raza thinks has changed things around with his magic wand.
"He keeps saying that he doesn't have a magic wand but I tell you he does. He has definitely brought that magic wand in the changing room, he keeps denying it," Raza said.
"The man is a revolutionary. He has revolutionised all of us with the little he said. But it held a lot of weight: How much he has brought accountability and honesty in the changing room, brought about camaraderie in the changing room, how he has lifted and respected the seniors. He's got a magic wand, let me say that."
Raza, who took part in ILT20 recently representing the Dubai Capitals, said that he was happy to add another "family" to his list.
"For me what is different and unique is the fact that I am sharing the dressing room with a lot of different overseas pros that I have done in the past. It's given me an opportunity to be one of those juniour sort of guys because I have a lot of senior guys around me," Raza said of the UAE-based tournament.
"It has given me an opportunity to learn a lot more from them hopefully to use it in my game and get better. It's also given me an opportunity to work with the people I have not worked with in the past and most importantly, a new family I have added in my life."
The all-rounder will add another team to his tally when he turns up for Punjab Kings in the Indian Premier League (IPL) 2023. PBKS secured his signature for INR 50 lakh in the auction gone by.
Related Topics