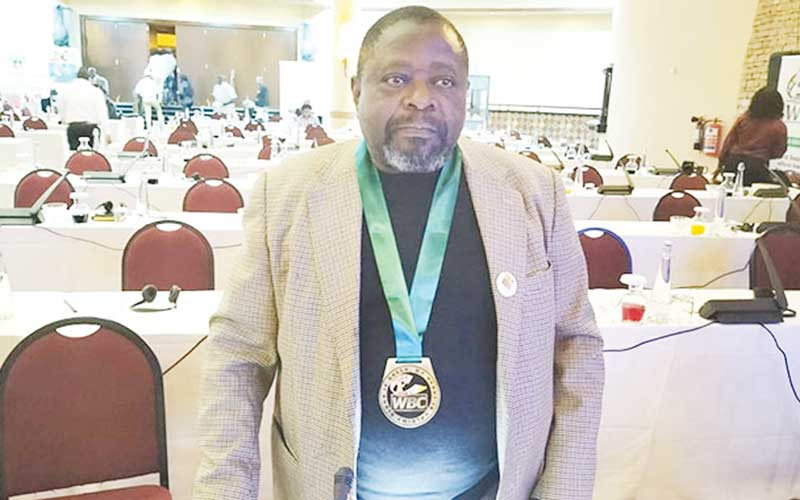 ZIMBABWE'S leading boxing promoter Stalin Mau Mau believes that like the biblical prophet, he has not been honoured in his home country.
The veteran boxing administrator is celebrating his 69th birthday and 40 years in boxing administration, but feels let down that the World Boxing Council (WBC) honoured him first ahead of his own country.
Mau Mau received a WBC medal for his outstanding contribution to the sport of boxing when Zimbabwe hosted the WBC Congress in Victoria Falls last year.
The WBC is the world's most prestigious boxing organisation ahead of the World Boxing Association (WBA) and the International Boxing Federation (IBF).
Mau Mau says the WBC medal is the best thing ever to happen to his life, but feels betrayed that his own country does not appreciate all the sacrifice he made in uplifting the sport of boxing in the country.
"I was happy to be honoured by the WBC. This is the best thing ever to happen in my life. I was looking forward that Zimbabwe would do it first, but that has not happened. As you know, a prophet is never appreciated by his own people," he said.
Added Mau Mau: "I did not come into boxing to get credit. I did everything from the bottom of my heart, but I feel credit must be given where it is due. I hope one day Zimbabwe will do what the WBC did or even better."
Mau Mau has promoted boxing tournaments every year and has managed top Zimbabwean boxers among them Misheck Kondwani, Farai Master, Trust Ndlovu, Spencer Matsengura, Nokuthula Tshabangu, and Zvenyika "Mosquito" Arifonso, who won the Commonwealth title in 1998.
"No boxer in this country has not passed through me. Even Charles Manyuchi and Kuda Chiwandire passed through me. What I can say is that we are the unsung heroes of Zimbabwean boxing because in some cases, we will be behind the scenes," said Mau Mau.
Manyuchi won the WBC bantamweight silver belt, while Chiwandire is the holder of the WBC super-bantamweight silver belt and has challenged Mexican Yemilethi Mercado for the WBC gold belt — the highest belt in world boxing.
Arifonso himself has high regard for Mau Mau who was his manager in 1996.
"He helped a lot of boxers. He was like a father to me. He did everything for me, but I let him down," said Arifonso, who apart from boxing, also made headlines for the wrong reasons.
To his credit, Arifonso has since reformed from his bad boy image and set up the Mosquito Boxing Academy in Mbare where he says he is discovering and nurturing boxing talent.
Mau Mau, however, says he is getting tired and the economic situation no longer permits him to organise more tournaments as he would have wanted.
"I have single-handedly been staging tournaments for years. I have been paying for everything, including the boxers themselves, but I am getting tired both with age and the financial situation. I am no longer able to hold as many tournaments as in the past," he said.
The boxing promoter, however, thinks the future of boxing in Zimbabwe is bright as long as more actors join in funding the sport.
"We need more promoters and more money in boxing. The government too should play its part," added Mau Mau.
Although now 69 years old, Mau Mau says age is not a deterrent factor and he is in boxing to stay.
Related Topics