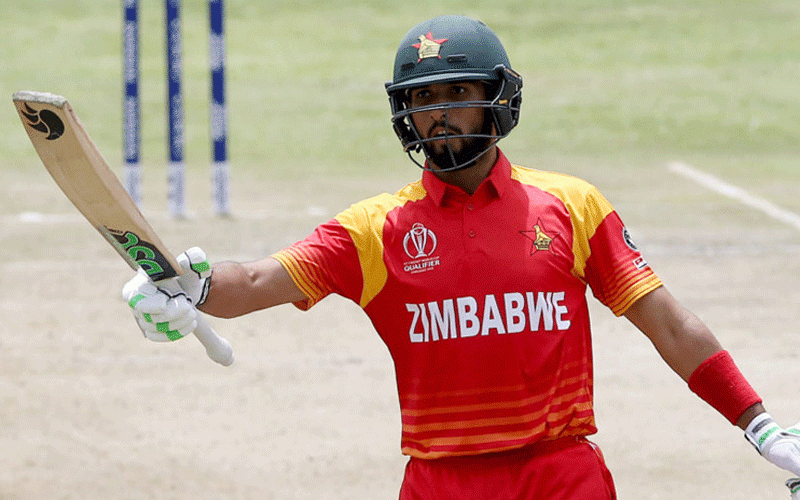 Sikandar Raza has not stopped to contemplate just how far he has come in life.
"It hasn't sunk in," says the Zimbabwe all-rounder.
"And I'd rather keep it that way. Just to stay grounded."
Earlier this week, Raza was presented with two special caps by the ICC, to commemorate his selection for their teams of the year for 2022, in both T20 and One-Day International cricket.
He had been one of four nominees for the Sir Garfield Sobers Award as the overall cricketer of the year award, too, only to be beaten by Babar Azam, Pakistan's captain. It is a marker of his standing in the game now that, a few days later, out of an event packed full of stars, he was one of three picked for a promotional event for the DP World International League T20.
Along with Robin Uthappa, the Indian Premier League veteran, and T20 gun Colin Munro, Raza was taken to the title sponsor's premises in Jebel Ali Port, to do some batting target practice using the smart logistics solutions company's shipping containers.
Not so long ago, Raza had turned up just on the other side of the Jebel Ali industrial zone, a nondescript cricketer trying to make his way in the game.
He had been recruited to play low-key domestic cricket in the UAE for the company team of Danube, the Dubai-based conglomerate, in 2014. It was there that he played under the captaincy of Rohan Mustafa, the UAE all-rounder who has become a friend for life — although sometimes he wishes he wasn't.
Playing for Desert Vipers against Dubai Capitals in the ILT20, Mustafa got his great mate out, and Raza has not heard the end of it since.
"He helped me get the US$1 500 for the biggest six, so I am over that dismissal now," Raza says.
"Rohan became my first friend when I landed in the UAE. We have been friends since then. We have come a long way.
"If I could rewind time, I wish I had never met him! He's a real pain in my life, ruining my career because he keeps getting me out."
In truth, Raza's career has been in sharp ascent. It has coincided with his recovery from what was initially feared to be a cancerous tumour in 2021.
"Post-surgery was an important phase of my life," he says. "When I was diagnosed, had surgery, and was at home a lot, a realisation came.
"If I had to put [his extraordinary form] down to something, it would be because I have found peace within myself. Once I got to that phase, I understood where things needed to be, to be at peace.
"I became a lot calmer. It was after that that my cricket really took a forward step. I wouldn't wish it upon anyone to find peace that way, but people find peace through different ways."
Raza was in Abu Dhabi playing a Test match against Afghanistan when he felt pain in his arm. After returning home to Zimbabwe, an MRI revealed a potential issue with his bone marrow.
"I played the series and was in a lot of pain," Raza, 36, says.
"I was in the physio's room till 10-11pm, getting treatment for two hours, then would take painkillers and sleeping tablets, but the pain would wake me up after a couple of hours.
"I would be sitting up all night, then get up and play the Test match. Every night was the same routine. We couldn't figure out what the pain was.
"I played the Test matches and T20s with pain medicine, and as soon as I went back I went for the scan. And, voila."
Raza admits the uncertainty left him fearful, saying: "I was thinking, 'God, if I have played my last game, help me find peace with that, and if this is the end of life, let me find peace with that as well. If this is your will, I am OK with it.'
"The hardest part was to see the family every day and break it down to them, what could happen, and what might not happen. We had to wait for the report, have the first surgery, then the second surgery, then when I was given the clear light, I think everyone found peace with that."
Raza's children, now nine and six years old, struggled to comprehend what was going on.
"That was the hardest part for me — what to tell them and what not to tell them," he says.
"When they asked questions, what should I say? Why is everyone quiet? Why is everyone sad? Why is mum or grandfather crying? The hardest part was trying to hide it, because you could never explain it to them."
Surgery revealed a bone-marrow infection, but he was cleared of cancer. Recovery took him several weeks, but he has thrived in the time since. Returning to the top of the sport after serious illness is the latest episode in a storied career. Raza lived in Pakistan till he was 14, moved to Zimbabwe for a year, before returning to Pakistan to finish his A-levels. Subsequent to that he moved to Scotland for university, graduating in 2009.
"I was trying to be a software engineer," he says. "I was rubbish at it, but I was trying. Cricket was a weekend sport. Something for leisure."
And now, 14 years on, he is a globetrotting star of the world game.
"For me, the biggest thing was the fact the country I represent was on the map," he says, of his eye-catching feats with Zimbabwe at the T20 World Cup in Australia in October and November.
"A lot more people are watching and a lot more people have noticed and are appreciating what we are doing.
"A lot more people are sending prayers, and are saying Zimbabwe has transformed and we are playing a brand of cricket that everyone is watching, and we are winning.
"The biggest accolade would be the recognition for the country rather than myself."
After his golden year in 2022, he has big expectations for 2023, too. Chiefly, by helping his country make it to the ODI World Cup in India in October.
"I think everybody likes a happy ending," he says.
"I would want to qualify for the World Cup, then see where my career has to go. There is an end to everything, and it [playing at the 50-over World Cup] would be a nice last hurrah. I'm not saying after that I would call off my ODI career. But for Zimbabwe to be in that World Cup would be great. If all that senior guys are fit, I am very hopeful we can qualify. Inshallah."
Related Topics