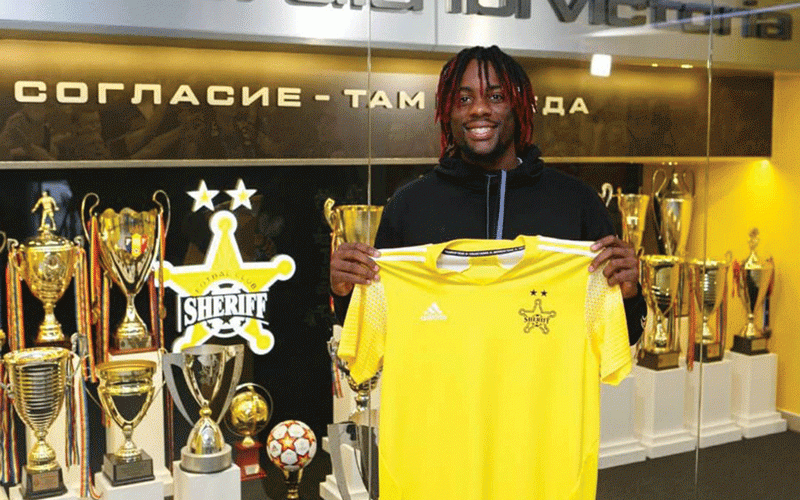 ZIMBABWE youth international Munashe Garan'anga is poised to join a select band of local professional footballers, who have featured in Uefa club competitions when he lines up for his new club Sheriff Tiraspol in the Europa Conference League round of 16 playoffs next month.
The gifted central defender, who turned 22 on January 18, made a massive leap in his promising career after recently completing a big move to Sheriff Tiraspol, who are regular campaigners in the Uefa Champions League and other top European top club competitions.
Sheriff Tiraspol have won 20 of the past 22 Moldovan Super Liga titles, including the last seven, and were crowned champions last season.
The Moldovan club's total domestic dominance means they are almost guaranteed to have a shot at qualifying for European football every season for the last 20 years.
Last season they qualified for the group stages of the Uefa Champions League where they went on to beat Real Madrid at the Santiago Bernabeu to pull off one of the greatest underdog stories.
This term, Sheriff Tiraspol were in the group stages of the Europa League and finished third in their group which included Manchester United, Real Sociedad and Cypriot side Omonia to drop to the Europa Conference League.
Garan'anga's arrival at the club comes just in time for the Europa Conference League round of 16 play-offs and the Zimbabwean rising star could make his official debut for the club on February 16 when they face Serbian giants Partizan Belgrade.
In an interview with The Sports Hub from his new base in Moldova, the former Prince Edward student said he is excited about his move and he has settled well at his new club.
"I'm very happy and grateful to have signed with Sheriff, they are a very big club in Europe and they participate in European competitions. This will give me an opportunity to grow as a player and gain more experience and maybe play with top players in European games; so I'm really excited about it," Garan'anga said
"I have settled in well with my new teammates, half the players in the team if not over half are black so it's kind of to my advantage because it's African players and we get along well and some of them speak French, but we can always find a way to create new relationships so I'm settling in really well."
Garan'anga caught the eye of Sheriff Tiraspol scouts during his stint at Belarusian side Dynamo Brest, where he made an instant impact, scoring two goals in 28 appearances after joining the club in February last year from South African third-tier side Ubuntu Cape Town.
He says the experience he gained in Belarus should serve him well as he looks to make an impact at one of the most ambitious sides in European football.
"Sheriff saw me play in Belarus last year and expressed interest in signing me. The club-to-club negotiations were agreed and I also agreed on personal terms with them and that's how I ended up here," Garan'anga said.
"The experience in Belarus was good to be fair, I arrived there with the experience of playing third division football in South Africa in the ABC Motsepe League, so I had no expectations to play. That's why I signed for two years because I thought in the first year I wouldn't play much and would only start playing in my second year, but with God's grace I ended up playing 28 matches and scoring two goals.
"It was a year full of growth and learning since it was my first year as a professional.
"I feel like personally, I did well, as a team we didn't do so well but we managed to stay in the league. It was tough, but a learning curve. I had to deal with a lot of sadness with the losses we had last season, but it was just preparing me for the things that are going to come in the future because any player can be in that situation where you are playing games, but not winning.
"I also got to play against good players from decent teams such as Bate Borisov and Dinamo Minsk and in good stadiums as well and it just prepared me for my next steps in club football. Overall, I would say it was a year of growth."
Born in Harare, Garan'anga was bred in Harare where he started playing football at the age of nine at Warren Park 6 Primary School.
He was one of the early recruits at Warren Park-based Total Football Academy after its formation in 2011, starting off in the Under-12 age group. After his stint at Total Football Academy, which he said played an important role in his early development, Garan'anga progressed to Prince Edward School.
The Harare-based school is widely acknowledged as a conveyor belt of sporting talent with a list of alumni including former world number one golfer Nick Price, cricket coach Duncan Fletcher as well as record-breaking Springboks rugby player Tonderai Chavhanga.
During his time at PE, Garan'anga developed further under the mentorship of the school's football coaches Norman Taruvinga and Tonderai Ndiraya until he was scouted by Michael Jenkins, the founder and director of the Cape Town-based Ubuntu Football Academy.
"They (Ndiraya and Taruvinga) are the guys who helped me a lot when I was at PE, they gave me a lot of confidence. Coach Ndiraya was making me play with much older guys and he believed in me and that's how strong I became, I was like 15 years old and playing with 18 and 19-year-olds. One day I was playing in the junior league and there were cameras that day for some reason and I don't know why and then these videos were sent to a guy called Michael Jenkins in Cape Town. They were looking for a midfielder, but they ended up scouting me as well and they wanted me to come for trials and I went to Cape Town alongside my friend Albert Manenji."
He said the move to South Africa proved to be a turning point in his career.
"Personally I would like to give a special thanks to Casey Prince and Michael Jenkins because these are the people who changed my life for the better, of course, I put my parents first but these are the people who did absolutely everything for me. I don't think I would be where I am right now without those two people," he said.
Related Topics