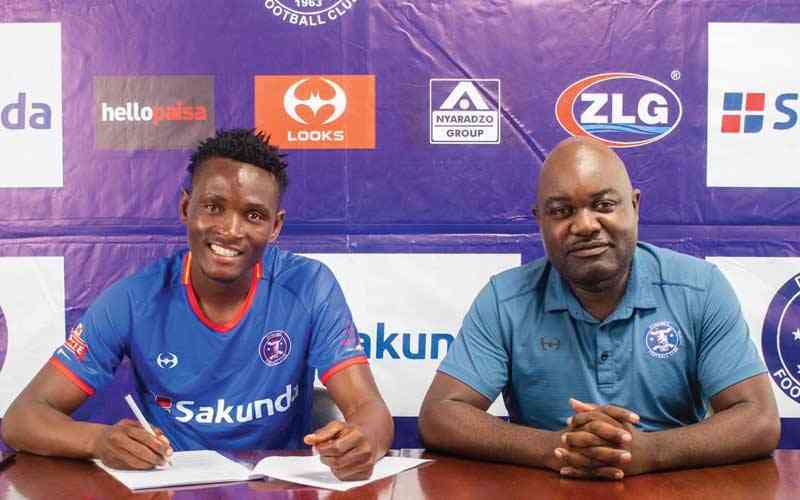 THE 2023 Premier Soccer transfer market has been devoid of those huge headline buys and the heavy player 'looting' that has characterized the past few years.
In fact, the 2023 player market will long be remembered for the manner in which CAPS United and Dynamos offloaded a huge number of their-once-loyal players than the new signings for PSL clubs.
It is hard to believe that this is the same player-market that at one time saw Caps United, Dynamos, FC Platinum and Ngezi Platinum Stars all buying more than 10 top players before the start of one season.
The same transfer market that some time back saw Caps United acquiring a massive 22 players while Dynamos on their part settled for 12 new recruits.
Some in the football circles even jokingly said the Green Machine had bought a completely new team and what remained of the club was the name Caps United only.
This was so because the rules of the Zimbabwe Premiership are clear that a team is allowed to register 25 senior players and five juniors yet the Green Machine were buying 22 new senior players and for that matter, all at once.
This trend, this time, seems to have been abandoned as clubs seem to be taking a far much different approach with most of them a bit cautious about how they spend their money on the market.
Even the traditional big spenders like Ngezi Platinum Stars have taken a back seat with no major activity on the market apart from dismissing Denver Mukamba from their camp.
Caps United and FC Platinum too have also not been as lavish as before with both signing three players and FC Platinum benefiting from the return of Perfect Chikwende.
Chikwende was a hit at Platinum in 2019 and in their 2020 Caf Champions League campaign before leaving for Simba Stars of Tanzania but joined Bulawayo Chiefs upon returning to Zimbabwe.
The reason for this change of approach by clubs is there for everyone to see after Caps United spent the whole season fighting relegation despite having bought 22 new players on the transfer market a few months before.
In fact, their disastrous path had started earlier with the 2021 edition of the Chibuku Super Cup whose results claimed the scalp of coach Darlington Dodo who had brought most of the players.
The Green Machine were not alone as Dynamos' performance too did not match their spending after finishing third behind FC Platinum, and Chicken Inn — results which also forced the sacking of coach Tonderai Ndiraya.
Even the likes of Bulawayo Chiefs who were also very active the last time around are exercising caution and have abandoned the desperate buying joining the likes of Cranbourne Bullets, Herentals, Triangle, Black Rhinos, Yadah, ZPC Kariba and even Highlanders who have been quiet on the market.
In fact, Highlanders have completely abandoned buying and are promoting players from their Under 18 side into the senior side.
However, there is no reason to fault new boys Sheasham and Simba Bhora for their penchant for new players because they feel they want to strengthen their squads for the pressure ahead.
Their aim is to avoid following in the footsteps of most clubs that were promoted into the Premiership only to be relegated back to Division One the same year as happened to Bulawayo City, Whawha and Tenax.
However, there are question marks over Simba Bhora's buying system of 'harvesting' old age players, most of whom have been deemed excess baggage by other clubs.
Already, Simba Bhora are being described as the Old Footballers Home because of the aged players they took from various PSL clubs when campaigning in Division One.
Also on the same page are Sheasham who although not recruiting old players from other PSL are buying too many new faces, something that could affect their reputable playing rhythm.
This effectively means that both Sheasham and Simba Bhora do not have faith in the players who won them promotion in the first place.
The way they are doing it seems as if they are building new teams altogether instead of strengthening what they already had.
There are two things that will certainly come out of Simba Bhora and Sheasham's desperate buying. It's either they will swim or sink although sinking looks the most likely.
There is also Manica Diamonds who, it appears, are just buying players at will without first looking at where their real problems in 2022 were.
It is expected that a new coach brings with him new players. But does he need to completely throw away the whole team that his predecessor built just to make his presence felt?
The lesson that Zimbabwean teams have learnt from the transfer market is that it is not acquiring a completely new set of players or buying big football names that matters but filling the gaps that need mending.
For your views, comments, and suggestions [email protected] or WhatsApp on 0773 266 779.
Related Topics