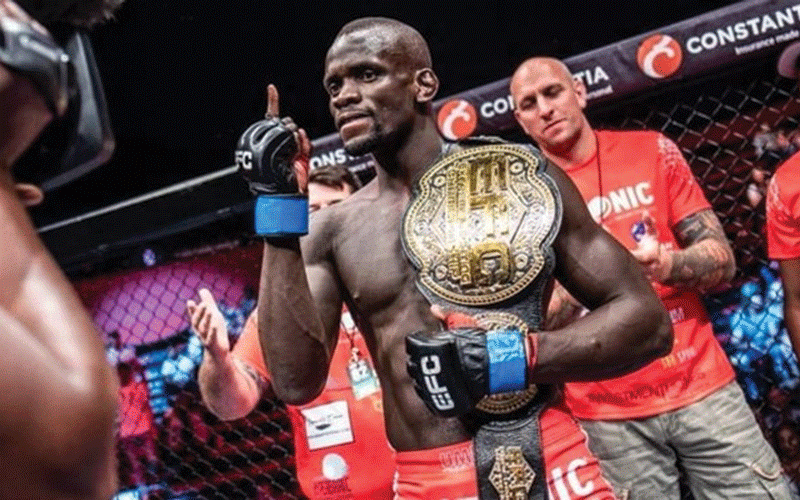 ZIMBABWE'S Mixed Martial Arts (MMA) star Themba Gorimbo is set to finally make his Ultimate Fighting Championship (UFC) debut in February.
After signing with the UFC in August, Gorimbo was initially scheduled to make his UFC debut early this month against an unnamed opponent, but the fight was postponed.
The South Africa-based is now scheduled to make his Octagon debut against American Billy Goff in a non-title welterweight fight at the UFC Apex, Las Vegas, Nevada on February 18. Iridium Sports Agency, representing both fighters, announced the news last week.
Goff, who has a record of 8-2, punched his ticket to the UFC with a stunning comeback win over Israel's Shimon Smotritsky in their Dana White Contender Series duel in August
The Dana White's Contender Series is a non-UFC promotion in which fighters compete to be scouted by the UFC president Dana White.
Gorimbo, who is the reigning Zimbabwe Sportsperson of the Year is a former champion of Africa's premier MMA promotion, the Extreme Fighting Championship (EFC).
His upcoming contest against Goff will make him only the second Zimbabwean to compete in the UFC following Mike Mathetha (3-2). However, Mathetha plies his trade from New Zealand, training with the likes of UFC middleweight champion, Israel Adesanya.
However, Gorimbo aims to become the first Zimbabwean and African UFC champion fighting out of Africa with the goal of inspiring millions of Africans who are not of the belief that they can chase their dreams.
Gorimbo was last in action on June 26 when he defeated Julio Rodrigues via a three-round decision in a Cage Fury Fighting Championships fight in New Orleans, Louisiana.
Prior to moving to the US, Gorimbo primarily competed on the South Africa-based EFC where he successfully defended his EFC Welterweight Championship belt with a second-round submission of Lyle Karam in March 2020 at EFC 84.
Gorimbo also competed in the UAE Warriors, a high-profile MMA promotion based in the Middle East.
Born in Bikita, Masvingo, Gorimbo became an orphan after his mother died when he was nine, and his father died when he was 13.
He left Zimbabwe in 2008 for neighbouring South Africa after a life of mining diamonds in Marange as a teenager.
After overcoming several obstacles, including being homeless when he arrived in South Africa, he rose to become the best in the welterweight division on the continent.
Gorimbo hopes to use his story to inspire others on the big stage.
"At the tender age of 16, I became a diamond smuggler in the bloody diamonds of Marange, Zimbabwe just to get by and look after myself," Gorimbo said in a previous interview.
"Eventually smuggling diamonds had to be stopped by the government, and I almost got killed there, and I left Zimbabwe at the age of 17 for South Africa as a border jumper in search of better life and opportunities. I've worked as a painter, security guard and gardener here in South Africa while doing MMA on the road to become a champion."
Related Topics