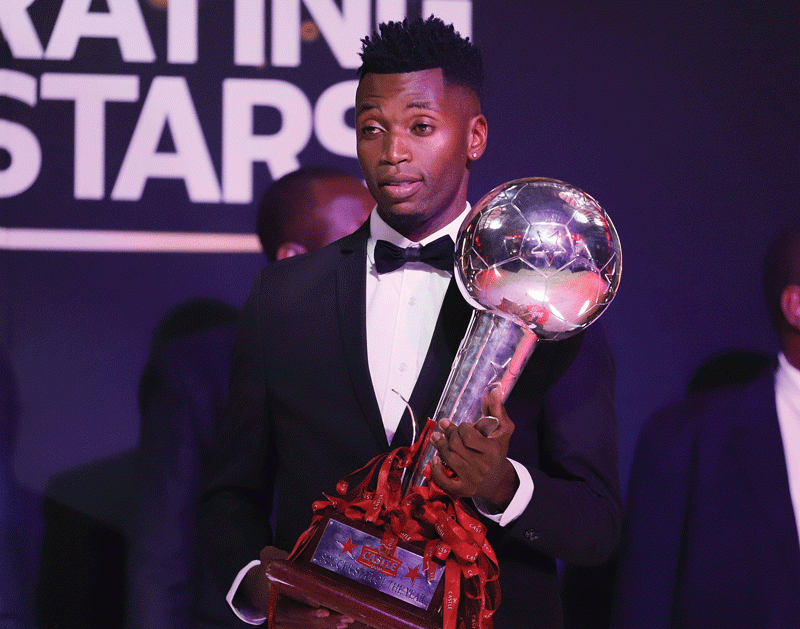 FC PLATINUM forward Walter Musona is happy to have proved his critics wrong after scooping the Soccer Star of the Year award at a glittering awards ceremony in Harare on Friday night.
Musona returned to the local premiership following an unsuccessful four-year stint in South Africa where he turned out for Polokwane City first and later for Sekhukhune.
He was released by Sekhukhune ahead of the start of the South African premiership in August last year and ended up retracing his footsteps to FC Platinum at the beginning of this year.
And in the eyes of the critics he came back home a flop and the onus was on him to pick up the pieces, which he did.
Speaking on the side-lines of the awards ceremony an elated Musona expressed delight in winning the best player accolade while he also felt critics called him a flop when they didn't know what had happened during his time in South Africa.
"It's a great feeling to be player of the season. There are many players that were performing, but for me to be the one it shows that I worked hard throughout the season with help from coaches and teammates. It was a fantastic season," the 26-year-old star said.
"When I started playing I really wanted to help the team and as I said before some people were saying this guy is a flop, he was released from South Africa but they don't know exactly what happened when I was in South Africa.
"So I was trying to get myself back to fitness first. After I got my fitness back I had to push myself hard to play because there is competition in our team, so I had to work hard for me to get the opportunity to play," Musona added.
Musona played 80 matches in all competitions for Polokwane City and managed to score 14 goals as well as record three assists in his three-year stay at the club.
The younger brother to former Warriors captain Knowledge Musona, played one match for Sekhukune, but his spell at the club was hugely affected by the Covid-19 outbreak.
He revealed that it was injuries that blighted his stint in South Africa's top-flight football.
"It was a matter of injuries, you know when you are injured you can't play. Who can keep an injured player in his team? So they had to replace me, then I decided to come back home," he said.
At FC Platinum, Musona was the mainstay in their chase for a record equalling fourth consecutive league title and finished the season with 14 goals for the champions, three behind Golden Boot winner William Manondo of CAPS United.
Manondo was the first runner-up for the Soccer Star of the Year award while Dynamos' defender Frank Makarati settled for the second runner-up position.
Musona walked away with US$5000 for his triumph as Manondo and Makarati got US$3000 and US$2500 respectively.
FC Platinum coach Norman Mapeza claimed the Coach of the Year honour with WhaWha teenage sensation Jaden Barake voted the Most Promising Young Player of the Year and Ngezi Platinum Stars shot stopper Nelson Chadya was Goalkeeper of the Year.
It was also a big night for Herentals player Tino Benza, who was a surprise inclusion on the Soccer Stars Calendar after he scooped the inaugural Fans' Player of the Year award.
The Referee of the Year award went to Martin Chivandire and Faith Mloyi was the runner-up.
Related Topics