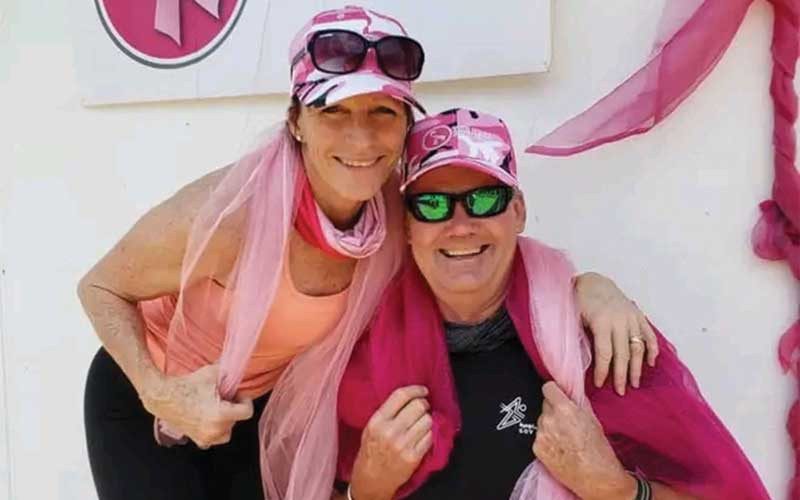 PREPARATIONS for the annual Triathlon Pink day scheduled for the end of the month are now in full swing.
The event organised by Triathlon Zimbabwe (TZ) and The Pink Project founded by breast cancer survivor Debi Jeans, which follows the October Breast Cancer Awareness Month, is set for October 30 at Mount Pleasant Pool.
Last year the event marked its 10 anniversary with a record attendance of over 300 participants while US$1940 and Rtgs $18 700 was raised for the Cancer Centre. Jeans, representing The Pink Project was herself diagnosed nine years ago. Her mother is a 30-year breast cancer survivor and was the inspiration behind Debi's idea of forming the Pink Project; She reflects on the journey of The Pink Project.
"I created The Pink Project as a vehicle through which projects could be identified to help share information, resources, uplift and help patients to navigate the breast cancer journey" she told The Sports Hub.
"The Pink Triathlon sponsors Zimworx and BP Global, ensure that every dollar raised from entry fees goes to The Cancer Association of Zimbabwe at The Cancer Centre who do an amazing job of providing all of the above and especially because they are a lifeline to so many without medical aid or adequate access to healthcare," she added.
All participants at the Pink day will be dressed in pink and amid the pomp and fanfare there were prizes for best dressed Pinksters and were awarded with some prizes last year.
"It takes a village to rase a child. It also takes a village to raise funds for cancer; every one of you should be proud of who we are and what we collectively did today." Jeans said at the conclusion of the previous edition.
Jeans took time to advocate and encourage Zimbabweans to eat healthy, real food, be active, do daily exercise, and manage stress for prevention, treatment and recovery to support the physical, psychological, emotional, social and financial cost of a breast cancer diagnosis.
The Pink Project will soon be launching a new product titled; 'Navigating the Breast Cancer Journey' where wellness and lifestyle changes are central to patients' own management of their situation, recovery and even the ability to use the experience as a source of self-love and healing are tackled.
TZ president Dave Ellis also shared his sentiments on the importance of the annual event on the local triathlon calendar.
"The purpose of the day is obviously to raise breast cancer awareness and raise funds for the Cancer Association. There will be people competing in remembrance of a lost one or those who are battling the disease," Ellis said.
The Pink Triathlon targets all ages from four to 80. Events include swimming, cycling and running either as teams or individuals. Participant fees will be $5 for the tri kids and tri sport; $10 for individuals doing fun and fit races and $15 for team entries.
Related Topics