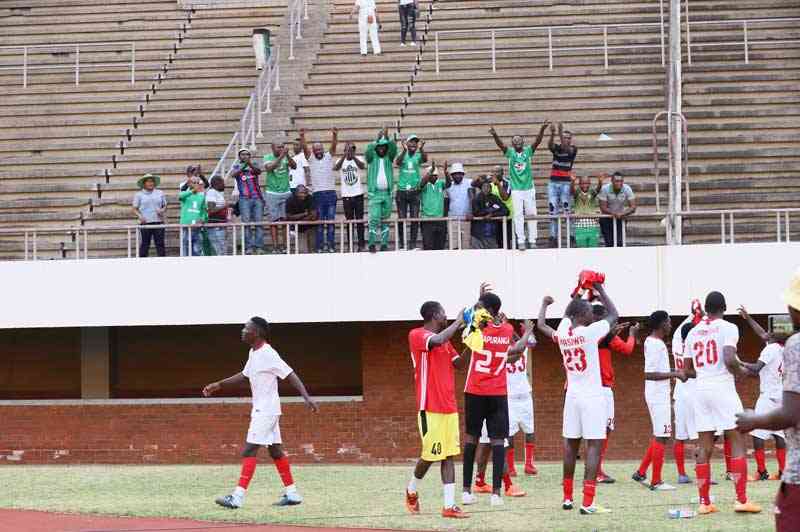 Yadah FC………… (1)1
CAPS United……. (0)0
CAPS United supporters appear to have had enough of the club's on field problems as they clamoured for the dismissal of all the players after they watched their team put up another lifeless performance to lose to fellow stragglers Yadah FC at the National Sports Stadium yesterday.
It was the 11th defeat of the season for the beleaguered giants, who sit two places above the relegation zone with 31 points from 28 matches.
One cannot help, but feel for the Makepekepe fans who have endured a difficult time supporting the team this year and most of whom have stopped going to the stadium.
And at fulltime a handful of diehard supporters, who turned up to support the team celebrated with the winner of the day before they started clamouring for the disbanding of the whole team, save for the technical team.
Coach Lloyd Chitembwe cut a forlorn figure at the end of the match and remained seated in the dugout for a while, trying to stomach the team's disappointing performance.
Yadah FC were deserving winners and could have won with a much bigger margin had they been prolific in front of goal.
But defender Brian Kadamanja's headed goal late in the first half was enough to give the Miracle Boys three precious points.
Chitembwe could not hide his disappointment after the game.
"It's a very disappointing result and obviously coming at the back of a disappointing performance. We were looking forward to it (the match). This is a local derby and these players obviously come from the same neighbourhoods so whoever is motivated more stands a better chance of outwitting and out doing the other," the 2016 title winning coach said.
"And it happened that they had more desire, they had more motivation and more of everything to do with the mental aspects so for me that was the difference."
In all fairness none of the CAPS United players turned up for the match except maybe for veteran midfielder Devon Chafa and perhaps fullbacks Joseph Tulani and Valentine Musarurwa.
Yadah looked dangerous each time they ventured forward and it was not a surprise when they took the lead in the 36th minute, scoring after three successive corner kicks.
Ben Musaka cleared the ball off the line to deny Kadamanja after the first take and Musaka was saviour yet again blocking Prosper Kafelapanjila for another corner kick before Kadamanja came good for the hosts.
Chafa had a glorious opportunity to rescue a point for Makepekepe in stoppage time, but blazed his effort over the bar.
Yadah coach Genesis Mangombe said CAPS United's recent struggles gave his team confidence and belief that they could win the game.
"CAPS (United) are sitting in a bad position, in fact they have not been playing well so we realised that we don't need to respect them. We also need to attack and create some avenues to score and the team responded very well to that.
"It was going to be as tricky as it was, but now I am happy by the way we created chances and also the way we responded after scoring and we managed to defend that one goal lead," he said.
It has been a difficult season for Makepekepe, who have been experiencing financial difficulties, which resulted in unending player strikes.
And at the peak of their troubles CAPS United almost failed to fulfil a fixture against Cranborne Bullets while they lost seven matches on the trot and played matches with barely four substitutes on the bench.
Teams
Yadah: P Nyabunga, B Kadamanja, K Mangami, K Dhlamini, P Kafelapanjila (I Masiwa 72'), C Mandivei, B Ndereki, F Binzi, L Chome(G Mangani 72'), T Shandirwa, A Manenji
CAPS United: T Mateyaunga, P Musaka, J Tulani, V Musarurwa, D Chafa, B Sarupinda (J Ngodzo 56'), P Bamusi (I Nyoni 67'), R Chinyengetere( E Mandiranga 56'), C Rupiya, W Manondo
Castle Lager Premier Soccer League results and fixtures
Yesterday: Cranborne Bullets 1-1 Highlanders, Chicken Inn 1-0 Whawha, Yadah 1-0 Caps United, ZPC Kariba 1-1 Black Rhinos, FC Platinum 1-0 Bulawayo City
Today: Dynamos v ZPC Kariba (National Sports Stadium), Bulawayo Chiefs v Manica Diamonds (Sakubva), Triangle (Gibbo), Tenax 1-0 Harare City.
Related Topics