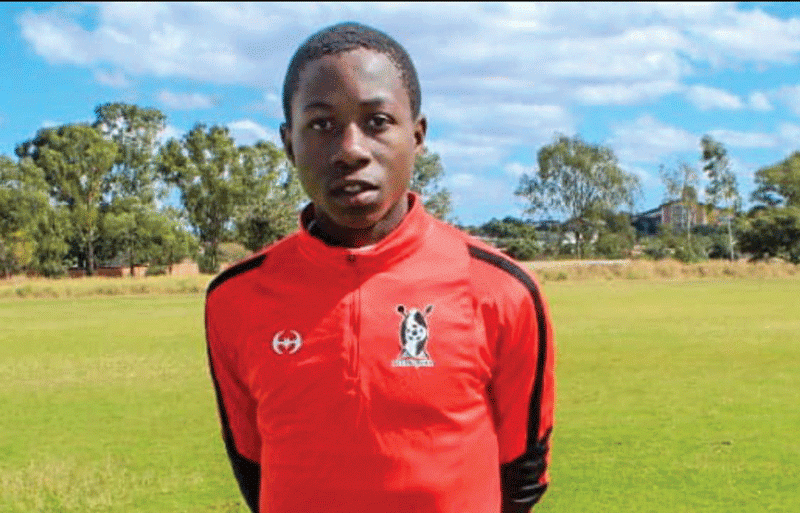 HIGHLANDERS teenage prospect Prince Ndlovu recently hogged the limelight in local football after breaking into the senior team at just 16.
And as a result comparisons have been drawn between him and Zimbabwe football legend Peter Ndlovu, who went on to ply his trade in the English top flight league.
Already there are similarities between the Flying Elephant as Peter was affectionately known during his heydays; and Prince who is right at the beginning of his career.
Although not related, the two share the same surname and they both broke into the Highlanders first team before completing their Ordinary Level studies at Mzilikazi High School.
Peter went on to become the first black African footballer to play in the English Premier League for Coventry City and is arguably the best player ever produced in the country.
And while Prince says he has no idea how good Peter was except from hearsay, he hopes that he can follow in his footsteps.
"It's an amazing thing that I have been compared to Peter Ndlovu but despite that, I don't think that I am under any pressure because I never watched him play, I don't know how good he was," Prince told The Sports Hub in an exclusive interview.
"I only heard that he was an amazing guy for Highlanders and the country. I want to do the same, but I don't have a lot of pressure.
"I am just going to play my normal football. I am the same Prince I have not changed. It is only pressure on social media, but in my personal life it is still the same."
Peter last played in England in 2004 for Sheffield United, two years before Prince was born and when he finally retired back home around 2011, Prince who is a Mzilikazi High School Form Four pupil was only five years old.
Nevertheless Prince is being touted as the next Peter Ndlovu despite having featured precious little for Bosso.
After watching a few games of the Highlanders' developmental side Bosso-90 after arriving in Bulawayo in June, coach Brito Baltemar immediately promoted Prince to the senior team during the mid-season transfer window.
The exciting attacking midfielder certainly dreams of playing football abroad and his ultimate goal is to compete in the Uefa Champions League, a feat that has been achieved by a few Zimbabweans.
"Going overseas is every player's dream in Zimbabwe. So my goal is to get out of Zimbabwe, play for better teams outside and playing in the Champions League is my ultimate goal.
"Working with Brito and (Antonio) Torres (Highlanders' assistant coach) is a fine challenge. I enjoy working with them. They are good guys and they push us to be better players, motivating us to do the right things and pushing us to new heights," Prince said.
On a lighter note, Prince said he rarely joins the pulsating Highlanders' pre and post-match rituals unless invited by the senior players whom he treats as his brothers and fathers.
"When the senior players do their things, I go and sit at a corner, watch and laugh things over.
"Things are different here at Highlanders, the senior players invite us to join in their dances (team motivation) and I am now more used to them than before I joined the senior team," he said.
"I treat them like my elder brothers and fathers. I actually engage them when I have problems, they are supportive, they are open to me and I am open to them and it's a good thing."
The teenager has not been given much game time but was given 12 minutes in the 3-0 demolition of Manica Diamonds at Barbourfields Stadium early in July and the young man did not disappoint.
On Friday he was introduced in the final 11 minutes of the game as Highlanders beat Yadah FC 3 - 2 at the National Sports Stadium.
He was promoted to the senior team after scoring four goals in 19 games for Bosso 90.
In his own words after the Manica Diamonds game, Brito said of Prince: "First of all we decided to sign him (Ndlovu) because he has the quality; age doesn't matter. He has the quality and we looked at him and the other players in the squad and we felt in this game we had an opportunity for a player like him to gain experience.
"He needs to thank his colleagues in the squad who played very well, supported him when he had his opportunities."
Related Topics